McKinney City Council passed a resolution April 5 that stated support for an alignment and footprint for a limited-access freeway between Coit Road and FM 1827 through the city of McKinney.
The resolution essentially
doubled down
on a resolution to support Segment B, which the council had issued previously regarding the US 380 freeway bypass, and for the first time examined the differences between Segments D and C, favoring option C. It was passed in response to a virtual public meeting the Texas Department of Transportation hosted March 22. The meeting shared the schematic design for the four build alternatives determined by TxDOT, examining how much right of way would be needed for each alignment, calculating cost estimates, considering bicycle and pedestrian accommodations, and other factors.
With these new factors presented, the city of McKinney's resolution supported the Brown Build Alternative for the US 380 limited-access freeway between Coit and FM 1827. This alignment incorporates Segment B between Coit and CR 161, and is depicted below.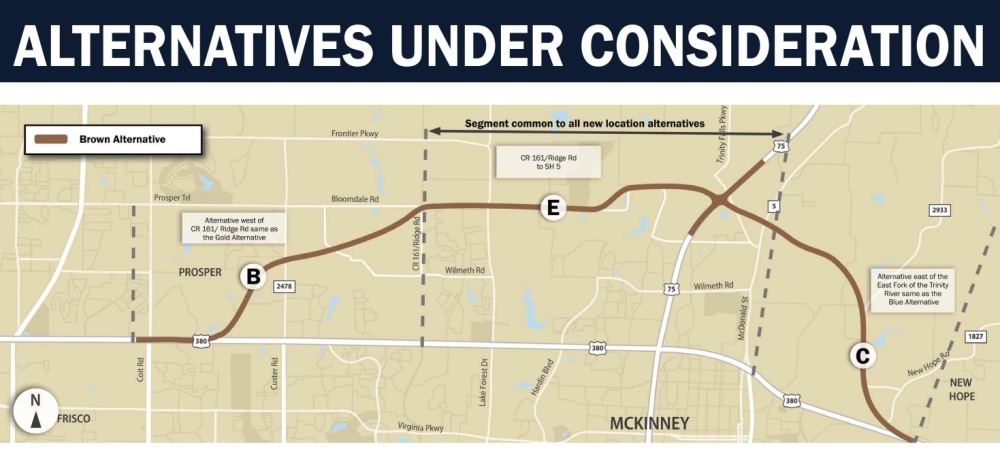 The resolution the city passed opposed the Segment A option in this same area. It stated that Segment B provides a freeway route "approximately 18% shorter than Segment A, requires one less interchange than Segment A, and requires approximately $36 million less than Segment A for relocation of major water utilities." Additionally, TxDOT determined that Segment B "requires approximately 73% fewer combined business and residential displacements than Segment A and requires $41 million less than Segment A for estimated right-of-way cost," the resolution stated.
The resolution also noted that Segment B would "avoid direct impacts to ManeGait," a nonprofit organization that provides therapy through horses.
The Brown Build Alternative also incorporates Segment C, which the resolution supported while opposing the Segment D option in this same area between New Hope Road and Hwy. 5. The resolution noted Segment C would cost 18% less than the Segment D option in this area, and that fewer combined business and residential displacements would take place in Segment C than in Segment D.
TxDOT is scheduled to identify a preferred road alternative and further develop its schematic design by the end of the year. This will be presented at a public hearing in early 2023, the March 22 presentation stated.
Construction will only begin when all funding for the project is identified. At this time, only partial funding is available for the project. Construction is expected to last three to four years after the final design phase is complete and funding is identified, the presentation stated.
A map showing the alignment with the various segments to choose from is shown below.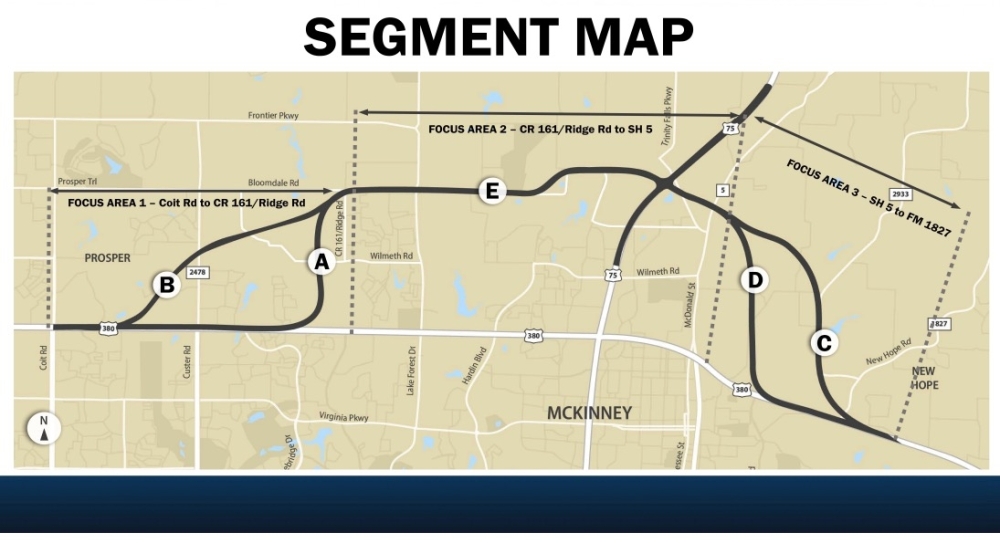 Editor's note: This article has been updated to include the next steps of the project.