Just before dusk Oct. 22, McKinney officials gathered to flip the switch and "
Light Up Louisiana
" with the new festoon lighting and streetlights recently installed on Louisiana Street between Kentucky Street and Church Street in downtown McKinney.
In addition to the added lighting, the project expanded the sidewalks on both sides of the street to help improve mobility for people with children and strollers. The infrastructure of the street was improved as well, with some of the pipes replaced being more than 100 years old, Council Member Charlie Philips said in his address to those gathered for the switch flip. The work needed on Louisiana was identified in 2018, he said. The city reached out to its downtown business owners and stakeholders to hear what sort of improvements they would like to see made on the street.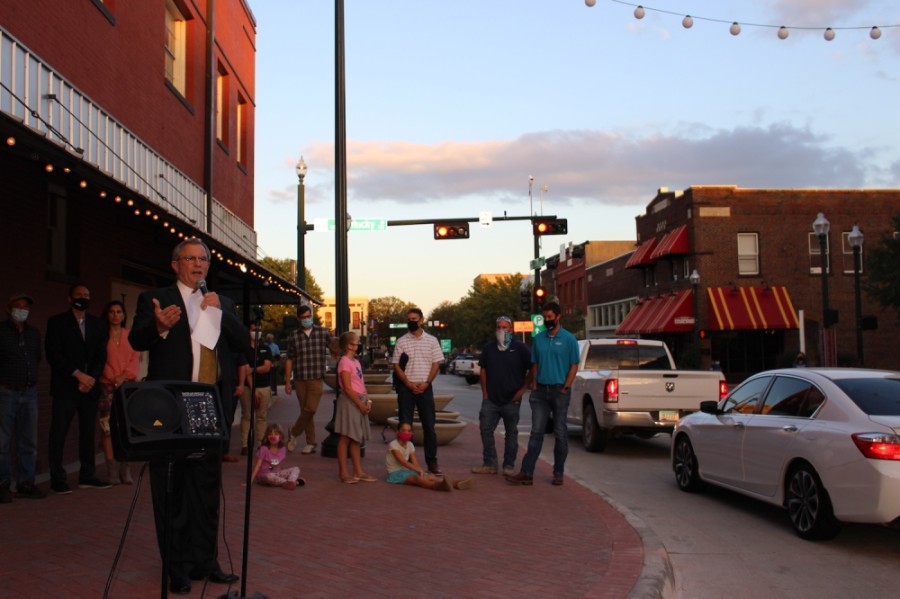 Construction was expected to start in spring 2020, but then the COVID-19 pandemic hit, Philips said. After consideration, the city decided to move forward with the project anyway, since there would be a reduced impact to traffic since most people were staying home at that time, he said.
"We wanted to make sure that we got this completed so our businesses could have a tremendous holiday season in downtown McKinney," Philips said. "It will be well-lit this year, and I think you'll find some of the joy of McKinney here in downtown."
Each of the bulbs on the newly installed festoon lighting that spans both sides of the street are individually programmable, and each string is individually programmable, Philips said, creating the city's own customized light show in downtown.
The city and the contractors worked with the local businesses along the project corridor to ensure people could access businesses in downtown and help support commerce in the area, Main Street Program Director Amy Rosenthal said. This will be ensured again as Phase 2 of the project begins after the holiday season.
Upcoming work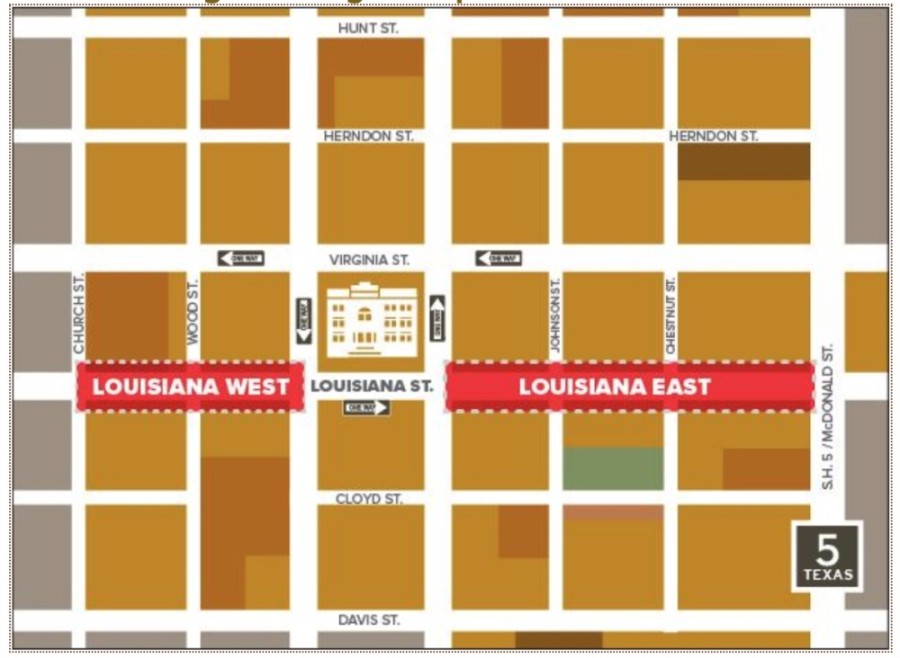 Starting in January, Phase 2 of the Light Up Louisiana Street project will get underway. The project will stretch from Tennessee to Hwy. 5 and will be broken into segments to complete similar goals, Rosenthal said. Infrastructure will be improved and replaced, and string lights, streetlights and wider sidewalks will be installed along the street and carried throughout the Louisiana corridor.
"As everyone enjoys driving through downtown McKinney, they'll get to experience the beautiful lights," Rosenthal said.
Not only is the lighting a great visual element for downtown, Rosenthal said, but it provides an extra layer of safety and provides additional electrical outlets for street performers during downtown McKinney's outdoor events.
As construction begins in January and continues through September, crews will keep at least one lane open to help provide a path for traffic traveling along the route, Rosenthal said.
"It's very important to everyone to have that access," she said. "This is the highest-travel corridor in the downtown area. This will also become a gateway as we continue to expand east of Hwy. 5."