Leaders of the nonprofit Communities Foundation of Texas said they could not have anticipated the COVID-19 crisis when they embarked last year on a comprehensive analysis of economic opportunity in Collin County.
The resulting report, released in October, now serves as a baseline for analyzing effects of the coronavirus, Chief Philanthropy Officer Sarah Cotton Nelson said.
Philanthropy Officer Sarah Cotton Nelson said.
The 44-page report, conducted by public policy nonprofit Every Texan, was initially planned for release in April. It outlines Collin County's economic status related to race and ethnicity, income, educational attainment and wealth. The study's authors used the six-month delay to craft a two-page addendum that gauges the effects of the pandemic.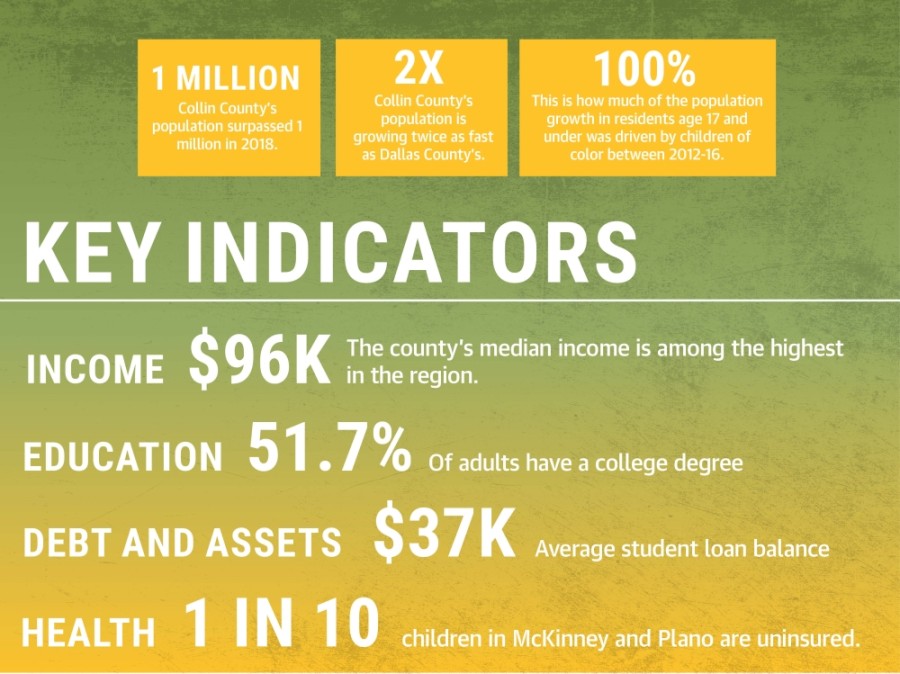 "It is our hope that the collective snapshot now presented can help us understand where there are challenges and opportunities," Nelson said.
Local industries affected
Before the pandemic, Collin County had a robust employment market, the study states. Business counts from early 2020 show more than 33,000 businesses operating in the county, with the service industry and retail businesses making up the bulk of those businesses, said Ann Beeson, who stepped down as CEO of Every Texan shortly after the report was released.
Unfortunately, these were also the industries most affected by the pandemic, Texas Workforce Commission data shows.
Lisa Hermes, CEO and president of the McKinney Chamber of Commerce, said this was the case in McKinney.
"Retail, restaurants, hospitality—they were really the hardest-hit," Hermes said.
The chamber began working to help these companies find information about loans and about available grants to keep them running and their employees in jobs, Hermes said.
McKinney City Manager Paul Grimes said the pandemic has caused many local businesses to change the way they were operating. The city stepped in to help by offering grant programs for local businesses.
Money from local and federal grants and loans helped alleviate revenue losses businesses experienced during the pandemic, Hermes said. Now, the chamber has shifted its efforts toward rebuilding businesses and helping them operate safely. However, there is still concern about what could happen next if COVID-19 cases continue to increase.
"It's really been a roller coaster of emotions for a lot of our business owners," Hermes said.
There is still a risk for local small businesses that may not be able to maintain payroll or rent, which could potentially lead to additional unemployment, the study states.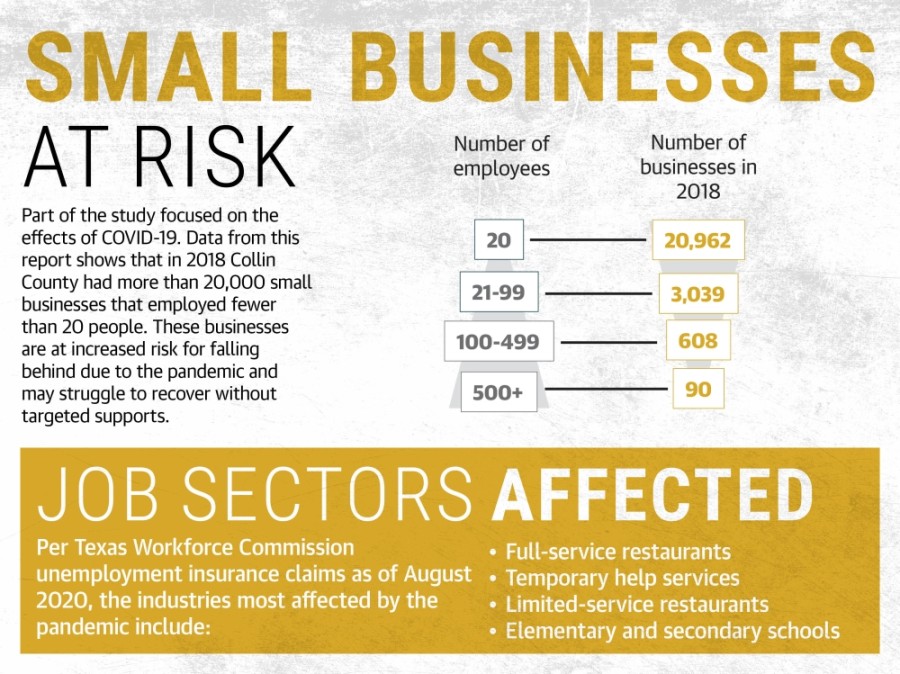 "Small-business owners may not have the reserves necessary to pay the rent, pay the light bill, and a lot of help has been given their way, but sometimes, it's not enough to offset some of the losses of income," Hermes said.
'Distinctly different but equally tragic'
Equity gaps among residents are also widening in Collin County, the report shows. The bottom fifth of earners, or residents who live at or below the poverty level, saw a 6% decline in income from 2006 to 2017. Hispanic residents are three times as likely to experience poverty as white residents and twice as likely as Black or Asian residents, Beeson said.
It is likely these gaps have only worsened, the study stated.
Grimes said the city of McKinney is aware of the local income disparity. The city recently commissioned a
study from Root Policy Research
, which found that the issue of a lack of affordable housing in McKinney has been exacerbated by the pandemic, he said.
Local nonprofits have also said the need for their services has increased since the pandemic began.
The need "escalated overnight," said McKinney City Council Member Scott Elliott, who is also the executive director of the McKinney nonprofit Community Lifeline Center. The center offers rent and utility assistance as well as food to those in need.
"Just that first month or two, we were distributing five to 10 times as much food as we were pre-COVID," Elliott said.
The pandemic has affected everyone, regardless of their income or race, he said.
"We got a lot of folks calling that started out the conversation with, 'I have never,' or, 'I've always been the giver; I've never asked for help,'" Elliott said. "So, [the pandemic] actually affected middle- to middle-upper-class folks, as well, who suddenly found their jobs gone as a result of COVID—so, two distinctly different but equally tragic effects."
Community Lifeline Center and other area nonprofits still face a high level of need, which is not expected to decrease anytime soon, Elliott said.
"2020 has been a horrific year," Elliott said. "2021, I think, from a community-needs standpoint, is not going to be much better."
While nonprofits have had to cancel or alter their usual fundraising events, Elliott said Community Lifeline Center has seen an outpouring from the community and those who want to help its cause. Volunteer and monetary donation information is still needed however, and information to volunteer for these causes and to receive help from them can be found at at
www.communitylifeline.org
,
www.feedingfriendsandfamilies.org
and
https://onemonthaway.org
.
Education and income gaps
The percentage of economically disadvantaged students is increasing over time in some Collin County school districts, per the study. In McKinney ISD, one third of all students are economically disadvantaged.
Per the report, such students are three times more likely to drop out of school than the average student. Only 15% of economically disadvantaged students went on to earn a college or vocational degree after graduating in 2018.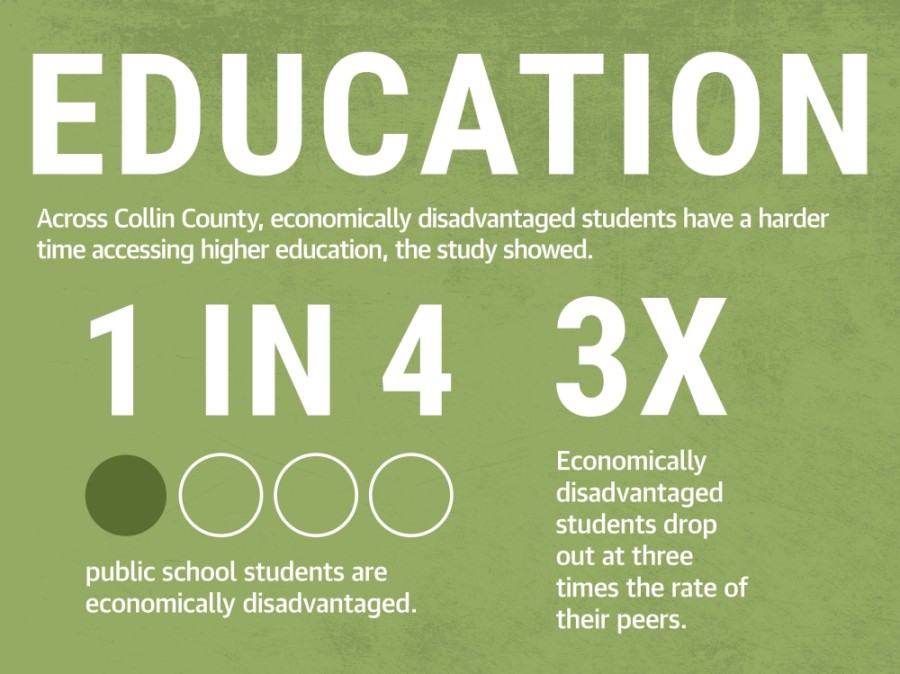 "Post-secondary education is increasingly necessary in today's economy, and students who don't have a degree or higher [education] certificate will struggle to earn family-sustaining wages," Beeson said.
At Collin College, steps have been taken to better serve the community, District President Neil Matkin said. Some changes, such as building more campuses to provide better access, had begun before the study was released, Matkin said.
Collin College had access to some of the drafts of the study, which influenced conversations related to the future of the college, he said.
"We were already adding, and we're still adding, additional access points, including ... [the] first-ever [centrally located], technical-focused facility with a whole wealth of new programming that we believe [is] going to expand opportunities," Matkin said.
Construction on the college's new Farmersville campus is nearing completion; when operational, the campus will help to address some of the socioeconomic challenges in the more rural parts of the county.