McKinney is shifting from what developer Eric Seitz called a "bedroom, commuter" community to a hotspot for entertainment options, as several major projects are underway in 2022.
City leaders have been working for years to attract developments such as District 121, Hub 121, The Hub and West Grove, City Manager Paul Grimes said.
When he first stepped into his role in 2016, Grimes said the cry for a diverse dining and entertainment selection was "loud and clear."
"People were going to Frisco or Plano or Allen ... and there was some frustration with that because those are tax dollars that were leaking," he said.
Six years later, Grimes said the McKinney Economic Development Corp. and Community Development Corp. have worked together with the city to recruit more of what many residents wanted. This year will see ground breaking for Tupps Brewery as well as significant progress on developments at the intersection of US 380 and Hardin Boulevard and more.
'Sense of community'
Hub 121, a development at the northwest corner of Sam Rayburn Tollway and Alma Road, is partially open, and other tenants are in the process of moving in. The multifamily community with dining, retail and an event stage was one of the earliest entertainment districts planned for McKinney.
Developer Shane Jordan said the 22-acre project began construction in 2019. The campus features a 250-unit apartment complex called Axiom Hub 121, a 100,000-square-foot office and a two-story building that hosts coworking company Serendipity Labs. Restaurants include Elwood Restaurant and Bar, and Fork & Fire.
The centerpiece of Hub 121 will be a music pavilion for live performances. Jordan said once the weather warms up, the pavilion will have a grand opening with a to-be-named band. When summer starts, Jordan said his goal is to have weekend programming such as family movie nights and Sunday brunches.
"The idea was really to have a gathering place, and whether you're waiting to get into a restaurant or you're finished eating and you're really not ready to go home ... you're creating some sense of community," Jordan said.
The Stix Icehouse
, a restaurant and beer garden, opened in October on Eldorado Parkway, just south of the Towne Lake Recreation area.
In addition to drinks and food, the restaurant has live music each weekend and 14 acres of green space where patrons can play games such as disc golf and cornhole.
Co-founder Rae Phillips-Luther said she loves that people can enjoy The Stix however they would like.
"The rocking chairs on the porch and live music Thursday [through] Sunday make it a perfect date night spot," Phillips-Luther said in an email. "Brunch with friends? We have you covered... Rainy afternoon and looking for somewhere to relax? We have board games, a full bar and some of the friendliest people around ready to take care of you."
She added that The Stix's "come as you are" environment has contributed to its success.
Gathering spaces
The Stix is doing "incredibly well," according to Tupps President and Founder Keith Lewis, who is planning to add that entertainment mix with his own project.
Lewis and the Tupps team are in the midst of moving from their brewery on Anderson Street to the old McKinney Grain and Feed location on Louisiana Street. Construction began at the new site on Jan. 17.
Tupps has outgrown its current space, Lewis said. The brewery can make about 15,000 barrels of beer a year. At the new location, production will increase to 45,000 barrels, which the company needs after its recent expansion into Houston and Florida.
Along with growth, the
new Tupps site
will serve as an activity space. Four acres will include an elevated stage for outdoor concerts, spaces for vendors to sell merchandise and an "adult play zone" with ping-pong, cornhole and a bocce ball court. There will also be a kids play area with climbing equipment.
An additional feature at the new Tupps will be a full-service kitchen. The brewery is scheduled to open in October, and the entire site is expected to open by November, Lewis said.
"You can hang out the majority of the day, and then you can stay through dinner or have lunch and then stay," Lewis said. "I think it checks almost all the boxes that people want."
District 121
is another area that has branded itself as a gathering place.
Located across the street from Hub 121, the district will consist of a stage, event lawn, game lawn, kids play area and outdoor restaurant seating with fire pits. It will also feature a parking deck and office building, which are currently under construction.
West Grove
, a 500,000-square-foot destination at the southeast corner of US 380 and Custer Road, is being designed to "draw and keep people" there, said Artemio De La Vega, CEO of De La Vega Capital Development.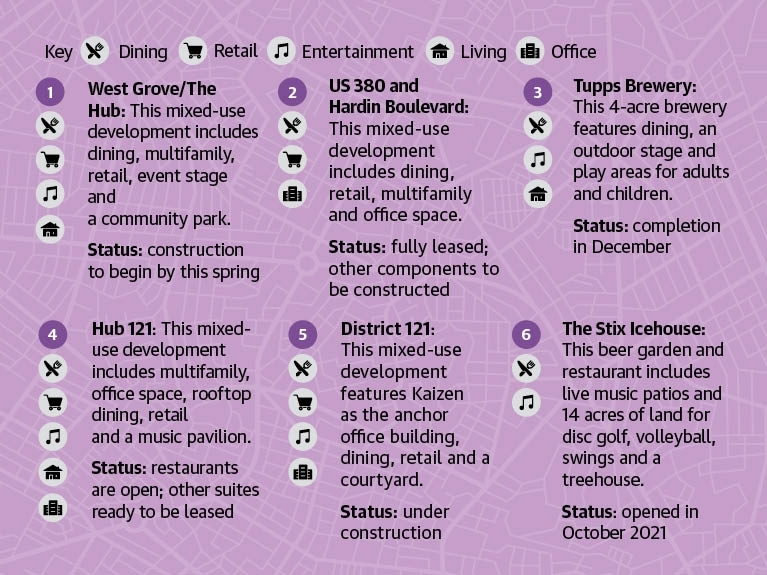 De La Vega said he expects construction to start no later than March of this year. The project will include an "upscale grocer," apartments, office space and a community park, he said. Its neighboring entertainment venue called The Hub will feature a stage, an event lawn and several dining options.
"If you look at McKinney, downtown McKinney engages people," De La Vega said. "When you go over there in the middle of the day, you see people, and they're hanging out. We're going to try to provide another area for people in McKinney to want to just spend time."
Grimes said he was excited about West Grove and The Hub because western McKinney has been "underserved in many respects when it comes to dining and entertainment."
"That whole area is going to see more development as well, but The Hub is specifically intended for dining and entertainment," Grimes said.
Retail on the rise
Some of the development that Grimes referenced is happening just 4 miles east of The Hub at US 380 and Hardin Boulevard.
The Seitz Group, which has already brought big box retailers such as Costco and Hobby Lobby to the northeast corner of the intersection, is programming the
remaining corners
for dining, office space, retail and apartments.
At Home will join Gloria's Latin Cuisine and La Madeleine at the southeast corner; an exact date has not been established, Seitz said. Between At Home and Fairfield Inn & Suites, a retail strip will be built, according to site plans from Seitz.
The northwest corner will feature a 270-unit apartment complex with a resort-style pool, cabana and fitness center, in addition to several shops and restaurants, Seitz said. The apartments will take about two years to complete.
"The best properties are live, work, eat, play," Seitz said, adding that the development is conveniently located for employees at Raytheon and Baylor Scott & White Medical Center.
Lewis said that McKinney's growth would not have happened without the support of the city and entities like the McKinney Community Development Corp. and Economic Development Corp.
"When you think about trying to grow in a market, you end up leaving cities and going to smaller rural areas because it's less expensive," Lewis said. "But if the business really has value for the city, it's forward-thinking cities that say, 'Let's fund it. Let's get things together. Let's help push this forward.'"