Lewisville voters will decide this spring whether to alter the makeup of the city's government. If passed, Proposition A on the May 1 ballot would add a sixth seat to Lewisville City Council.
A review of 17 Dallas-Fort Worth-area cities showed that Lewisville's governing body is among the smallest, with five City Council members and a mayor, according to City Manager Donna Barron.
The proposed change is tied to the potential annexation of the Castle Hills community, which could occur later this year. Bringing that unincorporated area into the Lewisville city limits would add more than 14,000 people to the city. Lewisville's current population is about 107,000.
"If this proposition passes, that would add an additional council member," Barron said. "That would give better representation for that future population."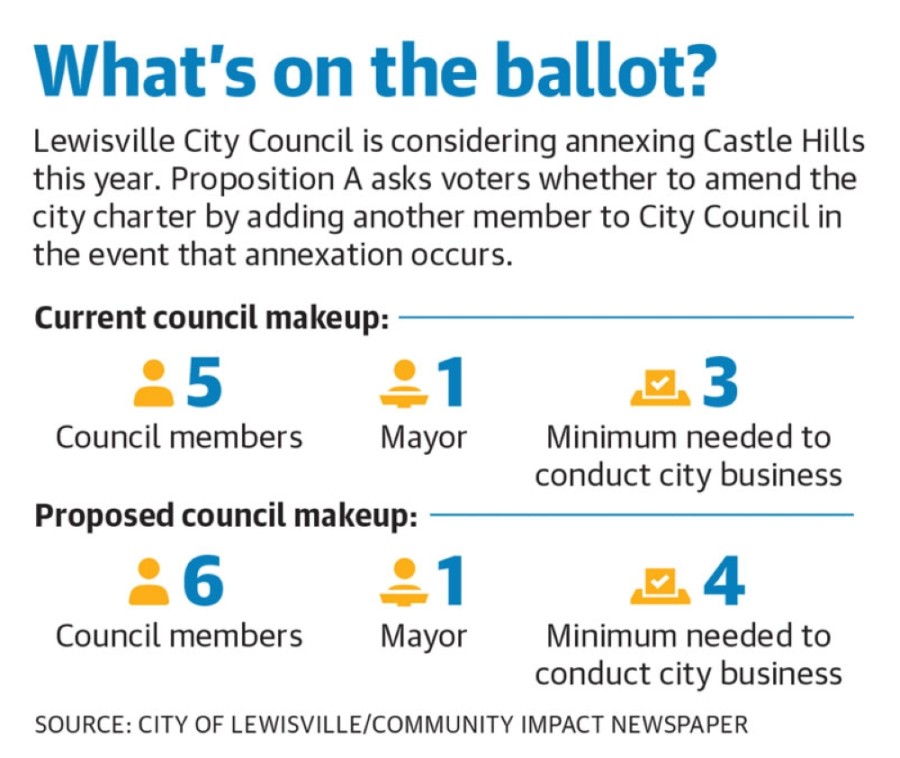 John Deihl has lived in the Castle Hills community for nearly 17 years and is part of a committee that is helping to educate residents about the possible annexation. Though Deihl cannot vote in Lewisville's May election, he said he sees the ballot measure as an important part of the process.
"Proposition A states that if Castle Hills becomes part of the city of Lewisville, then the representation of those residents would happen through an additional member to the city council," Deihl said.
Castle Hills and Lewisville are already connected in many ways, including through the sharing of some city services. Shopping and dining in the two communities is also very common for residents of each.
"The charter of the city wants to represent the different communities that make up Lewisville," Deihl said. "Castle Hills will be a very important part of that community."
Residential districts
Also tied to the city's possible annexation is a change that Lewisville voters overwhelmingly approved in 2017, which calls for City Council to begin employing a residential district system if Castle Hills is annexed.
Barron said residential districts and single-member districts are often confused. In either case, City Council members must live in a certain geographic area. But with residential districts, council members are still elected by voters from the entire city. Council members who represent single-member districts are elected only by voters living in those districts.
The residential districts in Lewisville would be drawn based on 2020 U.S. Census data set to be released later this year, according to Barron. Each district would have about the same number of people, she said.
Given Castle Hills' population, the community would necessarily make up a large portion of one of the new City Council districts.
If Proposition A were to pass in May, it would also increase the size of the quorum needed to conduct city business from three council members to four. The mayor would still vote only in cases of a tie, according to Barron.
If Proposition A were to fail or if annexation does not take place, the number of council members would remain unchanged, Barron said.
Also on the ballot
Three other amendments to Lewisville's city charter, the governing document that lays out city operations, are on the May ballot for Lewisville voters.
Proposition B would clean up certain language in the city charter in order to better match changes that have been made to state law over the years.
Proposition C would eliminate the requirement that members of the Lewisville Planning & Zoning Commission own real property.
That requirement has been on the books since the city's charter was created in 1963, according to James Kunke, the city of Lewisville's community relations and tourism director.
Kunke said he estimates more than half of the households in the city are renters, the bulk of them in apartments. Passage of this measure would allow anyone who lives in the city to serve on the planning and zoning commission.
Proposition D on the ballot is a holdover from the charter's creation decades ago. The charter's existing language gives City Council the authority to administer city departments, but operational issues fall to the city manager, Barron said.
"It's a conflict [of] the council-manager form of government," Barron said of the existing language.
She said she does not know of any time that council has used this authority in Lewisville. This ballot measure would revise the charter's language to match how the city is run, she said. Residents would see no changes in operations, she said.
Barron said it is important for people to understand what they are voting on when they go to the polls.
In November, high interest in the state and national races pushed voter turnout in the general election to more than 74% in Denton County.
However, Barron said municipal elections tend to attract fewer voters. The May 2019 municipal election saw voter turnout of 5.36% for Denton County. Fewer than 1,000 voters cast ballots in Lewisville for that election.
"It's always my hope that people turn out to vote, but history tells me otherwise," Barron said.
Early voting is April 19-27. The election is May 1.
To learn more about the ballot propositions and other news in Lewisville, Flower Mound and Highland Village, check out the April e-edition.