Volunteers are often the first people to greet visitors of Medical City Lewisville. However, since stay-at-home orders went into effect in March and the hospital enacted stricter rules to help prevent the spread of the coronavirus, volunteers have been at home in quarantine.
"They are really the first helpers that our patients and visitors get through the door," said Gina Harrison, registered nurse and director of research and volunteer services at Medical City Lewisville. "Most of the volunteers are over 70. So they know that they're at high risk for COVID-19 and they're staying home. But we wanted to do something special for them."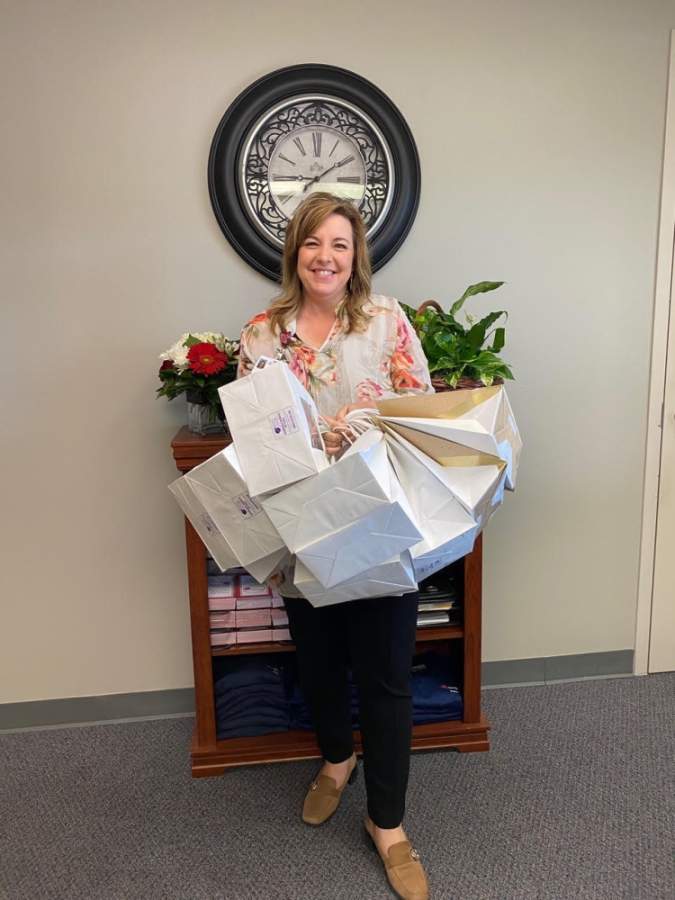 Harrison decided that since the hospital volunteer banquet—which is designed to recognize volunteers for their service—could not happen according to schedule due to the coronavirus, she wanted to drop care packages off at the doors of the volunteers.
"I just thought, 'You know, they're really missing out on the personal connection that they're used to receiving every week with everyone in the hospital,' so I put together these care packages," she said.
Over the week of April 20, Harrison dropped off about 40 care packages to volunteers containing fabric masks donated by First United Methodist Lewisville, candy, cards signed by team members and pictures the volunteers would have received at the banquet.
Harrison left a care package on the front porch of Al Walker, who has volunteered more than 5,200 hours at Medical City Lewisville over the last 17 years. Walker and his wife, Mary Kay, were able to talk with Harrison for a few minutes from a safe distance, he said.
"It brightened our day, it really did," Walker said. "We get to walk in the neighborhood nearly every day, but we really miss the contact with people. Our children and grandchildren, because of our age, our kids will not come into our house because they don't want to put us at risk. But anytime we see a familiar face even from a distance is a delight."
Walker said he feels led to volunteer to help support what the hospital does for the community, but it has also become a place where he has made friends and can visit with them, he said.
"That happy and helpful presence at our front desks is what is lacking right now," Harrison said. "We look forward to when things get back to normal and they can come back and volunteer again."