Senior-related nonprofit organizations and senior centers in the Keller-Roanoke-Northeast Fort Worth area are looking to the future after getting hit with challenge after challenge during the COVID-19 pandemic.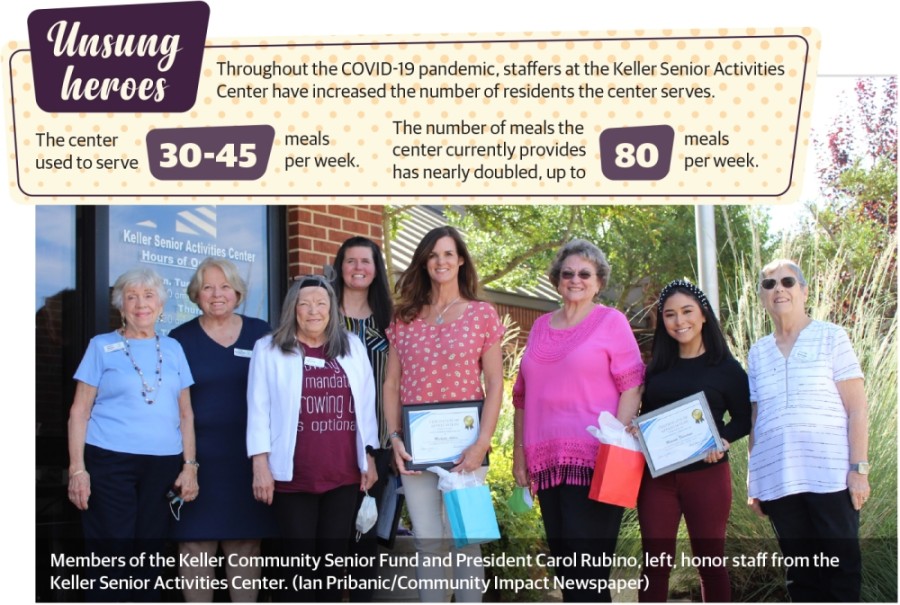 Built in 1991, the current Keller Senior Activities Center has just 4,200 square feet of space, said Elaine Rice, Keller Community Senior Fund vice president. On a typical Tuesday night prior to the pandemic, the activities center was well over its capacity, she said.
"We were having to turn people away," Rice said. "Even though they were registered with the center, they couldn't come because we didn't have the space for them."
In November 2018, some 68% of city of Keller voters approved the construction of a new senior activities center using money from the Tax Increment Reinvestment Zone. The new center will have more than 21,000 square feet of space and is expected to have a capacity of 800 people.
After breaking ground in December, construction will officially begin on the $9.6 million senior center in January 2021. The city anticipates an opening date of spring 2022, according to city of Keller Public Information Officer Rachel Reynolds.
The Keller Community Senior Fund also has plans to launch a $400,000 capital campaign to help pay for equipment, furniture and other items inside the center.
"We're trying to raise the level of awareness about seniors and the value they have to offer," said Carol Rubino, senior fund president. "It's about respect and dignity."
Community Senior Fund
With nearly 6,000 seniors, or 13% of the population, in the city of Keller, the nonprofit Keller Community Senior Fund helps to supplement assistance provided by Meals On Wheels and other organizations.
The nonprofit assists thousands of seniors living in far north Fort Worth and upwards of 1,300 registered members of the Keller Senior Activities Center, Rubino said.
"Half of the citizens that come to the activities center are not from the Keller area," she said. "Half of seniors come from north Fort Worth, and we're hoping to work with businesses in that area."
Because the senior center does not charge a fee for members, Rubino said the Senior Fund is hoping to supplement meal costs and other expenses by adding partnerships with businesses and restaurants beyond the Keller area.
The Keller Community Senior Fund, in partnership with Metroport Meals on Wheels, has also assisted a curbside meal program run by the Keller senior center every Tuesday, Wednesday and Friday throughout the pandemic.
Thanks to donations from local churches and community members, the activities center has also provided more than 2,000 donation bags to senior residents filled with essentials, such as produce and dairy products, said Keller Senior Activities Center Supervisor Crystal Lopez.
"Our goal was to reevaluate our mission and adapt our services," Lopez said of the challenges the center has faced due to COVID-19.
The first step was to interact with members over the phone or by email, she said. Staff then began encouraging members to use Facebook, Zoom and curbside services.
"Still, there are other people that are homebound and aren't able to use curbside or Zoom, so we've been making regular calls and check-ins to ensure they are OK," Lopez said.
Senior centers adapt
Senior centers in Keller and Roanoke have been closed to in-person activities since March. Staff have adapted programs to virtual and curbside formats. In order to continue serving weekly meals, both senior centers have partnered with the nonprofit Metroport Meals on Wheels.
"In March, we were thrown for a loop with restaurants closing and had to scramble to find food providers in our price range," said Andrea Burris, Metroport Meals on Wheels director of client services. "But we have not missed a beat on home delivered meals."
According to Burris, Metroport Meals on Wheels operates 22 meal routes from Boyd to Bedford, including routes for the Keller Senior Activities Center and Roanoke Community Center.
"We hosted luncheons in person but once the pandemic hit, we switched to drive-thru lunches," said Jacob Parker, with the Roanoke Parks and Recreation Department.
Parker said the center has partnered with Metroport Meals on Wheels to continue providing lunches for most of the pandemic. The organization has also implemented new standards and policies, such as no-contact delivery and a 12-foot minimum distance between senior clients and delivery drivers.
"We're trying to figure out how we can deliver as cleanly as possible," Burris said. "We're more worried about spreading it to [clients] than them spreading it to us."
•Along with weekly deliveries to senior centers in Tarrant, Denton and Wise counties, Metroport Meals on Wheels serves more than 250 homebound clients Monday through Friday, Burris said. And if clients don't answer the door, the organization checks in through its "phone buddies" program, she said.
"[Phone buddies] was implemented immediately in March to make sure our participants aren't isolated and alone," Burris said. "Many of them live in fear, especially seniors with underlying medical conditions, and it allows us to call once a week and visit or check in on residents."
Ahead of the Christmas holiday, Metroport Meals on Wheels is also reaching out to program participants with a list of gift items they can request, such as heaters, towel sets and electric tea kettles and coffee pots.