While the COVID-19 pandemic created a temporary freeze in home sales, demand for residential housing remains high, according to real estate experts in the Keller-Roanoke-Northeast Fort Worth area.
On the heels of a solid 2019, pre-pandemic home sales were "robust" due to relocation activity and job growth, Hillwood Communities President Fred Balda said. The first signs of a "pause" in the market occurred in the middle of March and lasted for about six weeks, he said.
"Basically, the economy just shut down," Balda said. "We got cut in half from what we were experiencing [before the pandemic], but we were happy with that."
Home sales at popular residential communities in North Fort Worth, such as Pecan Square and Harvest, dropped by 50% during the first three weeks of the pandemic, Balda said.
Hillwood, which was selling roughly 25 homes per week during that time, ramped up its digital service and virtual reality home tours, which resulted in an increase in digital traffic and more educated prospective buyers, he said. By the end of May, the developer was selling 70 homes per week.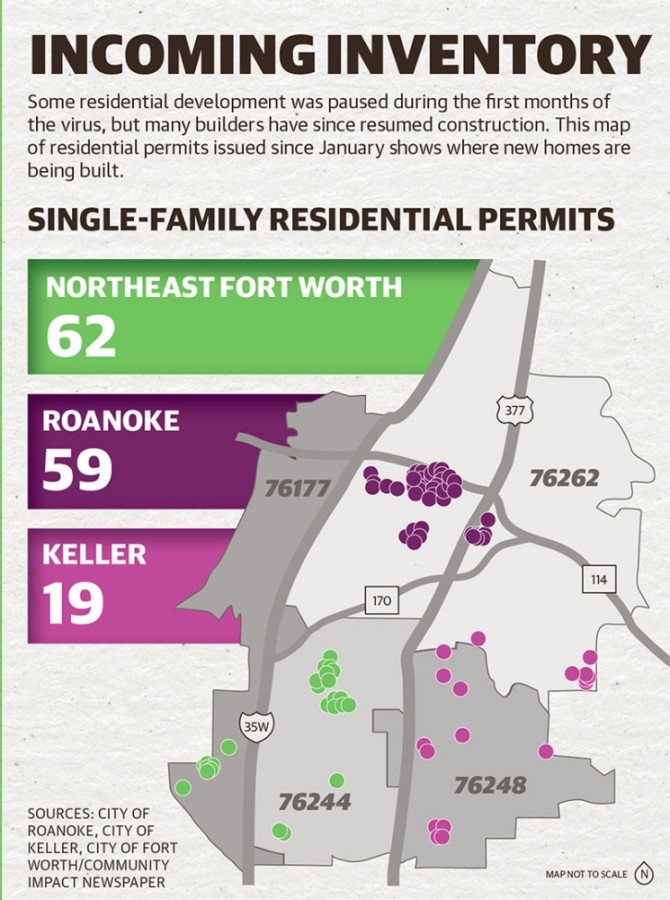 "When buyers went to a specific model home, they had already done all of their homework online," Balda said. "The [majority] of that traffic was serious buyers."
With not nearly as many home listings as there were at this time in 2019, the result is a seller-oriented market with fewer home sales, said Ted Wilson with Residential Strategies.
According to Wilson, the Dallas-Fort Worth-area reported 5,500 fewer home sales during the early stages of COVID-19—from March through May—as compared to the same time last year.
"A lot of people don't want to list their homes," Wilson said. "The first quarter of this year was extremely strong, but 10 of the 12 weeks were pre-COVID-19."
Many potential sellers who typically would have put their homes on the market chose not to do so, said Darin Davis, a Realtor with Keller Williams in the Roanoke and Keller areas.
"We have very, very low inventories in 76262 and 76248—crazy low," Davis said. "The supply is really low, and the demand is really high, so prices are climbing."
Inventory in the Keller-Roanoke-Northeast Fort Worth area remains low for available new and existing homes, he said. While home builders "tapped the brakes" in March and April, clients looking for existing homes kept pouring in, Davis said.
"Once people had to coexist with their families and have a work environment, they realized they needed one or two extra rooms," he said. "People are approaching [buying a home] with a post-COVID-19 mindset."
Unlike other areas of the country, in DFW, the housing market has been largely insulated from the impacts of COVID-19, Integrity Group President John Delin said. The development group operates three residential communities in the area and has an additional two that are under development, he said.
"Our customer, the active adult, seems to be more targeted by the virus, so we're being creative in ways we're dealing with customers," Delin said.
The pandemic is having a similar impact on the Realtor-customer relationship, Davis said.
COVID-19 has caused many agencies to work toward increasing their technological capabilities. At many businesses, listings of homes are available on a searchable database, and Realtors simply have to plug in a client's criteria, he said.
"It has taken the guessing game out of it," Davis said. "People are coming to meetings with eight homes they want instead of 80."
Realtors are also accommodating the health and safety concerns of buyers and sellers alike through the use of face masks, hand sanitizer before and after home visits and minimal touching of home surfaces.
Another change, Davis said, has been that he and his clients often use separate vehicles.
"The conversation we would normally have in my car, we now have on speakerphone," he said.
Despite a temporary delay in spring due to stay-home orders, home sales activity is expected to continue throughout the summer months, according to Balda. •New home sales activity is stronger than ever, and resale inventory has dropped off significantly, he said.
"Showing a home right now is more challenging than a year ago," Balda said. "Meanwhile, people have had to shelter in an apartment or home that wasn't conducive to having to work, educate and play, and who knows how long this is going to continue?"