After two decades of working in the big-box furniture industry, Stephanie Gingras had an epiphany. She said she knew she could provide the same service, but better.
"I saw their successes, and I saw their failures," Gingras said. "My job ... is to give the customer information so they can make the decision, and that's where I excel over other stores."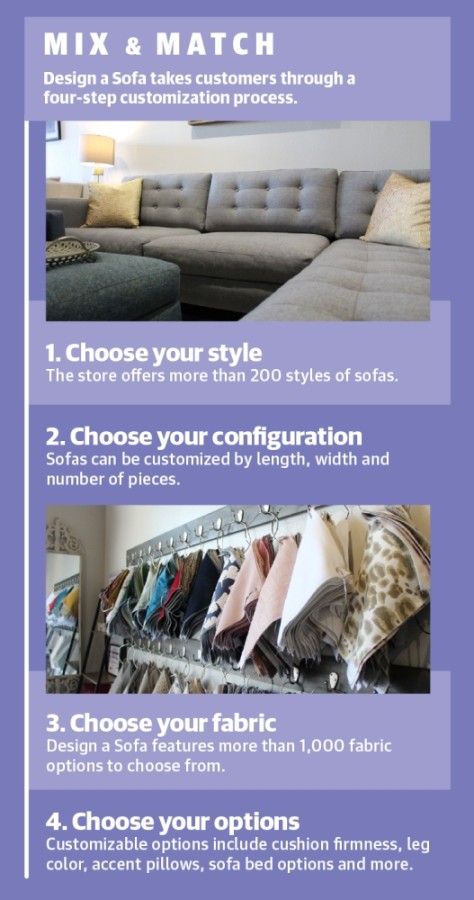 Gingras opened her own furniture store, Design a Sofa, in mid-2019 and moved it to a larger location on Heritage Trace Parkway in Fort Worth in 2020. The business offers more than 200 styles of sofas and more than 1,500 material options, she said.
Design a Sofa also has a user-friendly website, Gingras said, and its name is literal.
Customers will find a wide variety of upholstered pieces, a personalized experience and no pressure to purchase on the spot, she said.
All sofas, chairs, ottomans and other furniture items are handmade in the U.S. and tailored to the exact style and build a customer wants, Gingras said. The materials used by the company come with a lifetime warranty against defects and are sourced regionally by a California factory.
"I'm not just trying to make a sale," Gingras said. "When pieces come in, the client is overjoyed because they found exactly what they want."
Gingras also has more than a decade of interior design experience and offers free in-home or virtual design consultations. The store is open to walk-ins and consultations are available, she said.
"I have been so successful in the furniture industry because I have always treated it like my own business, even when I worked for [big-box] stores," Gingras said.
Design a Sofa
3529 Heritage Trace Parkway, Ste. 167, Fort Worth
817-501-6658
https://designasofadfw.com
Hours: Mon. 11 a.m.-6 p.m., Tue.-Wed. by appointment only, Thu.-Sat. 11 a.m.-6 p.m., Sun. noon-5 p.m.