Grapevine nonprofit GRACE is on track to open a new donation station in late spring.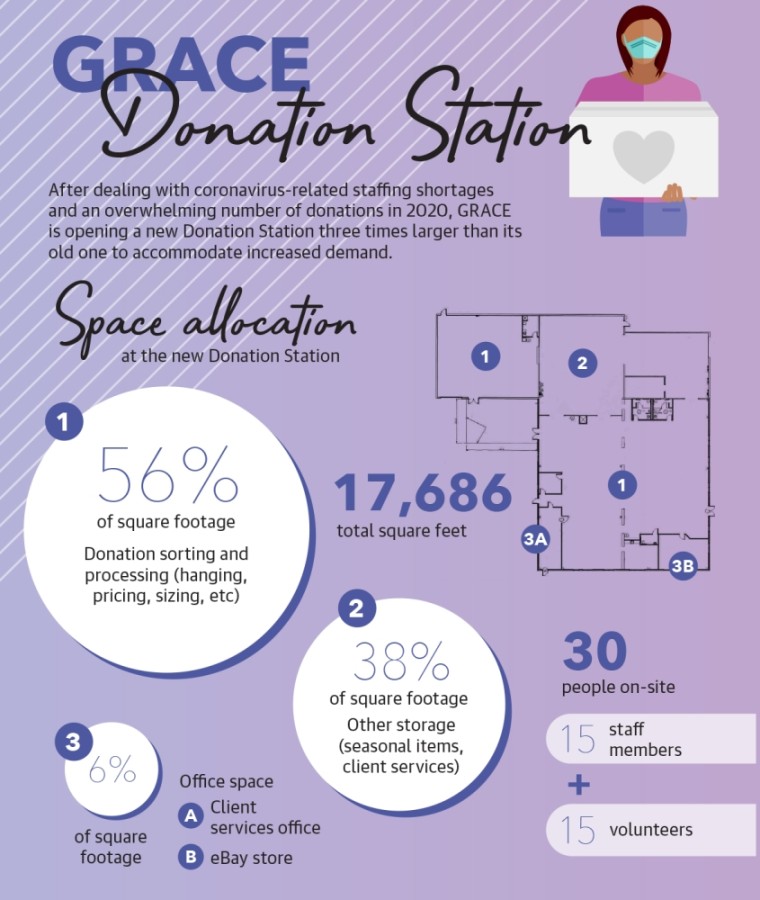 The agency ran out of space at its existing station on N. Scribner Street a long time ago, CEO Shonda Schaefer said. Distributing and reselling items donated through the station allows the nonprofit to serve those facing financial hardship.
GRACE also offers financial assistance and counseling, transitional housing, food and medical services, among other community programs.
"[Right now] it's hard to drive by the piles and piles of donations and truly get an understanding for how important your gift is," Schaefer said.
The Scribner location accepts clothes, housewares, holiday items and more. Donations are distributed to clients in need or used to furnish GRACE's transitional housing program.
Some donated items are taken to the organization's GRACEful Buys resale stores in Grapevine and Euless, which fund a quarter of GRACE's client programs, Schaefer said.
"The donation station really relies on the health of the community," said Jennifer Rawls, director of resale and operations.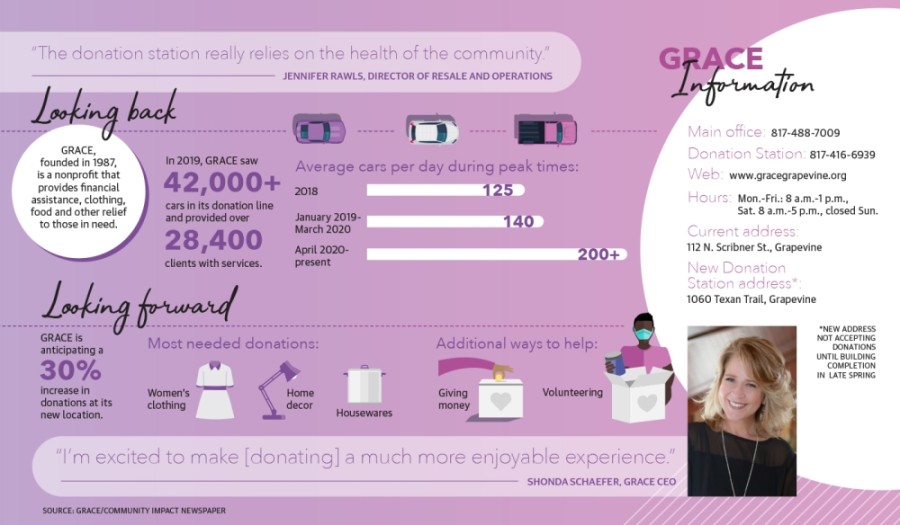 In 2019, the organization purchased a space at 1060 Texan Trail for a new Donation Station that will be three times larger than the current one.
The number of donations exploded during the coronavirus pandemic, but in March 2020 the organization suspended a planned capital campaign to raise funds to renovate the new space. The old donation site even closed during the spring, until staff could return safely.
When GRACE reopened to donations, the organization chose to invest further in the Texan Trail site. It will replace the old donation station and provide space for the nonprofit's client services office. GRACE has relied on corporate sponsors and individual donations to begin funding the project, which Rawls said is estimated to cost more than $2.5 million.
The nonprofit is still seeking donations for the new station.