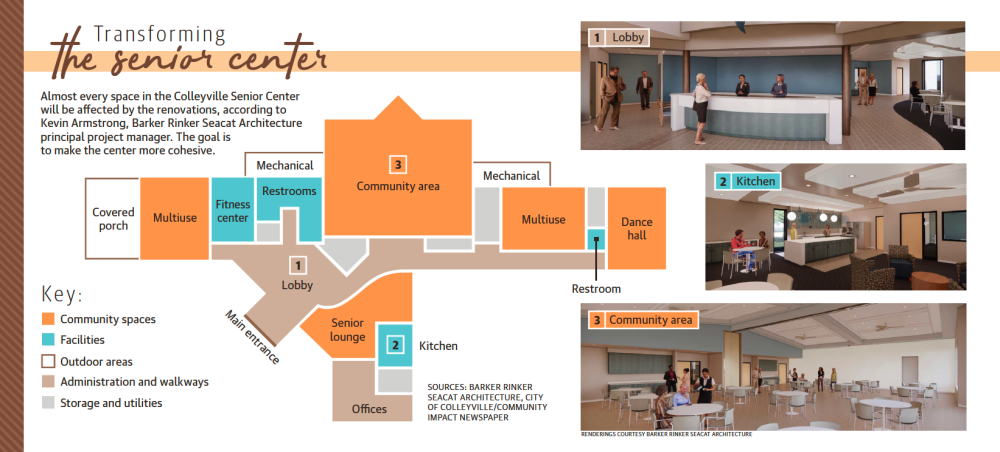 On a corner of Glade Road sits a former church that has been turned into a senior center. Purchased in 2006, the church was renovated "very modestly" into the Colleyville Senior Center, Colleyville Parks and Recreation Director Lisa Escobedo said.
The Colleyville Senior Center offers fitness, dance and educational classes along with special-interest groups, trips and events, according to the center's website. But because the senior center is the city's only recreational facility, Escobedo said it also hosts youth and adult recreation programs outside of the senior center hours in the late afternoon and evening.
"That's how we functioned—until now," Escobedo said.
In 2018, Escobedo said it was clear that the center needed an upgrade. Now, with $4.65 million, the Colleyville Senior Center is set for a complete transformation.
A crowd-sourced decision
When Colleyville's Parks and Recreation Department began its 2018 Open Space Master Plan, Escobedo said multiple stakeholder meetings were held, and surveys were sent out to ask residents what they wanted.
Currently, Colleyville Senior Center memberships are available to those 50 and older, according to the center's website, and a membership is required in order to participate in all senior classes, programs and activities. Colleyville residents can be members without paying any annual fee, while nonresident members pay $10 a year.
Ricki Wilson, who said she has been using Colleyville's senior center for "many years," said she takes yoga classes there twice a week.
"I think it's a good value for people over 50 to come here and exercise," Wilson said.
Colleyville City Manager Jerry Ducay said the consensus from citizens was that they either wanted a new building for seniors and recreational use or to expand the current senior center building.
"So from that, we took that we need to take the senior center we have [and] really turn it into a nice building that provides more functional services," Ducay said.
Residents were inspired by the senior and recreation centers that some of the surrounding cities have, Ducay said.
Southlake and Grapevine are two of the cities that switched from traditional senior centers to full-service recreation centers for all ages.
Funding for the project came from the city's five-year capital plan, which sets aside a certain amount of city revenue each year for projects, Ducay said.
'Almost a full transformation'
Kevin Armstrong, the principal project manager from Barker Rinker Seacat Architecture, is spearheading the renovations.
"Almost all of the spaces are getting adjusted, but we're doing that to give you a much-improved layout. ... It's almost a full transformation of the space," Armstrong said at an Oct. 19 City Council work session.
Escobedo said one of the major changes is that the center has an annex building that will become connected to the main building.
In addition, Escobedo said the renovations will open up a lot of the exterior walls with windows.
The rooms also need to be reconfigured, Escobedo said. Right now, the rooms throughout the senior center are "long and linear."
"Some of the rooms are not the best layout for getting a medium-sized group in there," said Cody Ashton, Colleyville Senior Center recreation specialist.
2022: A year under construction
According to Armstrong's timeline, the project will go out to bid for construction Dec. 13, and the bids will open Jan. 18. The construction contract will then go to Colleyville City Council for approval Feb. 1.
With that timeline, Escobedo said she hopes construction will start by mid- to late February. The project is expected to take nine months.
To keep programs going throughout 2022, Escobedo said they are relocating all programming to the Colleyville Center or Colleyville Public Library starting in January until December 2022.