Early voting in Texas kicked off on Tuesday as voters headed to the polls to cast their ballot for federal, state and local candidates. Despite the pandemic, people are turning up at the polls in record numbers.
According to the Tarrant County elections
website
, 36,666 early voting ballots have already been cast as of 4:18 p.m., which represents 3.06% of all registered voters in the county. In the 2016 presidential election, there were a total of 43,149 ballots cast on the first day of early voting in Tarrant County, or 4% of all registered voters within the county.
Voters at the polls on Tuesday said that safety precautions in place have helped them feel safe and comfortable. Despite the long lines, for some voters, the process was rapid and efficient.
"It was great. [I was] very surprised how great, how well organized it was," said Grapevine resident Mary Engel, who voted at Grapevine REC with her husband, Jimmy. "It really feels good to see so many people out voting. It did my heart good to walk up and have to stand in the long line."
Ballots in Tarrant County are being cast through digital voting machines that use the Hart InterCivic Verity Voting System, which was implemented in 2019.
"It was so quick. They really are doing a great job," Jimmy Engel said. "There's so many [booths] available that I didn't feel pressured."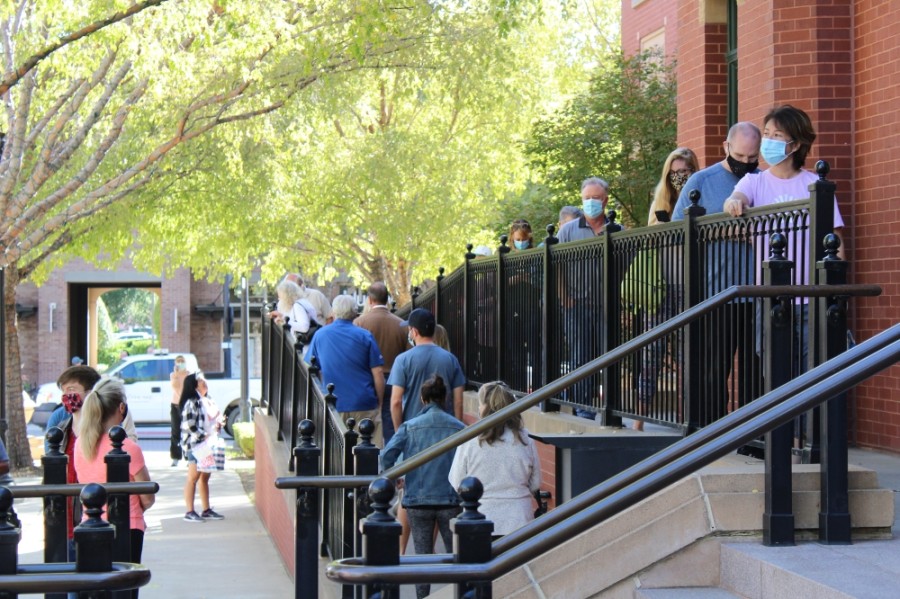 The majority of voters in Grapevine, Colleyville and Southlake said the wait time was under an hour and that all booths are being kept 6 feet apart in keeping with social distancing requirements.
"I found it very safe," Southlake resident Lourdez Stettler said. "Everybody had their mask on. People were keeping their distance, and it was actually going faster than what I expected."
In contrast, voters in Keller and North Fort Worth were facing long lines and a number of other difficulties on the first day of early voting.
At Keller Town Hall, the line to vote was nearly three hours long, said resident Barbara Rhome, who has lived in the area for 31 years.
"I've never waited that long to vote in my life," Rhome said. "When we got here this morning, they told us we might as well go home. It's been a nightmare."
The nightmare was the result of a poll worker who tested positive for COVID-19 during an election training session, officials said. Due to the positive test, two thirds of workers at Keller Town Hall, Woodland Springs and other county voting locations were sent home.



Last night a poll worker that was trained on 10/8 informed us that he tested positive for COVID-19. Out of an abundance of caution, all workers that were in the same training class were asked to stay home and not show up for work today.


— Tarrant County Elections (@tarrantelection) October 13, 2020
"It took me two and a half hours to vote, and that's a lot longer than normal," Keller resident Caroline Sherman said. "They only have half the machines working."
According to officials, the number of machines in operation at Keller Town Hall was just 12 out of a possible 32.
Other issues at Keller's only early voting location have included a 45-minute delay to begin early voting on Tuesday morning and a lack of officials present to enforce a 100-foot barrier between individuals waiting to vote and groups campaigning for specific candidates.
Tarrant County elections officials did not respond to a request for comment about the issues.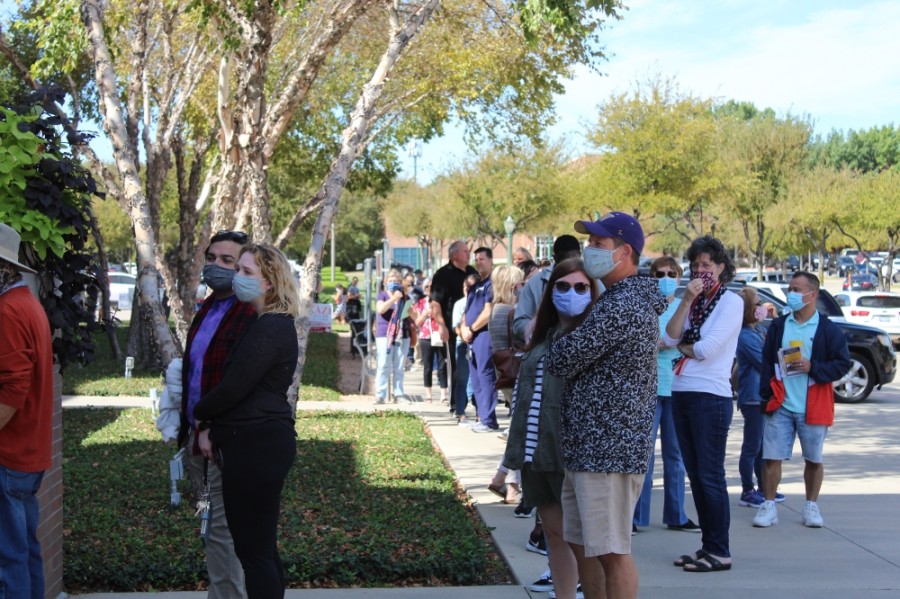 Community Impact Newspaper
will continue to provide timely, accurate updates to our readers during this election season. For more election coverage, visit our
voter guide
.