As vaccine distribution across Texas continues, the demand for vaccines from individuals eligible in Phase 1B---people over the age of 65 and people with underlying conditions---is on the rise amid confusion on where to get vaccines and why certain medical facilities with doses are not distributing them to the community yet.
According to the Tarrant County Public Health Department, 160,000 individuals have registered to receive their vaccine, with 85% of those individuals being currently eligible. Distribution for Phase 1A and 1B is expected to be completed in the next month or two.
As of Jan. 5, the Texas Department of State Health Services reported 24,490 individuals have been vaccinated with at least one dose in Tarrant County.
MaryLee and Carl Alford, Southlake residents, took an appointment Dec. 31 at the Arlington Convention Center to get their first dose of the COVID-19 vaccine. However, they knew there was no guarantee they would get their shot even though they were in line.
MaryLee Alford said a firefighter monitoring the lines at the convention center told her the location was set to only give out 300 doses that day, but the website allowed 6,000 people to register. Many were showing up without the required appointment.
In total, MaryLee and Carl Alford said they visited between six and eight places over the course of three days before they were able to find a place to book an appointment.
Despite the wait and long search for a location distributing the vaccine to the community, the Alfords, who received the Moderna vaccine, said they were eager to get their first dose.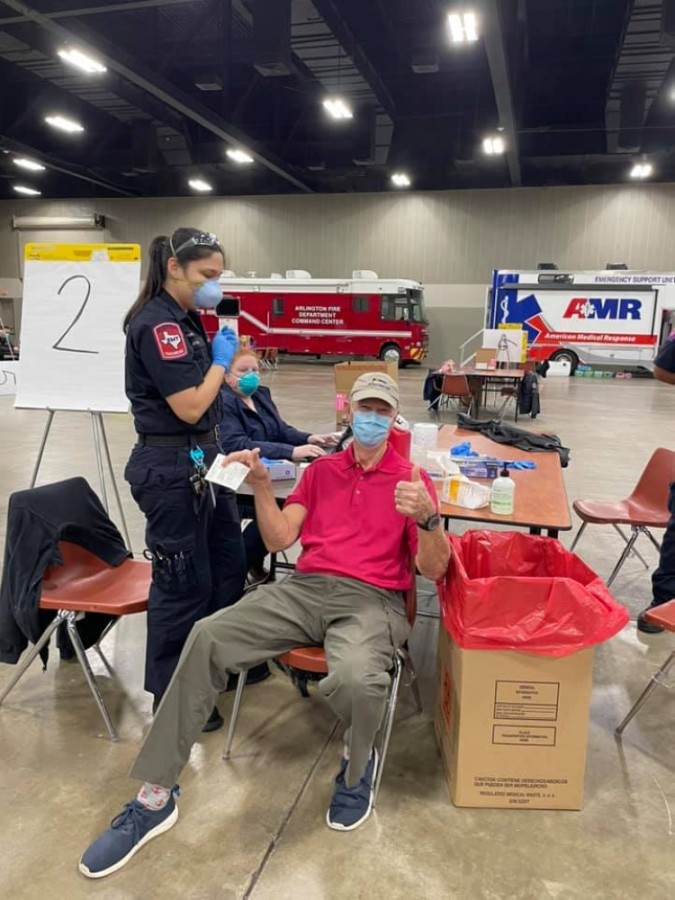 "There are a lot of people complaining about it," MaryLee Alford said. "But ... this is a brand-new situation for everybody. We're just thrilled that we got the vaccine. I think they're doing the best they can."
The DSHS released a
dashboard
with a list of medical facilities receiving or possessing vaccine doses from either Pfizer or Moderna. However, many of these locations are not yet distributing vaccines to the community as they focus on first vaccinating employees and staff.
As of Jan. 4, Baylor Scott & White Health in Grapevine had 975 Pzifer doses and 100 Moderna doses. Although listed on the DSHS website, the facility is not currently distributing to the community.
According to a press
release
, BSWHealth is working on administering the second dose of the vaccine to 49,000 employees and 7,300 active physicians across the state.
"As the state's largest not-for-profit health system, our first responsibility to the community is to safeguard the caregivers Texans are dependent upon," said Alejandro Arroliga, chief medical officer at Baylor Scott & White. "We are committed to transparency throughout this process so the communities we serve have the latest information, as we near the ability to begin vaccinating segments of the public most at risk."
Matthew Eiserloh, director of community and public relations for Medical City Alliance, said the hospital has been "inundated with calls and requests due to some misinformation that was reported early on."
Like many other facilities in the area, Medical City Alliance was listed as a location distributing vaccines to the community even though that process has yet to begin, he said.
Medical City Alliance currently has 700 Moderna doses available as of Jan. 4, but they will be reserved for the hospital's staff and employees first.
MaryLee Alford said she found the vaccine itself to be a painless experience, with just a bit of soreness in the injection area for two days.
"We've never experienced any other side effects, no headaches, no lethargy, nothing," she said. "In fact, the day after our vaccine, Carl and I both had much more energy than we normally have. And we got a lot done around the house. So we feel great."
Once the Alfords get their second dose in a few weeks, Mary Lee Alford said the first thing she will do is hug her family, who she has not seen since March.
"We just feel a little isolated," she said. "We look forward to being able to be with family and have that physical touch again."
Individuals who qualify for a vaccine under Phase 1B can find out more information about the distribution and locations through various sources including a Tarrant County
portal
and the Baylor Scott & White Health-Grapevine
website
.