Senior centers in Grapevine, Colleyville and Southlake are working to provide activities and services in new, safe ways during the coronavirus pandemic.
Many have yet to completely reopen for in-person classes and activities, such as aerobics and game nights. When they do get together in person, masks are required, and social distancing of 6 feet or more is maintained. Meals these days are available via pickup or delivery. Other offerings call for some creativity.
"[Seniors] have really appreciated and really enjoyed the programs that we've been doing virtually," Grapevine Recreation Manager Trent Kelley said. "A lot of programs that we are bringing back have an outdoor component to them."
Senior citizens have endured months of isolation and are now demanding more in-person events.
"[Seniors] have asked how much longer [until we reopen] or have said they miss their friends," said Cody Ashton, specialist for Colleyville's parks and recreation. "A lot of them are missing that social aspect of the programs that we used to do."
But an increase in the number of daily COVID-19 cases in Tarrant County has created additional concerns. While those 65 and older represent less than 15% of coronavirus cases across the country, they account for about 80% of COVID-19 related deaths, according to data from the Centers for Disease Control and Prevention.
Should current trends continue, senior centers might have to close again to protect vulnerable members despite efforts to safely reopen.
"We're optimistic that we'll be able to keep inching forward ... as long as we can do it safely," Kelley said.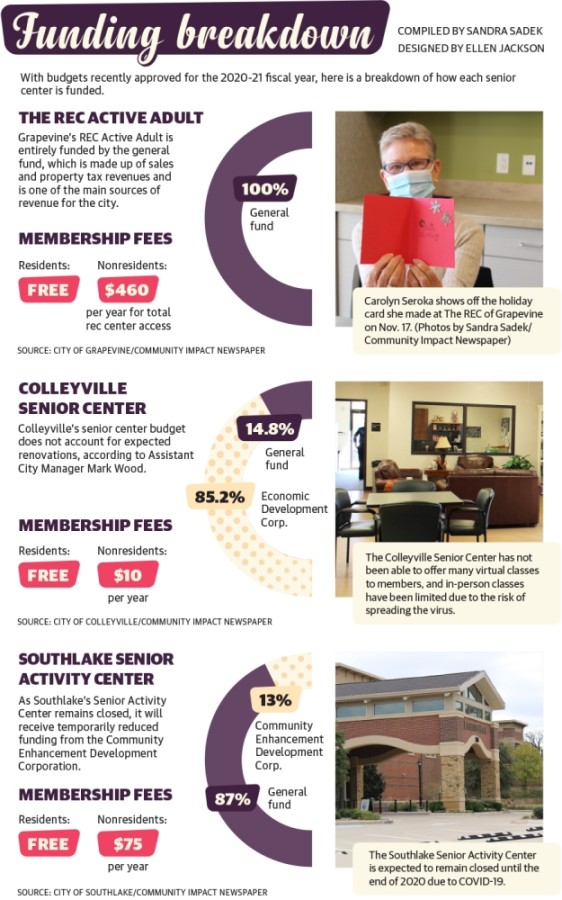 Virtual connections
Since March, Grapevine's senior center has been offering more than 200 different virtual programs each week, including classes on how to use Zoom video conferencing software and how to file taxes. Now the center is working on bringing back in-person activities at 50% capacity. Southlake's center has also been offering similar virtual classes.
Carolyn Seroka has been an active member of The REC Active Adult program in Grapevine since she retired five years ago.
Like many, she has slowly returned to in-person classes she feels are safe. She has also enjoyed the virtual classes offered these last few months.
"It was such a relief that it wasn't hard [to transition to virtual classes]," Seroka said. "It was something that we could continue to do, and it is much nicer than not being able to do it at all. It's like [the instructor] is in our house, and we see all of our friends and can talk to one another. It's a great substitute."
Virtual classes also allow for more flexibility.
"I have an illness and a lot of times don't feel well," Grapevine resident Ruth Herrera said. "Virtual classes have really been better for me than coming in person. A lot of them are recorded, and you can watch later at your own convenience."
The Southlake Senior Activity Center has not yet opened for in-person activities, according to Southlake Community Services Director Chris Tribble.
"While we want to be engaged and offer some programming, we are very aware of our limits," he said. "The risk is not worth the outcome to have [seniors] back in the building yet."
Facing similar challenges, the city of Colleyville Senior Center has been unable to completely open. Having two staff members has also limited the center's ability to offer virtual classes, said Lisa Escobedo, city of Colleyville director of parks and recreation.••"We don't have the staffing levels that a lot of the other cities have to do that type of programming," she said.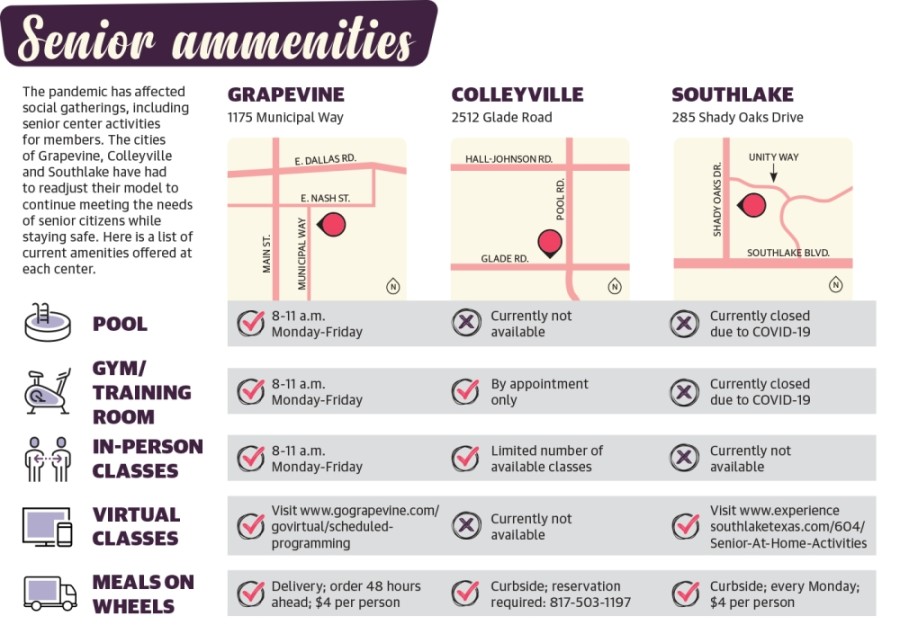 Hot meals on the go
Many senior centers have also increased meal assistance for members whose budget is limited or who cannot cook for themselves.
Metroport Meals on Wheels regularly served about 75 seniors weekly in Southlake before the pandemic. The meal program at the Southlake Senior Activity Center grew from a total of 60 meals in the first month of the pandemic up to an average of 110 registered meals per week by August. The meal service at the Southlake Senior Activity Center is currently available via curbside pickup.
Grapevine and Colleyville also offer hot meals to seniors. In Colleyville, meals are offered on the first and third Friday of each month. According to Escobedo, an average of 70 meals are given out at each distribution, and it is the most popular program offered.
In Grapevine, meal distributions have averaged 275 a week and are delivered five days a week.
Funding for seniors
While area senior centers have adjusted offerings of in-person activities since March, city funding for senior-related programs has not drastically changed.
In Grapevine, a small decrease in funding will not affect the level of city services provided, according to Grapevine Chief Financial Officer Greg Jordan.
The city's 2020-21 budget will allocate roughly $550,000 for senior programs, a 2% decrease from the previous year.
In Southlake, that number will total $232,000, according to Tribble. The budget is expected to see a temporary 28% cut from the Community Enhancement Development Corporation due to a reduction in programming, he said.
In Colleyville, funding for the senior center has been on the rise, with a full renovation planned for 2022, said Assistant City Manager Mark Wood.
Despite the unknown challenges ahead, senior centers have made caring for members a priority.
"They are family, and we want to make sure we continue to do our best to help them stay active and engaged both physically and mentally," Tribble said.