With high demand for the vaccine amid a surge in COVID-19 cases, Tarrant County is rolling out a massive campaign to inoculate residents through four distribution sites.
About 537,738 people have registered for the vaccine in Tarrant County as of Feb. 4, according to Public Health Public Information Officer Brian Murnahan. The county saw cases increase after the holidays, with 30% of all COVID-19 tests in January coming back positive compared to 20% last summer. As of Feb. 2, there has been a total of 222,111 cases and 2,277 deaths.
"As you look at it from an individual standpoint, we're still [seeing] very high disease activity in the community," Tarrant County Public Health Director Vinny Taneja said. "That means we still need to wear masks, we still need to socially distance."
Fears of new coronavirus variants decreasing vaccine efficacy have health officials working around the clock to get people vaccinated.
"So far we haven't found anything in our county, but it's probably here in the metro area," Taneja said.
To ramp up vaccination efforts, Tarrant County has partnered with 13 cities, including Grapevine, Colleyville and Southlake, to host a vaccine distribution hub at the Hurst Convention Center.
Murnahan said the county vaccinated about 300 people in just a few hours on opening day, Jan. 12. He said the county is hitting its goal of vaccinating 2,000 people a day. It will cost nearly $700,000 to maintain the site through May 1 using money from the federal Coronavirus Relief Fund, and more than 100 volunteers are needed each day to run the vaccine hub.
"[The site] is running very smooth," Murnahan said. "We couldn't be happier with the partnership between Tarrant County and the Northeast Fire Department Association."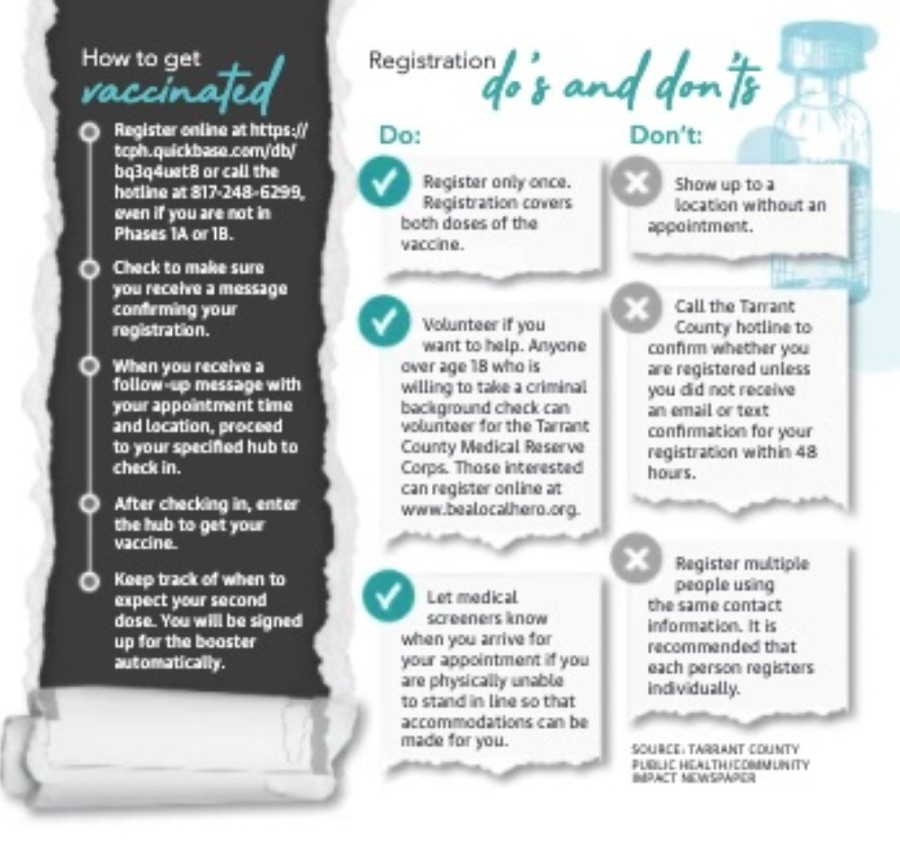 As with other vaccine hubs in the county, the Hurst site is expected to receive weekly vaccine shipments from the state, Murnahan said. The county operates three vaccine locations. These include the Hurst Conference Center, the Bob Bolen Public Safety Complex Administration and the Tarrant County Resource Connection. The Arlington Fire Department is hosting a site at the Arlington Convention Center.
The Hurst site was mobilized in less than two weeks by members of the NEFDA. Cities have provided staff, volunteers and equipment, Grapevine Communications Manager Mona Quintanilla said.
Hurst Fire Chief David Palla said most NEFDA member cities have experience working together, which made the hub mobilization a lot easier.
"We came together quickly and seamlessly to create this process," Palla said.
Colleyville Assistant City Manager Mark Wood said the Colleyville Fire Department has let firefighters volunteer to help administer vaccines at the center. Residents have voiced their appreciation after seeing the fire department's efforts, he said.
"[They took] comfort in the fact that we were ... helping out," Wood said.
Other city staff have volunteered to conduct check-ins, direct traffic and perform other administrative tasks, he said.
According to Palla, the average wait time from the moment people get in line to the moment they get their shot is about 30 minutes. Eligible individuals are required to have an appointment.
Amanda Calongne, chief of staff for Texas Rep. Giovanni Capriglione, R-Southlake, said Tarrant County has planned for some unpredictability.
"What they're expecting on any given day is that 20% of people who have an appointment that day will be no-show," she said.
To combat no-shows, the county schedules more vaccinations than can be fulfilled each day. People who miss an appointment can visit their assigned locations the next day to have their appointments honored, according to county officials.
Bedford resident Karla Cunningham accompanied her sight-impaired mother to her appointment for her first dose of the vaccine. Cunningham said they received their appointment slot two weeks after registering.
Although her mother will still have to get a second dose, Cunningham said she hopes the vaccination will help her feel less nervous about catching the virus.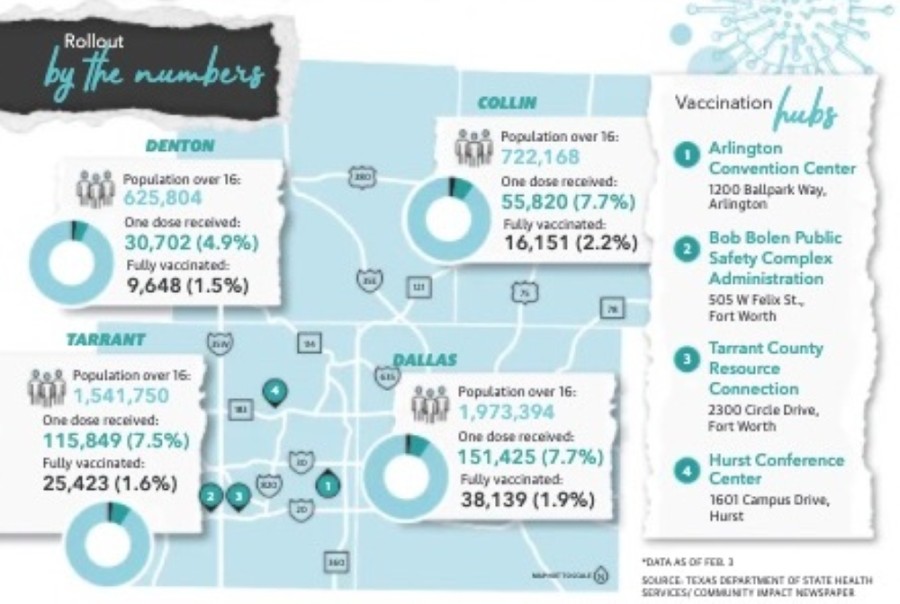 As Tarrant County continues to vaccinate as many people as possible, officials are working to expand access across the county. Vaccines are also being distributed by private entities, such as hospitals and clinics.
Baylor Scott & White Health, which has a campus in Grapevine, announced Jan. 20 that it will begin giving out doses to eligible people at its Collin and Dallas County sites, which are open to all Texans.
A strategic plan presentation to the Tarrant County Commissioners' Court on Jan. 19 emphasized the importance of continuing to develop and expand vaccine sites, establishing mobile clinics to offer access to low-access and rural communities, and providing home-based access to those in need.
Calongne encouraged anyone who wants the vaccine to register now, regardless of whether they are eligible. The Centers for Disease Control and Prevention distributes vaccine shipments based on a formula that accounts for the population over age 65 and for local demand, she said. Higher registration rates in Tarrant County mean that the county will get more vaccines sooner, she said.
Calongne said distribution will begin to speed up as the federal government releases more vaccines.
"We are expecting the number of vaccines that we receive to start doubling, if not tripling, in the coming weeks," she said.