To the local communities in Tarrant County, Bettye Bradford is the original owner and founder of Sunflower Shoppe, a Colleyville-based wellness store. But to her grandkids, she is just "Nanny."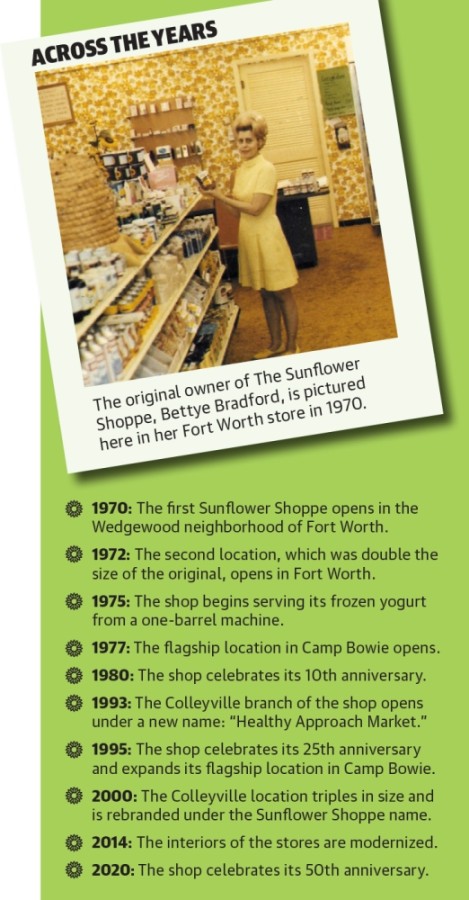 What started as one store in 1970 quickly grew into a business with three locations. This year, Sunflower Shoppe is celebrating its 50th anniversary. It is run by Bettye's four grandchildren: Chad and Bryan Bradford, Toni Crawford, and Erika McCarthy. The shop offers a large grocery selection, supplements and general merchandise.
"We all came to the business at different points," Sunflower Shoppe President Chad Bradford said. "We developed this great team under one roof, and it just happens to be a family."
Bettye opened her shop after her sister was diagnosed with cancer, Chad said. At the time, chemotherapy had a much lower success rate, and her family turned to natural remedies.
It was in the mid-late 1990s that Sunflower Shoppe went from a small store in Fort Worth's Wedgewood neighborhood to a large-scale business, he said.
"The fundamentals stay the same, which are to treat people like they want to be treated," Chad said.
The brand focuses on educating customers to live healthier lives, he said.
"Competition is the best thing that ever happened to us," he said.
With half a century under the business's belt, Sunflower Shoppe's third-generation owners are preparing for a new phase to compliment their brick-and-mortar stores.
"[Online is] a key piece, for at least the next couple of years, to make sure that our business plan is solid," Chad said.
Sunflower Shoppe
5100 Hwy. 121, Colleyville
817-399-9100
www.sunflowershoppe.com
Hours: Mon.-Sat. 9 a.m.-9 p.m., closed Sun.