Frisco City Council got a better grasp on the magnitude of February's winter storms with a series of reports from staff at the March 2 meeting.
The city received 2,298 calls for water service cutoffs between Feb. 14 and Feb. 23, according to Paul Knippel, public works and engineering services director.
"Most of these happened in one day," he told council.
A map of those calls–682 calls to 911 and 1,616 calls to public works–show widespread issues throughout Frisco.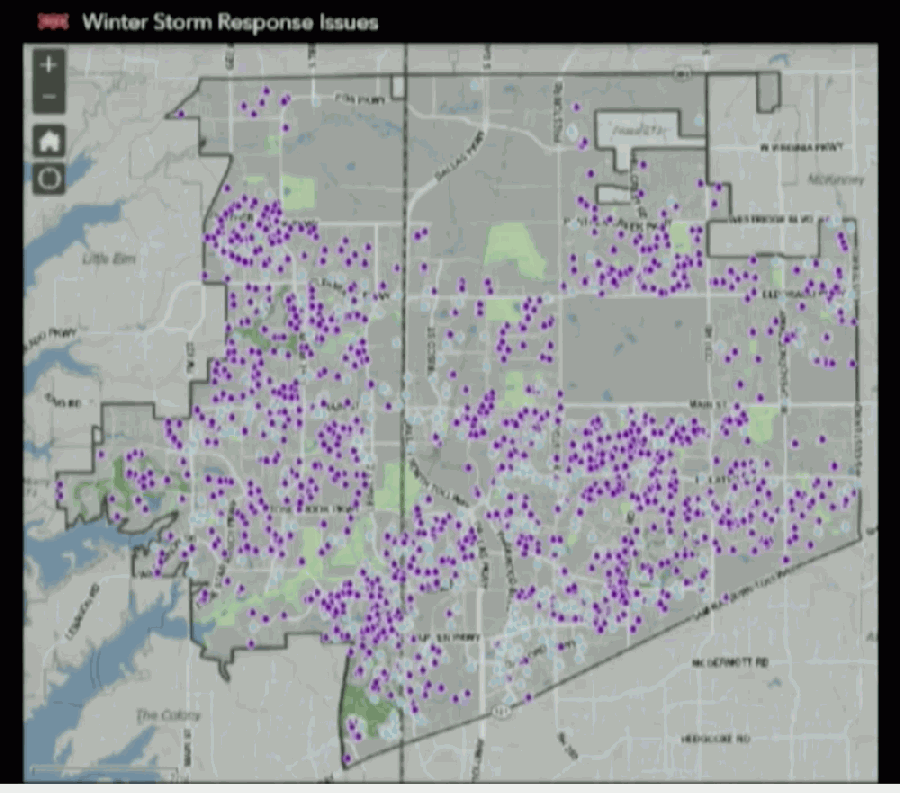 "We had a lot pipes bursting, and people couldn't shut the water off, and ceilings were coming down and a lot of very upset folks," Frisco City Council Member John Keating said, who joined many city staffers to answer calls from residents at the city's emergency operations center. "If you called, we came."
The city's dispatchers answered more than 8,500 storm-related calls, according to Police Chief David Shilson. For comparison, Frisco police logged 8,311 calls for service during January, according to the department's monthly report.
Frisco firefighters, meanwhile, responded to 1,542 calls for service between midnight Feb. 14 and the morning of Feb. 20. That is the equivalent of a typical month's worth of calls, according to Fire Chief Mark Piland.
Among those calls was the apartment complex fire in the 9000 block of Gaylord Parkway reported just after 1 a.m. Feb. 17. The city received support battling the Circa Frisco Apartments fire from other area departments, including Allen, Plano, Prosper and McKinney. The cause of the fire is being investigated.
Piland called it the largest structure fire in the city's history.
"Each one of these events in and of itself is a challenge for all of us," he said of the winter storms and the apartment complex fire. "You put both of them together, and it really pressed us to our limits."