The North Texas Tollway Authority will close northbound Dallas Parkway between Panther Creek Parkway and PGA Parkway in Frisco nightly during October while workers construct a new Dallas North Tollway overpass over US 380.
Traffic on the Dallas North Tollway will remain uninterrupted, but drivers wishing to use the northbound Dallas Parkway frontage road will have to take a detour about a mile south of the closure. The detour will take motorists east on Eldorado Parkway to Preston Road. After traveling north on Preston Road, drivers will then be able to turn west on PGA Parkway to get around the closure and back onto Dallas Parkway.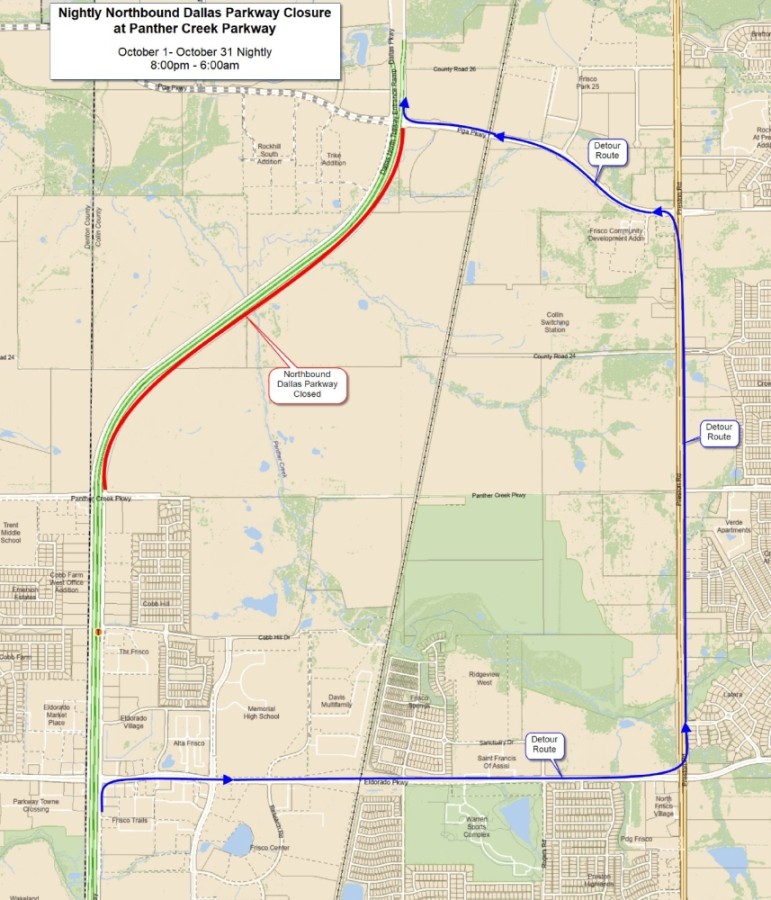 The northbound frontage road is scheduled to be closed nightly during October from 8 p.m.-6 a.m.
While traffic on the Dallas North Tollway will not be affected, the northbound exit ramp to PGA Parkway will be closed nightly. The NTTA news release said motorists wishing to use that exit will need to take the Eldorado Parkway exit and then follow the detour route to get around the closure.
As part of its news release, NTTA urged drivers to use caution in the construction area.
For construction-related questions and concerns, NTTA offers a project hotline at 972-628-3134. Additional information about upcoming lane closures and traffic-related news is available at
www.ntta.org
.