While the new Professional Golfers Association of America development is meant to transform Frisco into the home for golf in America, it will also have appeal for those unfamiliar with birdies, bogeys and mulligans.
Construction on 34 of the championship courses' 36 holes will be done in November, and the remaining two holes are slated to be completed next spring, as are a 10-hole short course and a practice facility, Darrell Crall, chief operating officer of PGA of America, said.
He compared the development, which is just south of US 380 along the new PGA Parkway, to The Star in Frisco. Crall described that mixed-use project that is also the world headquarters for the Dallas Cowboys as a destination that draws locals and visitors to the city. He said PGA Frisco will have a similarly "magnetic, incredibly welcoming vibe."
"We are including ... an experiential retail area that, whether you're a golfer or not, we hope that you'll come and enjoy—whether it's a cup of coffee, a scoop of ice cream, maybe an adult beverage or a meal," Crall said.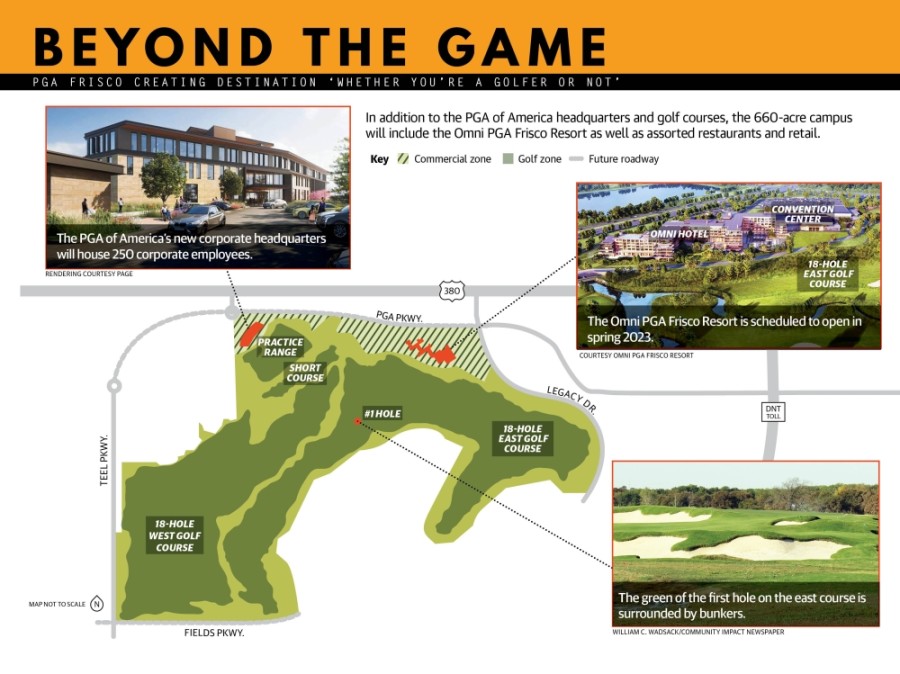 Frisco city staff estimate the project's economic impact on the city will be more than $2.5 billion over a 20-year span.
Frisco attorney David Ovard, who helped connect city leaders with PGA officials in 2013, said he believes the development will be of great benefit to golf enthusiasts and to the community at large.
"The [golf] championships are going to be broadcast to hundreds of countries around the world, and all those people will come here to experience [the PGA Frisco development]," Ovard said. "That's a really cool thing, but day in and day out, my family, my neighbors [and] my friends are going to be able to go up there and use it, enjoy it and really get a lot out of it."
America's home for golf
The new PGA of America headquarters will be part of a 660-acre PGA Frisco campus. In addition to a pair of 18-hole championship golf courses, that campus will include the 500-room Omni Resort and a golf entertainment district with assorted retail shops.
The developers of the Omni PGA Frisco Resort plan to begin construction on the 27,000-square-foot Golf Experience retail project in May 2021. Omni officials said the retail experience will be built around the two acre putting complex and lighted short course that will allow people to continue playing at night. The project's five retail buildings and an open stage are slated to be completed in Spring 2023.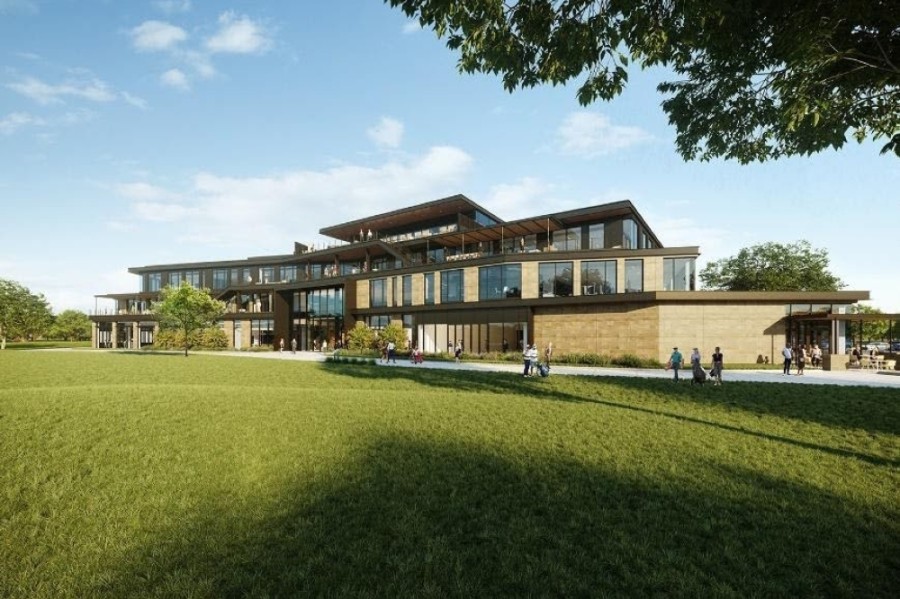 The PGA of America headquarters building will eventually house around 250 corporate employees as well as golf education spaces and indoor training facilities.
"[The development] is going to welcome not only the citizens of Frisco but the citizens of the world to come and experience everything that we're doing to make this a magical place to play the game," Crall said.
The PGA of America announced its plan to move from its longtime home in Florida to Frisco in late 2018. Crall said work on the development has been moving along at a "very positive pace" during the coronavirus pandemic, with only a "modest" delay in work on the Omni PGA Frisco Resort. Crall said the headquarters and the golf courses are all on track to open in August 2022.
"Our golf course architects, Gil Hanse and Beau Welling, have really done a masterful job of creating a unique experience that will challenge the best players in the world and provide an incredibly welcoming and memorable experience for the rest of us," Crall said.
Major PGA tournaments, including the KitchenAid Senior PGA Championship in 2023, the KPMG Women's PGA Championship in 2025 and the PGA Championship in 2027, are already scheduled to be played in Frisco.
Recreation and education
The city of Frisco, Frisco Economic Development Corp., Frisco Community Development Corp. and Frisco ISD contributed no more than $35 million combined toward the initial $520 million investment for the development. The golf courses, clubhouse and practice areas will be owned by the city and will be operated by PGA of America and Omni Resorts & Hotels.
The $5.84 million FISD contributed to the PGA development will grant students access to practice facilities, such as the driving range and short game areas, for four days of each week. The district will pay no operating fees for use and will receive a discounted student rate for tee times. The golf courses will also host school district tournaments.
In addition to those benefits, the PGA of America will offer a multitude of educational and career opportunities, explained Dawes Marlatt, PGA of America senior director of education and employment.
"Everything that we do in our educational system is training and development. It's all hands-on," Marlatt said. "The building that we have designed is really an exciting laboratory for adult learners to come in [and] try new techniques [and] new technologies that relate to business and teaching the game."
Sandy Cross, chief people officer for PGA of America, said there will also be employment opportunities for people from all backgrounds in the community.
"Our vision across all of our inclusion and diversity efforts is to create a game, a golf industry workforce and an industry supply chain that mirror America," Cross said. "Right now, across those three sectors, the sport is still, demographically, a bit homogeneous from a gender and, even more so, a race and ethnicity perspective."
Kristof Ulenaers and Madison Lewis, two college golfers from the University of North Texas, got the chance to tour the courses with Crall in early March, and each said they were impressed by the development. Lewis called it a "great opportunity" for people throughout the metroplex, and Ulenaers said the offerings at the PGA of America are perfect for someone like him.
"I don't see myself [ever] not being involved with golf," he said. "I'm so passionate about it."
'Rich sports environment'
That passion for the game of golf is something Integrity Golf Performance founder Ben Smock said already exists throughout Frisco.
"There's already a buzz, with PGA coming to town," Smock said. "There's such a rich history and golf culture in [the metroplex] and Texas in general, so I think this is only going to enhance that."
Smock said he expects his business, which opened in February at 6363 Dallas Pkwy., Ste. 115, Frisco and specializes in coaching, club-fitting and golf-related fitness, to be a great fit with the PGA of America.
"It can only help [our business]," Smock said. "They've dubbed [Frisco] 'the Silicon Valley of golf,' and we sort of fall right into the mix. I love the fact that the PGA is looking at unique ways to grow the game."
Having a "rich sports environment" is part of what helped draw PGA of America to Frisco, Crall said, as golf was one of the few major professional sports not already represented in Sports City USA. Given the PGA's move, Crall said he expects other related businesses will likely follow.
"We welcome golf companies of all shapes and sizes to consider Frisco," he said. "Frisco is leaning in from an entrepreneurial, innovative mindset, not just in golf or in sport, but in a broader context. That's going to be a further magnet to attract companies."