Isabella Scuilla graduated this spring from Reedy High School with two certifications in health care. The COVID-19 pandemic helped open her eyes to the needs in the field, she said, and she plans to go to medical school after graduating from college.
"They need people more than ever to help and be involved," Scuilla said.
The Frisco ISD Career and Technical Education Center will increase opportunities for high school students looking to gain experience in health care. This fall the center will add the following certifications for students: patient care technician, physical therapy aide/technician and apprentice medical scribe and/or certified medical scribe, FISD's health science department program director Jennifer Hanna said.
Students who gain this experience while still in high school find that it can help them more firmly decide on a career, she said. Students can also start working immediately in their field, she said.
FISD students already have the opportunity to choose from multiple pathways in the Health and Science CTE program. Four different medical certifications are available. In these programs, students gain experience by working with local hospitals and nursing homes and caring for actual patients.
"It's a great introduction," Hanna said. "'Grey's Anatomy' is ... all they've seen, or they've only been to their pediatrician's office, so we get to expose them to different areas."
One of FISD's partners in its CTE programs is Baylor Scott & White-Centennial. Hospital President Ryan Gebhart said these students continue to reach out to him on a regular basis to get more opportunities to shadow or intern with the hospital.
"Over this past year with the pandemic, most students wanted to help in any way possible, and the pandemic has encouraged them even further to serve in healthcare as a profession someday," he said.
Providing a pathway
FISD's CTE Center offers more than 30 programs of study, which in addition to health science includes information technology, hospitality and tourism, agriculture and construction. High school students can take introductory classes starting their freshman year and sign up for advanced courses at the CTE Center as soon as their junior year.
The district partners with Collin College to offer dual credit opportunities within the CTE programs. Dual-credit classes allow students to take classes during high school that also count as college credit. Some classes are taught at the CTE Center; others are taught at the Collin College Technical Campus in Allen.
The college's Health Professions Program is what FISD students in the health and science track take to earn dual-credit classes. The college's program has more than tripled in student size over the last four years, according to department director Juli Westcott.
The department offers five academic tracks for students pursuing certificates and/or occupational skills awards. Westcott explained students can often finish some of these programs within a semester while waiting to get into some other health care program.
"I see it as the foundation for their future," Westcott said. "I really like to get people that think they want to do health care, but [are] not sure. This is a good 'let's dip your toe in the water [program].'"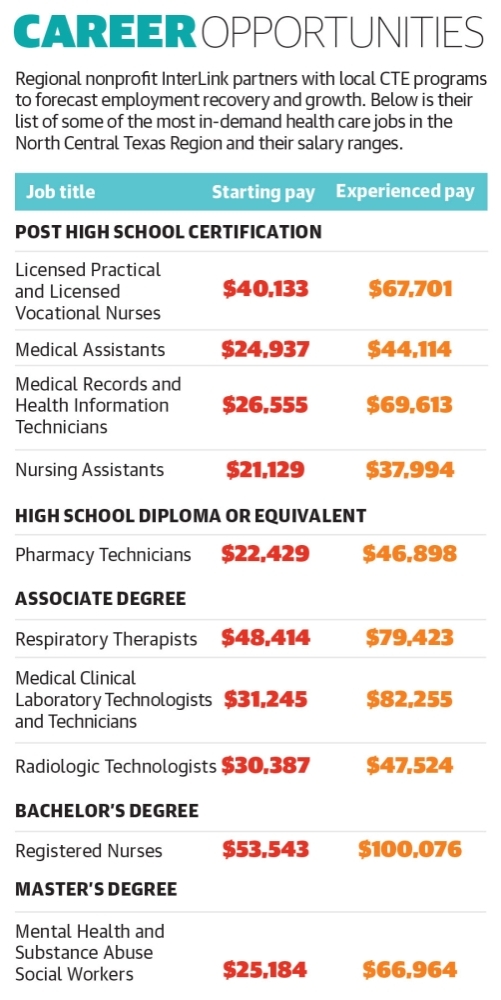 The certified nurse assistant track is the department's most popular program, with nearly 500 students, Westcott said. However, as demand has grown for phlebotomy technicians in the workforce, she said that track has led to students getting offered jobs. Westcott said the field sees a "fairly high turnover" rate if people are not well trained. She also noted it is an important skill for people going into fields such as nursing and paramedicine.
"You're not going to have as much time as you think you would in nursing school to learn how to draw blood well," Westcott said.
Gaining experience
Each certification offered in FISD has its own set of requirements. Students can do more than one certification if their schedule allows. For instance, students can spend their fall semester earning their certification as a nursing assistant. The first part of the course is lectures, and then students take what they've learned and apply it in nursing homes. Students need 40 hours in the field before they can take the test to earn their certification. Most students who complete this certification are juniors, Hanna said.
The spring semester is then spent with students working at local hospitals, Hanna said. This certification allows students to land an entry-level health care job right out of high school, she said.
"It's a stepping-stone before parents send their kids off to college and they start majoring in these health care fields," Hanna said. "It's a win for us because they get exposure to the hospitals, and it's win for the hospitals because we're helping them."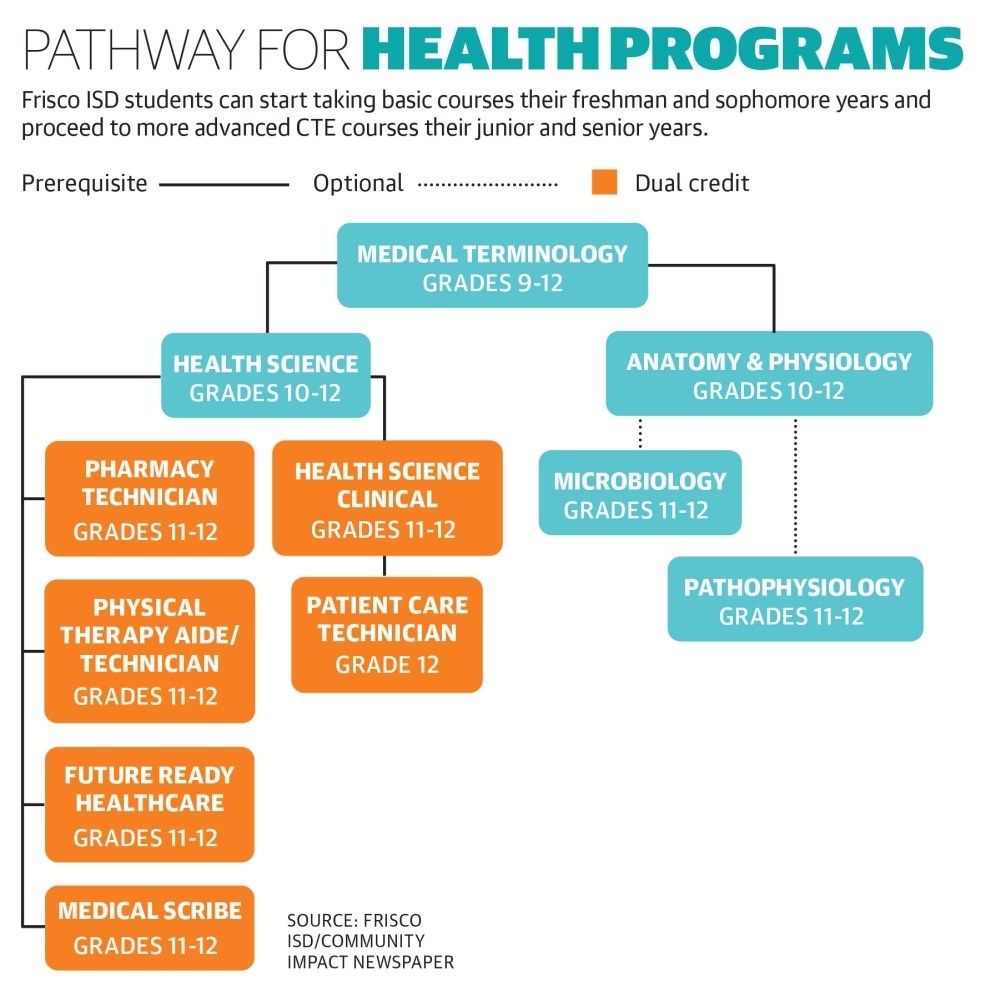 At the hospitals, students can shadow a nurse or another patient care technician. They can also handle simple tasks such as bringing a blanket to a patient and working on their communication skills.
"For some students, the hands-on experience is a big transformation to hone their clinical skills and provide patient care," said Dr. Katie Choy, the regional director of nursing professional development, wound care and vascular access team at Baylor Scott & White Health. "It's a great opportunity to apply what they've learned in class now to the clinical setting."
Scuilla got into the CTE program after she realized she enjoyed the health science courses in high school.
"Hearing that there was experience tied to this made the class very appealing," she said.
During the fall she and other students worked at a local hospital and put their certifications to use.
"They actually let us help," Scuilla said. "Usually, I feel like we're kind of on the sidelines, but we were so involved."
Bradley Chisholm graduated from Wakeland High School. His plan is to go to college and get into nursing school. He said his favorite parts of the CTE program are the clinicals he gets to do, and he has logged more than 150 hours at hospitals.
"It's a great experience, and it really shows if you really want to do it or not, and also it looks better for you in the future," he said.
Benefits of certifications
COVID-19 has disrupted some of the opportunities FISD students have, but both Chisholm and Scuilla said the pandemic emphasized the importance of health care.
"Even as a student, I felt like I made an impact on people there," Scuilla said. "It made me want to go on even more."
In addition to saving money on college by taking dual-credit classes, both Scuilla and Chisholm have plans to use their certifications to get jobs and work through college.
Dual-credit students can also potentially graduate college sooner.
"I'm saving a ton of money," Chisholm said. "At this rate, I get to graduate about a year earlier. ... And Collin College tuition is way cheaper than your typical four-year college."
The students said they believe they have already gotten a head start on their professional careers, despite just graduating high school, and expressed confidence in being able to chase down their future goals.
"We learned ... things like communication," Scuilla said. "I definitely feel like I could be placed in a job with not only my experience at such a young age and getting that necessary training, but also because of my communication and professionalism."
The health care industry needs more students who are eager and motivated to learn and willing to gain that experience early, Gebhart said.
"Frisco, Texas is one of the fastest-growing markets in the country, and Baylor Scott & White Medical Center-Centennial will continue meeting the needs of the growing community," he said.