Rock Delliquanti holds his hand out in front of a small, stainless steel canister as gray smoke escapes the top.
Delliquanti, a beekeeper, is testing the temperature of the smoke before he directs it at the hives located at the Hall Park business park in Frisco.
He likened smoking the bees to a "knock at the door," or a signal to let them know that the beekeepers have arrived.
Beekeepers have to ensure that the smoke is not too hot for the honeybees.
"It's like when you test a baby bottle to see if it's hot," beekeeper Michelle Winter said while unpacking a supply kit in the sculpture garden at Hall Park.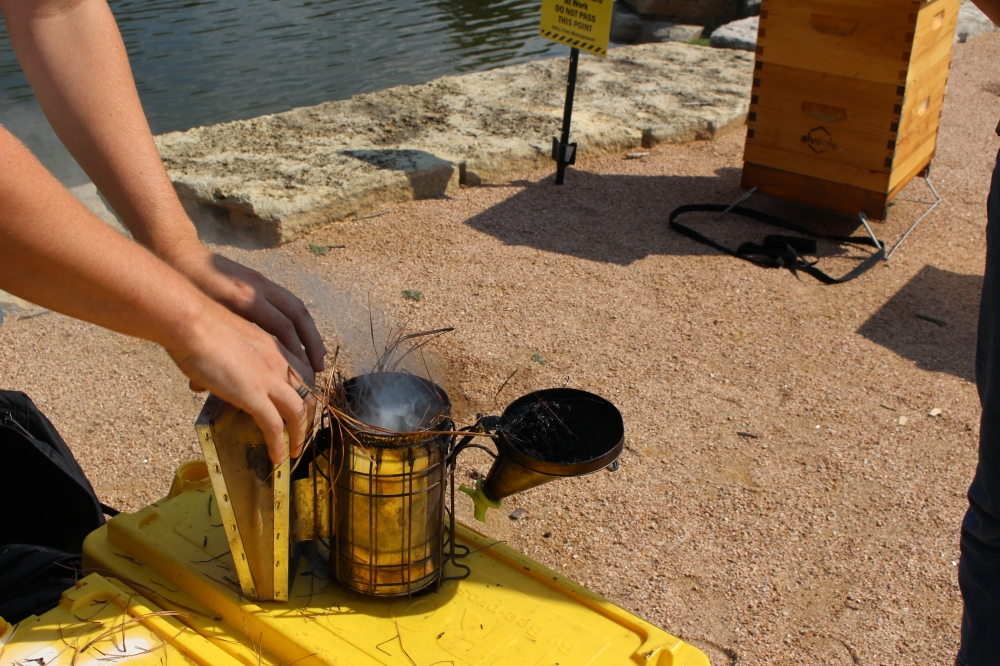 Both Delliquanti and Winter are beekeepers for Alveole, an urban beekeeping company based in Canada. Alveole tends to more than 3,400 hives in 21 cities across North America and Europe.
Delliquanti and Winter manage 24 clients and 40 hives in the North Texas area. In addition to Hall Park, they take care of hives in Plano, Richardson, Dallas and other cities in the metroplex.
Hall Park welcomed Alveole and its bees earlier this year in May. Staff at the development were looking for other ways to engage the community while benefiting the environment, Hall Park's Director of Park Experience Barbara Milo said.
There are two hives at Hall Park, both facing Dallas Parkway. Each hive has its own queen, so Delliquanti calls them "neighbors."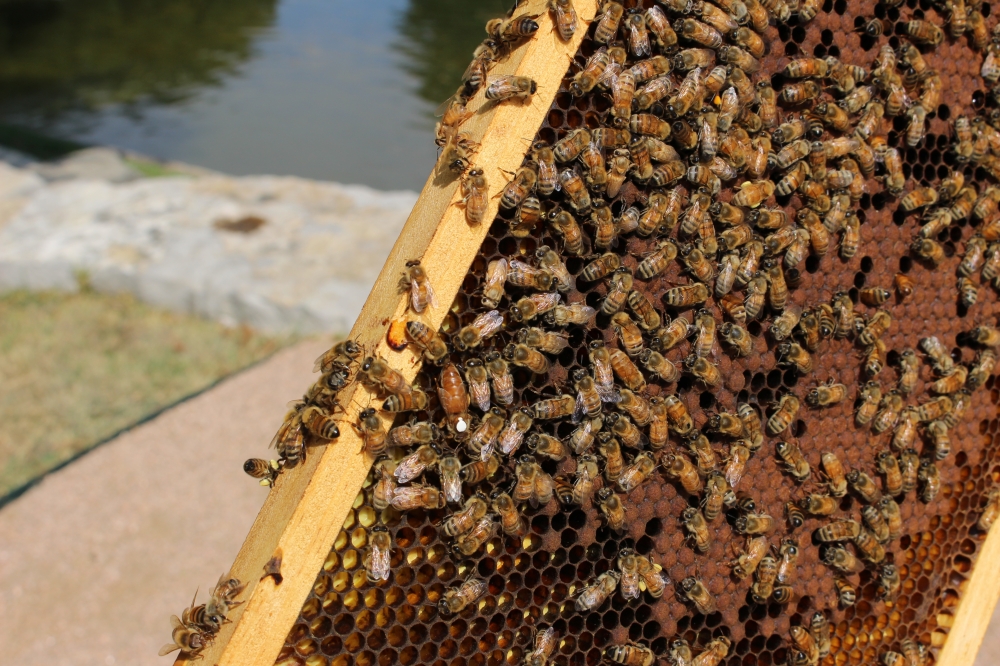 He visits Hall Park every three weeks to check the health of the hives. The routine includes balancing the amount of brood, or baby bees, and resources, or pollen and honey. If there are too many eggs, the frames inside the hive will get too full for the bees' comfort. If there is too much food, that leaves less space for baby bees, which shrinks the population.
Frisco tends to have strong hives, so beekeepers often take baby bees from Hall Park to other hives that need a population boost, Winter said.
The beekeepers' goal is to keep all of their hives at around the same strength. Winter said sometimes that objective is harder than it seems.
"Sometimes [Hall Park will] have 10 frames of brood, which is just an unreasonable amount," she said. "And then other hives will have like three, so we have to keep giving them [resources]."
Although Hall Park bees are ahead of the production curve, Alveole bees are Italian bees, which are a friendlier species, Delliquanti said. This means that they are not the best bee if someone wants to produce the most honey, but they are ideal for educating the community.
"We would much rather you be able to come here without all the extra equipment [and] without being stressed," Delliquanti said. "The bees are just flying around and being chill."
The bees are calm enough that beekeepers do not have to wear a full suit with a veil. Usually, the only extra attire Delliquanti and Winter wear are a hat or bandanna, which prevents them from catching bees in their hair.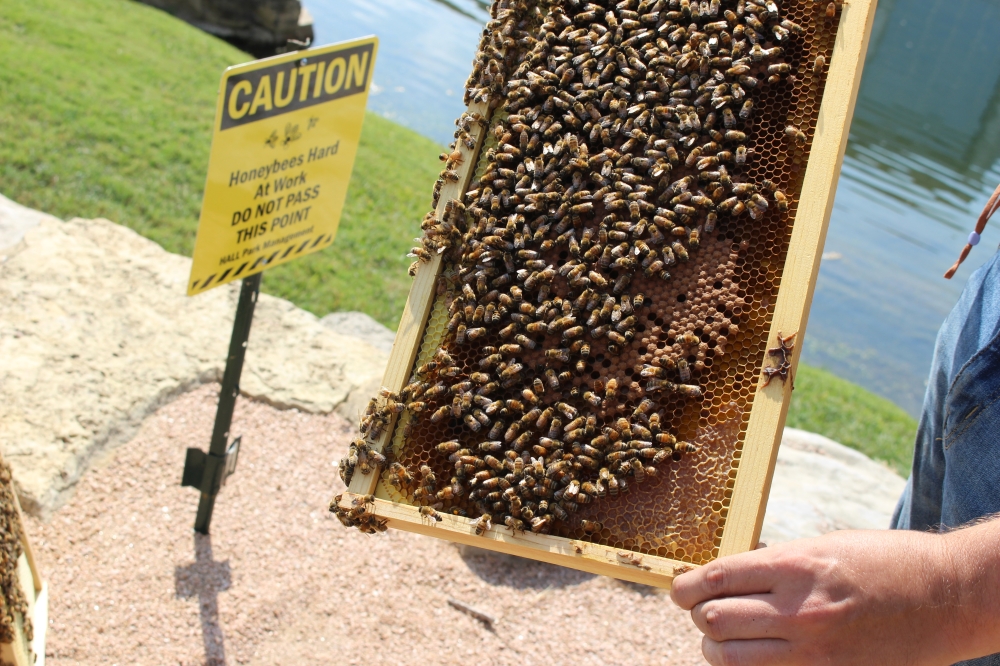 At the end of the year, Hall Park will have honey, beeswax candles and lip balm from the bees. The products will either be distributed to tenants or sold in the gift shop, Milo said.
The Alveole
website
has a request form for local products in addition to a blog where Delliquanti posts hive updates.
Hall Park hosts workshops that provide an opportunity for tenants to learn more about the hives. They range from honey jarring to more educational formats, such as a Meet Your Bees session. Milo said she is exploring the idea of eventually expanding the workshops to the public, but she wants to see how the tenants respond first.
Until then, Delliquanti said that if Hall Park visitors ever see him tending to the hive, he would be happy to answer questions.
"These are our bees that we're taking care of, but these are Hall Park's bees in the sense that this is part of their community," he said. "We want people to come out, ask questions [and] see the bees."