When Panther Creek High School opens next fall, it will be home to approximately 841 students in northwest Frisco.
Frisco ISD's newest high school and elementary school sparked the most recent shift of the district's attendance zones, which were approved at a
Nov. 8 school board meeting
. The district implements enrollment changes to keep high schools under 2,100 students, middle schools under 900 students and elementary schools under 760 students.
Panther Creek will relieve Lone Star and Memorial high schools, both of which were projected to exceed 2,100 students next school year without the latest rezoning.
Stafford and Trent middle schools will feed into Panther Creek, which is located just south of US 380 on PGA Parkway.
Creating community
In March, the district named Ryan Solano as principal of the new high school. Solano has been working since July, visiting the construction site, selecting furniture for the school's flexible learning spaces and, most recently, facilitating community outreach.
Solano began official visits to Lone Star and Memorial high schools, and Stafford and Trent middle schools in mid-November. He said his goal is to build excitement around the new campus and answer questions that students might have.
In preparation for the visits, Solano sent his first newsletter Nov. 12. The newsletter included a welcome video to parents and students, a survey about the future school mascot and a question that Solano will use as a guide throughout preparation for the campus opening: "How excited are you to come to Panther Creek on a scale of one to five?"
Solano said that about 70% of students selected five, indicating high excitement, while a little less than 10% selected one.
"Some of the more common reasons are, 'I'm leaving my friends that I've had all through elementary or middle school,' ... and we empathize with that," Solano said. "[Other concerns are from] students who are in ... programs that they really enjoy being a part of and now having to leave that community."
The principal added that he is saving all of the responses from students who have concerns so that Panther Creek's leadership and counseling teams can regularly follow up with them throughout their transition.
Community input is a high priority for Solano. At each campus visit, he asks future students what qualities they look for in a teacher, and he said he will use those as guiding principles during the hiring process. During onboarding next summer, he will review these principles with staff.
Hiring for the new school is already underway, Solano said. After Solano, the next official hire was the campus secretary, who accompanied him to feeder school visits. The lead counselor is almost solidified; the school board will approve that hire in December.
The next crucial position will be the athletic director, who is scheduled to be hired by February, Solano said. Once the athletic director is selected, that person will assist Solano in hiring the 39 coaches needed for the campus.
The band director position will be posted in December, the school's leadership staff is scheduled to be selected by January and teachers will be hired from February through the spring, Solano said.
FISD does not have a requirement for hiring from within the district when starting a new school, but Solano said having a "strong representation from Frisco" and choosing individuals who know the "mission and vision of the district" is important.
"One [priority] is a love for kids and a genuine desire to build relationships with kids, and help them grow and learn, and see their uniqueness that they have," Solano said. "[I'm looking for] teachers who are willing to take risks, be innovative and just have a lot of fun with the kids in the classroom."
Once a significant portion of teachers have been hired, Solano said his goal is to continue outreach in the form of come-and-go coffee hours, pancake breakfasts or other events where the Panther Creek community can have a chance to meet the staff before the school year starts.
New attendance zones
At the school board's November meeting, Vice President John Classe said the district rezones in the fall to allow families to participate in the type of outreach that Solano is planning.
"Part of the reason that we do what we do at this time of year is to give our staff—who are well-versed in this process—and those students and families the opportunity to start engaging in those new campuses," Classe said. "I hope that those families ... take advantage of that opportunity."
Over the past 20 years, the district has redrawn attendance zones almost every year, FISD's communication facilitator Korinna Kirchoff said. The rezoning that was approved at the Nov. 8 board meeting altered boundaries at high schools in the western part of the district.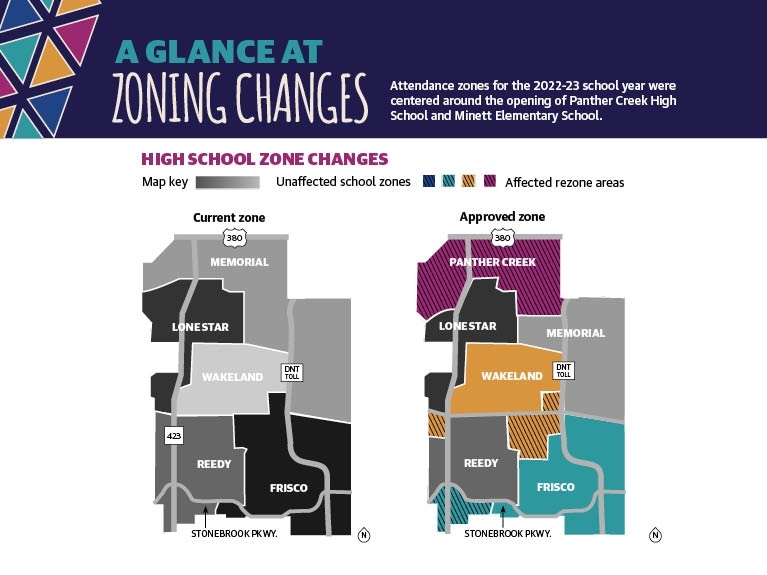 Some neighborhoods in the northern zone of Reedy High School will be moved to Wakeland, while neighborhoods in the south will go to Frisco High, per maps from the district. Portions of the southeast Wakeland zone will move to Frisco High.
The district received 856 messages from concerned community members within a month-long period designated for collecting feedback after proposed zones were released, Deputy Superintendent Todd Fouche told the board at the November meeting. Of those, 274 were concerned about the Reedy to Frisco High move. Another 279 messages were concerned about Reedy students moving to Lone Star.
In an attempt to balance community feedback with enrollment numbers, there are sibling exceptions across all high schools, said Scott Warstler, executive director of operations for the district. Affected families received communication from the district on Nov. 9 that included details on exceptions and an application to opt-out of the zone change, which closes Jan. 7.
Although the new high school sparked zone adjustments, schools at every level were affected by the rezoning, according to FISD maps.
Trent, Stafford, Staley, Griffin, Cobb, Pioneer Heritage, Pearson and Hunt middle schools were affected.
Minett Elementary School
will open at the same time as Panther Creek High School next year. As a result, Newman, Miller and Phillips elementary schools will be affected, per district documents.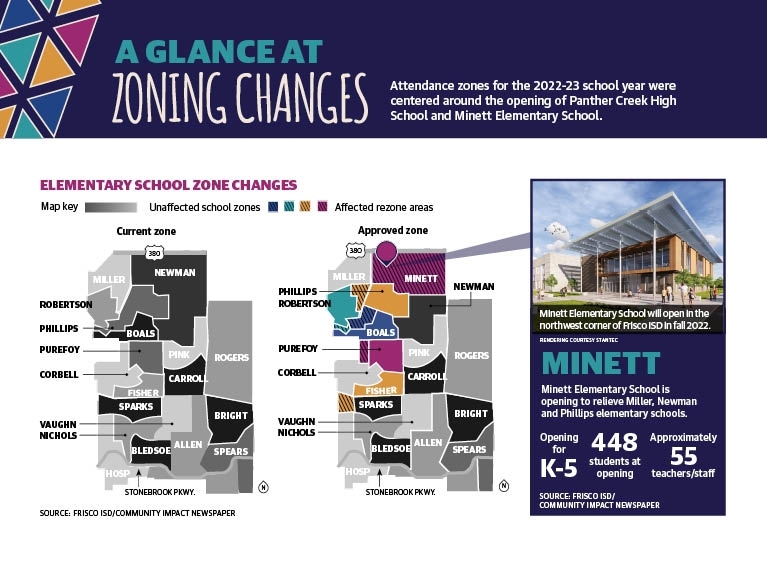 Because Sparks Elementary is under 90% capacity, it is open for transfer applications. However, transfers to the school are on a year-to-year basis, meaning spending one year at Sparks does not guarantee enrollment the following year, per district policy.
Rising fifth grade and eighth grade students have the option to remain in their current school zones for next year, Warstler said.
School attendance zone changes are routine for FISD. As Frisco's population grows, rezoning takes place to preserve the district's small school model, which supports students having opportunities to participate in extracurricular activities, officials said.
Currently, there are more than 65,000 students enrolled in FISD. By 2026, a demographic study conducted by Population and Survey Analysts projects more than 71,400 students to be enrolled. By 2031, enrollment is projected to jump to just over 74,500.
Looking ahead
The district expects to hire a principal for Minett Elementary School sometime in early 2022, Kirchoff said.
Minett, which is slated to open with about 448 students, is under construction in the northwest corner of the district, adjacent to the Somerset Park and Hollyhock neighborhoods. It will be FISD's 43rd elementary school.
Frisco City Manager George Purefoy said the increase in homes being built around the Hollyhock area is one contributing factor to the growth of the northwest part of the city.
"There's a halo effect of the PGA project that's going on up there, too," Purefoy said.