Frisco students attending the University of North Texas and Collin College will have several learning options this fall.
Both institutions shifted a majority of their classes online in the spring 2020 semester when COVID-19 made its way into North Texas, both college officials said.
As the 2020-21 academic year approaches, UNT and Collin College leaders say both institutions will have to waver through changing learning environments, enrollment projections and modifications to workforce education.
"Safety and flexibility are the key considerations for fall," said Toni Jenkins, senior vice president of campus operations for Collin College.
The plan for fall
Collin College and UNT, including UNT at Frisco, are both planning for an Aug. 24 start date.
Everyone on UNT and Collin College campuses will be required to wear masks, according to the schools' restart plans.
Collin College will offer face-to-face, online and hybrid classes.
UNT, including its Frisco campuses, will offer the same options, Provost Jennifer Cowley said, but classes will become fully remote after Thanksgiving break.
"Our students come from all over the place and are likely to travel during the Thanksgiving holiday," she said. "There's not enough time when they get back to self-isolate before the end of the semester."
Collin College's in-person learning option will be available all semester, Jenkins said, but the college is prepared to make changes as necessary.
Faculty at both institutions can opt into a remote teaching schedule.
Bill Ardis, a professor of mathematics at Collin College, said he had never taught an online class before spring 2020. While he got more experience in the summer, Ardis said he is still unsure whether he will teach in person in the fall.
"I'm kind of torn because I do want to be back in the classroom," he said. "How am I going to handle how it's different given the restrictions that will be placed on this course?"
Regional higher education officials warn the evolving nature of the pandemic could cause schools' return plans to shift.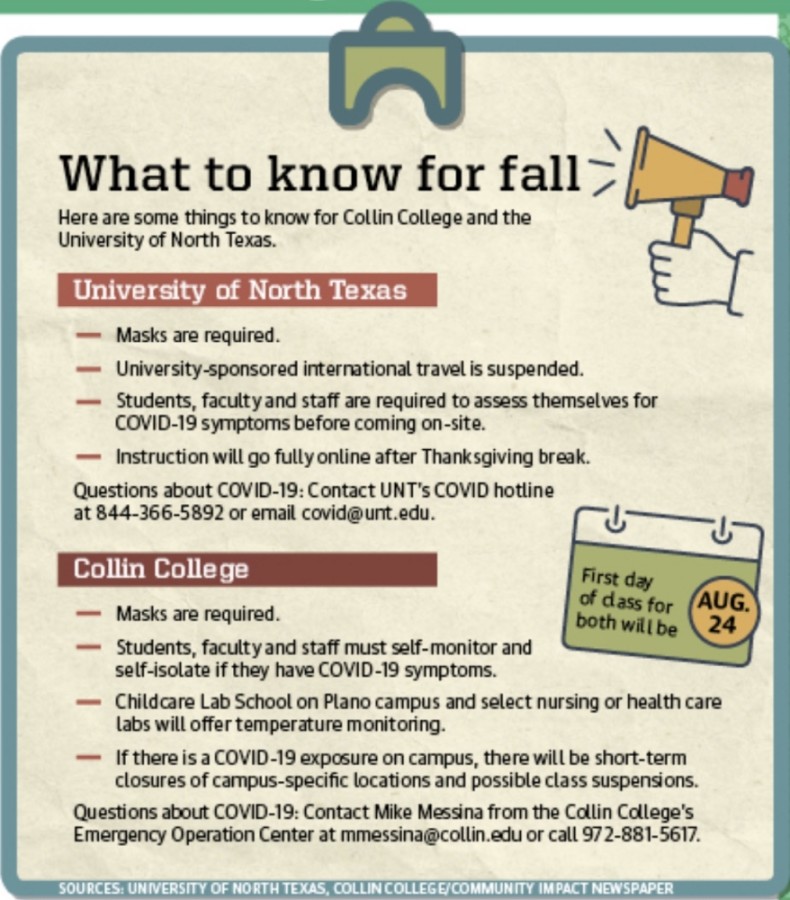 "The plans for [returning to campus] are based upon what the current [COVID-19] data is showing," said Ray Martinez, deputy commissioner for academic affairs and workforce education with the Texas Higher Education Coordinating Board.
Leaders from Collin College and UNT said it is difficult to predict fall enrollment. Martinez said this uncertainty is common throughout higher education in the state.
"In times of disruption, we did see a lot of impact, particularly to our community colleges in terms of the initial decline in enrollment," he said.
However, the Dallas-Fort Worth metroplex saw an 8% increase in summer enrollment as compared to summer 2019, according to data from the state coordinating board. UNT at Frisco's summer enrollment was at a high in 2020, with 587 students. Collin College saw a 10.6% increase.
Jenkins said uncertainty around fall enrollment has to do with shifts in learning formats and with many students not wanting an online experience.
"Our challenge is to figure out how we can do that in the safest way possible," she said of in-person classes.
Shifting to online
The pandemic pushed several higher education institutions across the nation to transition their course offerings to online.
In the fall, up to 30% of Collin College's courses will be fully online, per college officials. About a third of UNT students are choosing a fully online schedule for the fall.
However, a fully online schedule doesn't work for all degree types. Collin College's skill-based workforce courses require lab sections, Jenkins said. Several of the college's health care programs require students to show skills in-person so they're workforce ready upon graduation.
"We're training people for [what] the labor market needs," Jenkins said. "I think that that's a big, important part of getting our economy back on track."
Brittney Morales is a student requiring a degree of in-person learning.
"I am already working in the dental field, so I am in close proximity with patients daily," she said in an email. "I don't feel any more at risk attending college."
UNT at Frisco's bachelor's degree program in project design and analysis will be held in-person due to its project-based nature, Professor Zain Ali said.
Ali, who teaches the program, said he is prepared to shift to synchronous online classes if colleges are required to go remote again.
Ali said he believes courses will help students shift focus away from the worry of the pandemic.
"We might be in a position to help our students learn and be focused on something productive," Ali said. "I feel very blessed to have that opportunity."
Miranda Jaimes contributed to this report.