Leaders of the nonprofit Communities Foundation of Texas said they could not have anticipated the COVID-19 crisis when they embarked last year on a comprehensive analysis of economic opportunity in Collin County.
The resulting report, released in October, now serves as a baseline for analysis of the effects of the pandemic as various Frisco and Collin County entities move ahead with their own priorities, Communities Foundation of Texas Chief Philanthropy Officer Sarah Cotton Nelson said.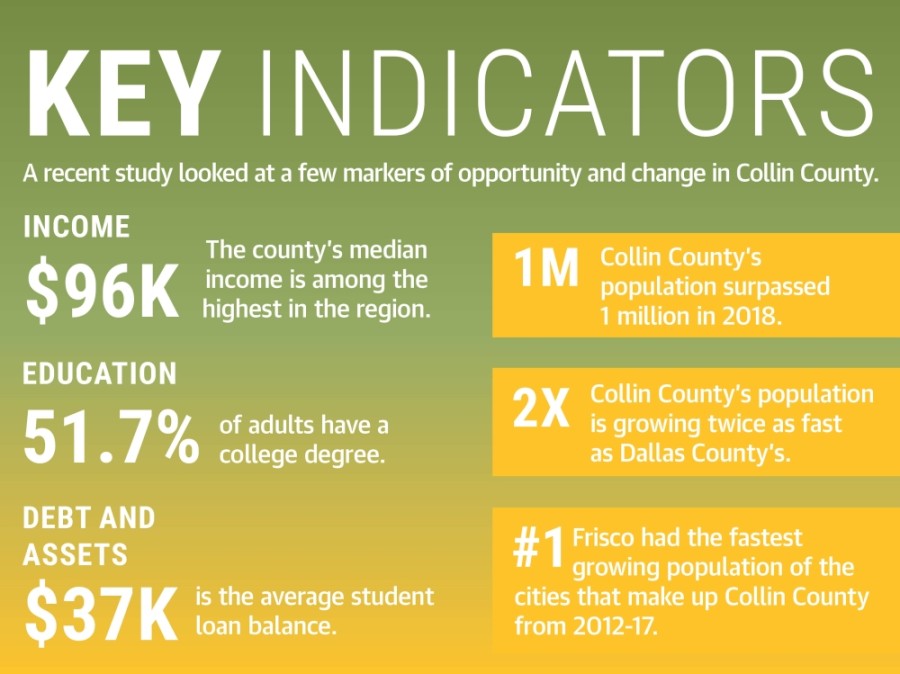 The 44-page report, conducted by public policy nonprofit Every Texan, was initially planned for release in April. It includes data for Collin County on economic status as it relates to race and ethnicity, income, educational attainment and wealth. The study's authors used the six-month delay to craft a two-page addendum that gauges the effects of COVID-19 on employment, on job sectors and on health insurance coverage.
Frisco officials pointed out that while the study focuses on Collin County and the cities in that county, the data likely applies to the Denton County portion of Frisco as well.
"We don't see a lot of trend differences between Collin County Frisco and Denton County Frisco," Mayor Jeff Cheney said.
Since Denton County as a whole has more rural areas to it, Frisco usually trends more toward Collin County than it does Denton County, he said.
The report's findings, Nelson said, reaffirm what cities and organizations on the ground are seeing: disparities in education and wealth.
The findings indicate that the pandemic will only continue to widen the need already evident in Collin County, said Ann Beeson, who was CEO of Every Texan when the report was released.
"We think it's actually more important than ever to have that baseline data [and] ... see how the county was doing right before this major challenge hit," Beeson said.
Businesses affected
Before the pandemic, Collin County had a robust employment market, per the study. Business counts from 2018 show almost 25,000 businesses operating in the county, with service retail outlets making up the bulk of them, Beeson said.
Unfortunately, those industries are also the ones that have been most affected by the pandemic, Texas Workforce Commission data shows.
Tony Felker, Frisco Chamber of Commerce president and CEO, said the industries bearing the brunt in Frisco include places that work with children as well as the hospitality and restaurant sectors. He added, however, that many restaurants have shown resilience by adapting with new services and meal packages.
"By doing that, they've been able to save a lot on their labor costs inside and focus on doing one thing and doing it very well," Felker said.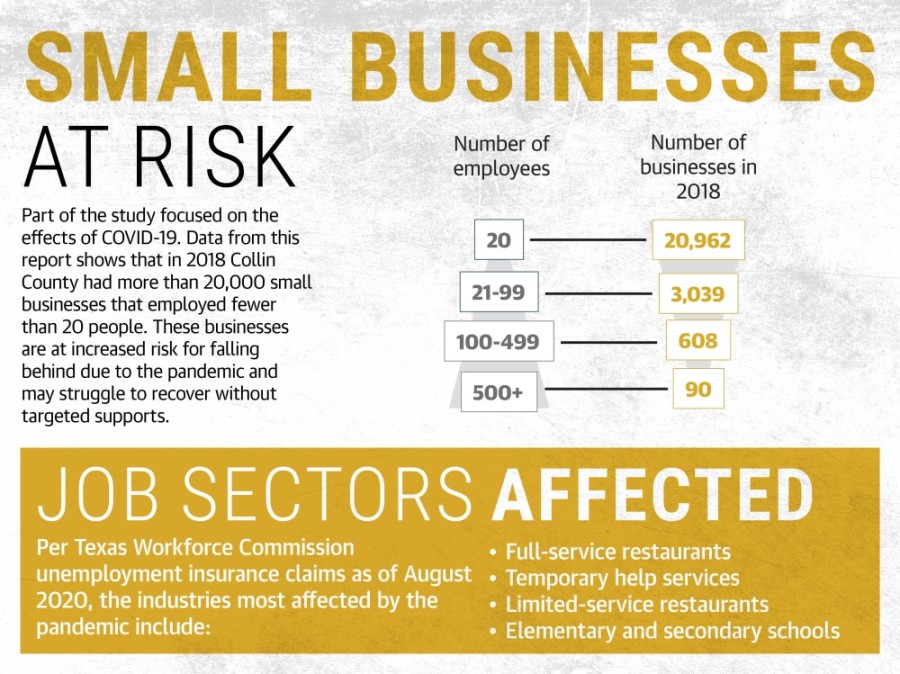 In the aftermath of the pandemic, the Frisco Chamber of Commerce's role has been to help connect those businesses with solutions, including assistance programs, Felker said.
Frisco city leaders held up the chamber for its work with local businesses, guiding them as the city continues to do commerce and business.
The city, meanwhile, is preparing in case the region reaches a 15% hospitalization rate for COVID-19 patients. If the region remains at 15% for seven consecutive days, businesses must limit their occupancy rate to 50%, per Gov. Greg Abbott's executive order, according to Ben Brezina, assistant city manager for the city of Frisco.
The Collin County Economic Opportunity Assessment and other reports like it help the chamber and the city in their mission to partner and advocate for businesses, Cheney said.
"We're evaluating every single data point that we can to see how our businesses are performing, what sectors are doing well, which are struggling, where we need to pay our attention to," he said.
Widening income disparities
Before the pandemic, equity gaps among residents were widening in Collin County, the report shows. Hispanic residents are three times as likely to experience poverty as white residents and twice as likely as Black or Asian residents, Beeson said.
It is likely these gaps have only worsened due to COVID-19, the study stated.
Nicole Bursey is the executive director of nonprofit Frisco Family Services, which provides emergency assistance for those in Frisco and Frisco ISD who are facing a financial crisis. She said the disparity between low-income and high-income households has grown as a result of the pandemic.
"We have ... all those things that cause people to come into us, but then, when you add COVID[-19] to it, it really impacts us and impacts families in a huge way," Bursey said. "There were those that were having a really difficult time making ends meet with maybe a smaller income. With no income, it's even more difficult."
As a result, the number of people in need of services began to climb rapidly from the end of March through May, Bursey said.
"We were seeing overall 35% increases in all our levels of support," she said.
From March to October, Frisco Family Services spent almost $300,000 in emergency financial assistance—about a 38% increase as compared to the amount it spent during the same period last year, Bursey said.
In the face of this need, the nonprofit was also affected by a significant drop in the number of volunteers, she said. Its pool of volunteers decreased nearly three times from what it was in March through October of 2019.
"It's been a challenging time," Bursey said.
Education and income gaps
The study also showed that the percentage of economically disadvantaged students is increasing over time in Collin County's more rural areas. The largest school districts in Collin County—including Frisco ISD, which had 11% of its students as economically disadvantaged during the 2018-19 school year, have relatively few students who are economically disadvantaged.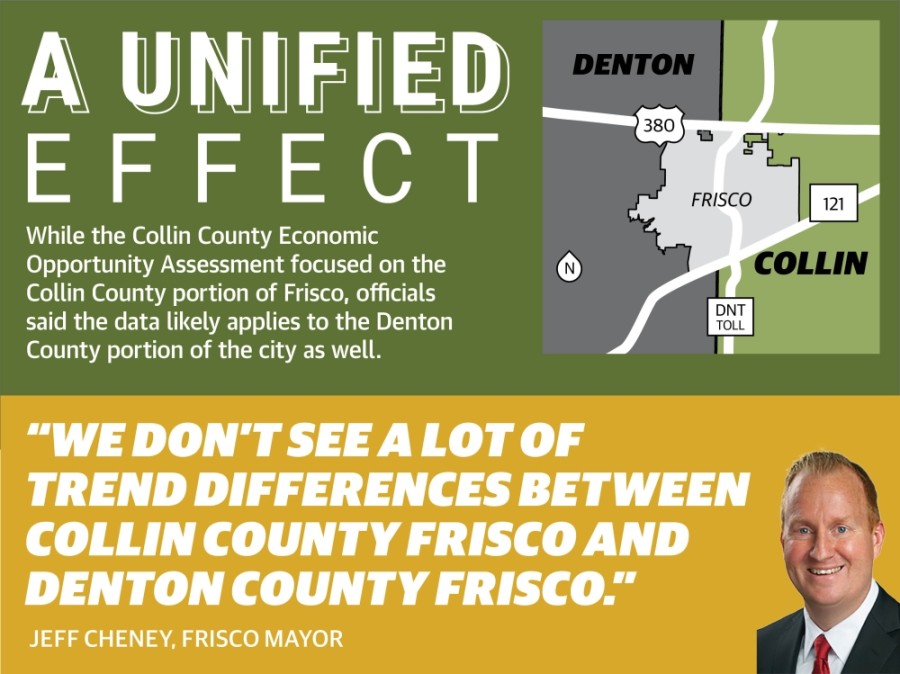 "This masks the reality that students in different districts (particularly rural) face a vastly different experience," the study said.
Per the report, only 15% of economically disadvantaged students went on to earn a college or vocational degree after graduating in 2018.
"Post-secondary education is increasingly necessary in today's economy, and students who don't have a degree or higher [education] certificate will struggle to earn family-sustaining wages," Beeson said.
Higher education funding was meant to be at the top of the discussion docket for the 87th legislative session, which begins Jan. 12, 2021, according to Chris Wallace, CEO and President of the North Texas Commission, which covers the entire 13-county region. But that issue will likely take a backseat to more pressing issues related to COVID-19 and economic recovery, he said.
The North Texas Commission will advocate for maintaining funding for public schools through House Bill 3, which was passed in the last legislative session to help strengthen the education-to-work pipeline, Wallace said.
In the meantime, Collin College officials have taken steps to better serve the community, District President Neil Matkin said. Some changes, such as building more campuses to provide better access, had begun before the study was released, Matkin said.
Collin College had access to some of the drafts of the study, which influenced conversations related to the future of the college, he said.
"We were already adding, and we're still adding, additional access points," Matkin said.
The college's new Technical Campus is centrally located in Allen and held its grand opening in September. Construction on the college's new Farmersville campus is nearing completion; when operational, the campus will help to address some of the socioeconomic challenges in the more rural parts of the county.
Communities Foundation of Texas officials said they hope their report will be a catalyst for local organizations to respond to and to address changing community needs.
"There's definitely good news and data [in the report] that [Collin County] can be proud of. ... But the pandemic and recession could increase the many barriers that are limiting upward mobility for some residents," Beeson said.
Additional reporting by Liesbeth Powers.