Instead of reopening its dining room with occupancy limitations, Maple Street Biscuit Company opted to offer sit-down service from its patio beginning May 1.
Patio tables are spaced 6 feet apart and have six or less chairs at each table, Frisco manager Larry Darnell said. All the while, to-go orders are continuing from inside the restaurant, he said.
"We thought opening up the patio would allow [for] people that want to dine in but wouldn't have any direct effect on the contactless curbside pickup," Darnell said.
On its first day of offering patio seating, to-go orders were still popular among customers, Darnell said.
"From what we're seeing, it seems like people are still doing way more takeout and delivery than dine-in," he said on May 1.
Offering patio seating over dining room seating has potential to bring in more customers, Darnell said, as the 25% occupancy limit on restaurants applies to dining rooms specifically.
Since the patio seating is in an open airspace, more guests can be served as compared to if the restaurant opened its dining room at 25% occupancy as long as distancing requirements are followed, Darnell said.
"We figured that we could serve a similar number of guests, if not even more, by utilizing our patio and spacing things out and making sure we're really on top of everything as far as cleanliness and safety," he said, "and do that in a way where it wouldn't have any effect on what's going on inside the store."
Since the brunch eatery has different operating hours from surrounding businesses on Main Street and Teel Parkway, Darnell said the restaurant extended its patio beyond its normal area to offer more seating and space.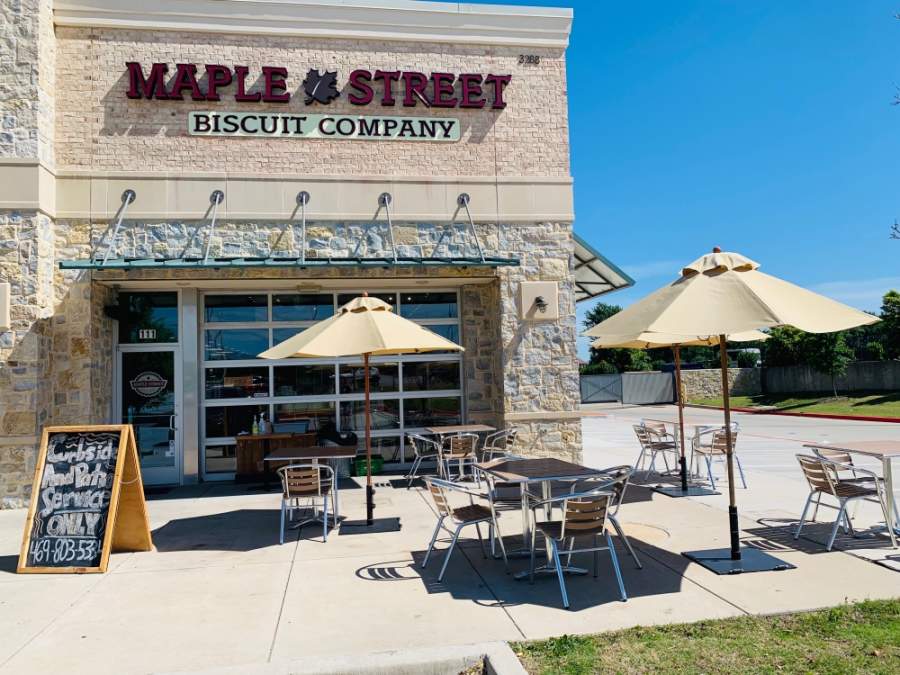 As Darnell said he expected, more guests showed up for patio seating during the restaurant's first weekend compared to opening day May 1. To-go orders continued to dominate sales at the Frisco location over the weekend.
"Saturday was our best overall day since this whole pandemic started," he said. "We had our busiest day of takeout sales in the history of our store. That was really cool to know—that the folks that may have been a little concerned about dining rooms opening up are feeling comfortable getting takeout and delivery from us."
With the sun out, Darnell said May 3 saw the best patio turnout from customers.
"The patio was a big hit, for sure, on Sunday," he said. "We definitely saw people coming out that were really excited to eat outside and enjoy the weather."