Frisco restaurants and retailers took different approaches to reopening at no more than
25% capacity May 1
and saw different results in their first day under Gov. Greg Abbott's latest order.
The city released an "
Open Frisco at a glance
" document with details on which businesses and services are allowed to operate. It includes a
tool
for businesses to calculate their capacity and check which phase of the governor's "Open Texas" plan they fall under. Visit Frisco has an
updated list
of restaurants and their offerings, and the Frisco Chamber of Commerce has a separate
list
of open restaurants and retail establishments.
Sushi Marquee opened at 11 a.m. May 1 to enthusiastic patrons at its location at The Star in Frisco.
"We've had people come in that were just dying for us to open back up," General Manager Cris Borcherding said. "We've had a really good response."
Borcherding said the restaurant installed hand sanitizer dispensers at the door, and staff members wore gloves and masks Friday.
"You can see on their faces they're more relaxed," she said of diners.
While the restaurant is continuing to offer takeout orders for delivery and curbside pickup, Borcherding said it had already received enough reservations by mid-afternoon to put the eatery at its 25% capacity for Friday's dinner service.
The Community Grill also welcomed a few of its regular customers during lunch on the first day of reopening its dining room, said chef and owner John Kinch.
The restaurant had six tables open under the 25% occupancy limit, he said. The Community Grill decided to reopen dine-in to help the community transition into normalcy, Kinch said.
"You're part of that process even though it may be slower or smaller," he said. "Is it a harder process through the business side? Yeah, absolutely. But I think it's important. Our guests want to come see us."
Kinch said he expects all six tables to fill up during dinner hours and the weekend.
"It's a little bit nerve-wracking because you could fill up six tables pretty quickly and then go on a significant wait," he said.
The Community Grill will also continue carryout and curbside service options, Kinch said.
Brunch eatery Maple Street Biscuit Company decided to reopen only patio seating instead of its dining room at 25% occupancy, said Frisco manager Larry Darnell.
"We figured that we could serve a similar number of guests, if not even more, by utilizing our patio and spacing things out," he said.
The restaurant is also continuing contactless to-go options inside the store, Darnell said.
"We thought opening up the patio would allow [for] people that want to dine in but wouldn't have any direct effect on the contactless curbside pickup," he said.
On the first day of reopening the patio, Darnell said Maple Street Biscuit Company did not see a significant dine-in rush.
"From what we're seeing, it seems like people are still doing way more take-out and delivery than dine-in today," he said.
However, Darnell said the restaurant typically receives around 75% of its business on the weekends.
"I definitely expect tomorrow and Sunday for us to get a much better picture of what that's going to look like," Darnell said.
Manager Ken Venghaus said Randy's Steakhouse has expanded its outdoor patio area to make sure tables are socially distanced. On Friday afternoon, he said reservations had been evenly split between the inside and outdoor dining options.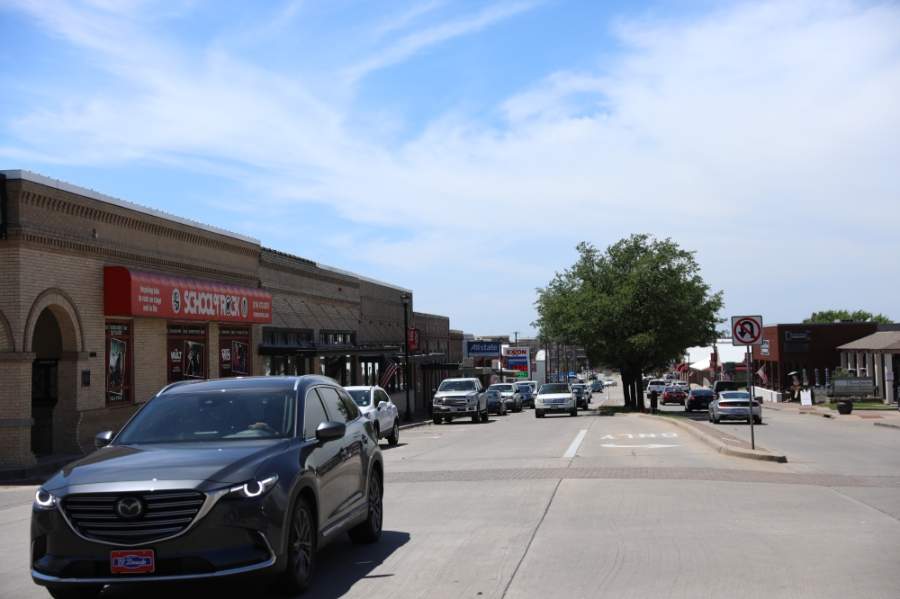 "In a 7,000-square-foot building, we do have enough space to comfortably sit a decent amount of people far enough away from each other to feel comfortable to be able to enjoy day one of going out to eat," Venghaus said.
He explained the restaurant also had a professional cleaning service come in and sanitize everything earlier in the week. In addition to wearing face masks and gloves during their shifts, staff members will have their temperatures taken when they arrive at the restaurant, Venghaus said.
"[We] just [want] to take all those extra steps before they enter the building," he said.
Liz Michel, owner of Plato's Closet location in Frisco, said the store had customers coming in to shop and sell items on May 1.
"[It's] pretty much a normal day, just fewer people," Michel said.
She said most of the customers the store saw May 1 were not wearing masks, but her employees all were. Michel said her workers also stopped every hour to clean the store and wash their hands.
"Everybody was just excited to come back to work and get some hours and get back to some sort of normalcy in their lives," she said.
Doc's Comics and Games owner Murdock Belt said he was nervous about reopening his store May 1 but said the experience was positive.
"Part of our concern was that we were going to have a lot of people show up all at once," Belt said. "I don't know if that was hubris on our part or just maybe hopefulness."
Belt said the store has a sign asking patrons to wear a mask inside, and everyone followed that request. At 25% capacity, Belt said the store could allow 17 people in at a time, but he and his staff have limited it to 10.
"There's three of us working, and we just wanted to be as cautious as possible," he said.
In addition to opening to the public, the store is offering curbside pickup, delivery within a two-mile radius and shipping throughout the country, Belt said. The business is not currently hosting any of its regular tournaments, but Belt said he is looking forward to being able to offer that again soon.
"We've missed our customers incredibly," he said. "Since all of this started, it's just been kind of miserable not seeing all of our regulars. To have them back in the shop would just be really exciting. I'm ready for this to be over."