A new food hall coming to Frisco next year plans to enhance the Frisco Fresh Market development while also differentiating itself from other similar concepts in the area.
Main Street Food Hall is expected to open in early 2021 along John W. Elliott Drive, said Doug Farr, vice president of The Taste Buds Group, the franchise developer behind the Frisco venue.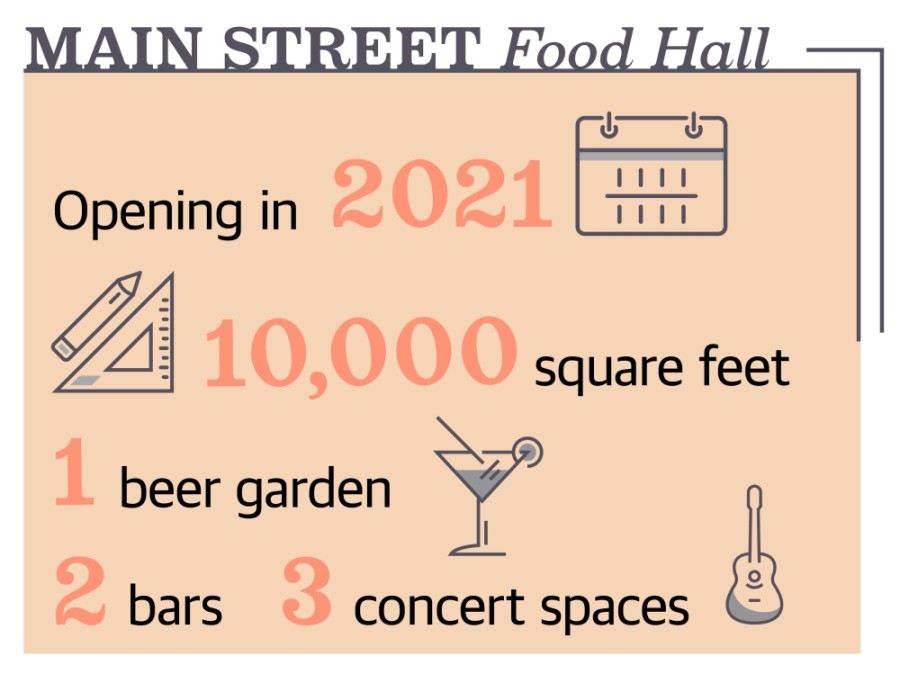 Variety of food choice is the No. 1 reason food halls are so popular, said David Daniels, senior vice president of marketing of The Food Hall Co., which brought Legacy Food Hall to Plano.
"It creates a communal eating experience," Daniels said. "It's just the diversification of cuisine and the opportunity to experiment and discover new things."
Frisco Mayor Jeff Cheney said the project will be "a big win for the city" and that it will tie the downtown, Frisco Square and The Rail District areas into one large entertainment district.
"It's great for Frisco to start having ribbon-cuttings again," Cheney said.
What's coming
About 10,000 square feet of space over two floors will hold 10 total restaurant vendors and a bar on each floor. Compared to the first-floor bar, the second-floor bar will be more of an upscale sports bar that can host brunch or transform into an acoustic space for small music acts, Farr said.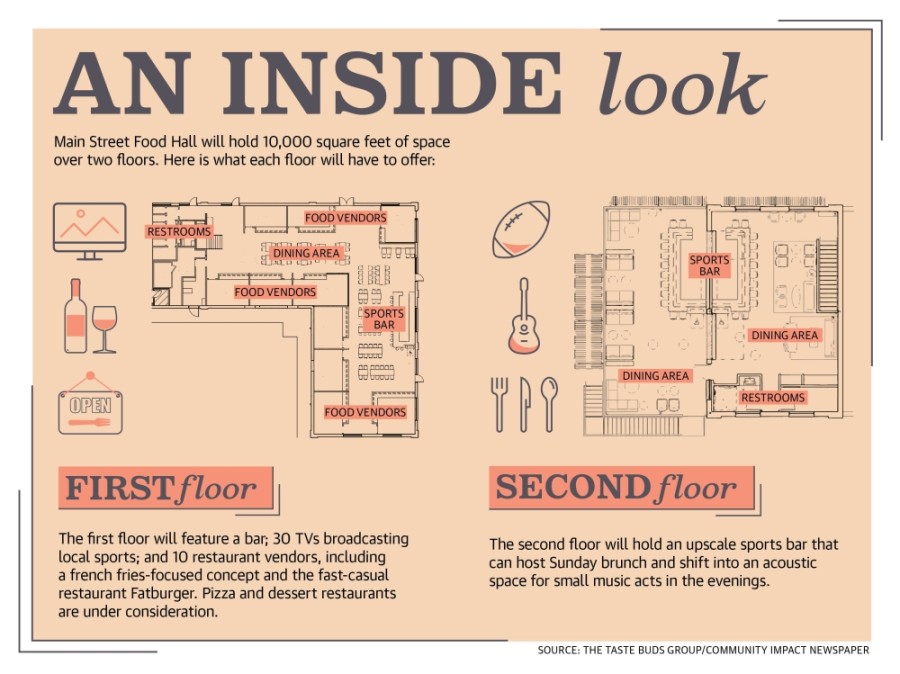 Selected vendors include fast-casual restaurant Fatburger and a french fries-based concept by The Taste Buds Group, said Curtis Croft, the group's CEO. Pizza and dessert vendors are also in the works for the food hall.
Farr said Main Street Food Hall plans to feature "unique" and "eclectic" restaurants.
"We don't want large menus," Farr said. "We want people who do very few things very, very well."
The food hall's offerings will also extend to the outdoors. A beer garden with a capacity of 250 people will be located on the north end of the facility.
The beer garden will also serve as a music venue for smaller acts, and a 1.5-acre lot on the west side of the food hall will hold a stage for larger performances. These outdoor spaces will be able to facilitate concerts and festivals, Farr said, and an event team for bookings will be based at the food hall.
"We want the community to be proud to have this space, to make it like it's their own," Farr said.
Adding to the trend
Main Street Food Hall is the latest such operation in the Dallas-Fort Worth area; it joins Legacy Food Hall in Plano, Urban8 Food Court in The Colony, Dining Hall West in Richardson, Oak St Food & Brew in Roanoke and the soon-to-open Harvest Hall in Grapevine.
Bringing a food hall to Frisco is likely to keep residents from leaving the city to dine out, Cheney said.
"We've talked for a long time as a council [about] really trying to develop experiences," he said. "And these food hall concepts are becoming very popular destination experiences where it's a different look at dining."
Consulting firm Cushman & Wakefield released a report in May, and confirmed in October that there are an estimated 237 food hall concepts in the United States, with another 175 in development.
A 2019 report from the firm said food halls are attractive to real estate brokers and chefs alike, as they typically have fewer operating expenses than traditional restaurants and offer a versatile dining environment.
However, Main Street Food Hall will not mirror the typical, 35,000-square-foot-plus, multiple-floor venues that have become popular in the metroplex, Farr said. Its comparatively smaller size will be "very intimate" and family-friendly, he said.
The smaller square footage will also give vendors more exposure, Croft said.
"We're going to be working with some people to develop their own restaurant concepts," he said.
Cheney said he believes Main Street Food Hall will serve as a "restaurant incubator" to launch new restaurants.
"I think it's going to create a really great opportunity for so many smaller restaurateurs to test their concepts," he said.
Planning amid the pandemic
The Taste Buds Group is working with a third-party developer on an app and a web-based platform that will enable guests to order online and have their food delivered to their table. This saves guests' time by presenting all of the menu options in one interactive space.
"You can spend more time with the people you brought there than ... in lines, waiting for your food," Croft said.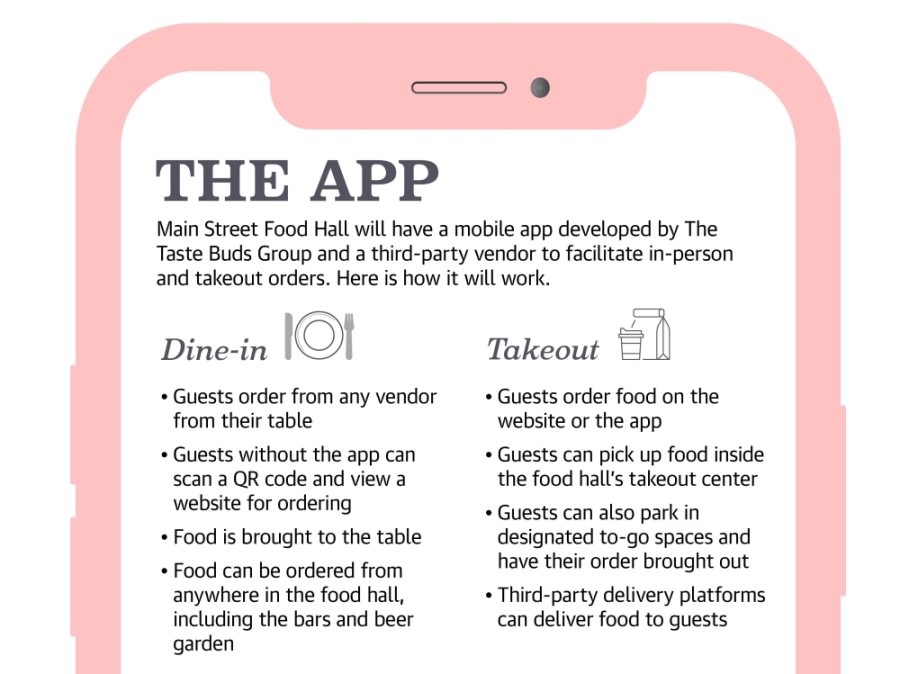 This app will also help make the food hall "pandemic-proof," Farr said. In the event of another virus surge that shuts restaurants down, Main Street Food Hall will transform into a "ghost kitchen" at which guests order food to go, Farr said.
"Everybody's still going to be working and pumping out orders, and [everything] will be fully integrated with all the third-party platforms and delivery platforms," he said.
A takeout center inside the food hall will be available for the facilitation of takeout and curbside orders, Croft said.
As Frisco continues to navigate the COVID-19 pandemic, Cheney said, ensuring the city is as pandemic-ready as possible is essential for the future.
"If we saw similar situations like we did earlier in the spring, as far as restaurant closures and having to make more to-go orders, they would very easily be able to pivot [to] these types of concepts to cater to that and give consumers a lot of different choices," he said.
Connections to nearby developments
Main Street Food Hall will be part of the larger Frisco Fresh Market development, which was first approved by City Council in 2015. The outdoor market, which opened in 2018, is right next door.
Original plans for the food hall were in the works by the Frisco Fresh Market, said Preston Cheng, the market's junior developer.
"But we met these guys, [the Taste Buds Group]," Cheng said. "They have had a past in doing concepts like these, and it just made a lot of sense."
In the future, the food hall is likely to add nightlife opportunities, Cheng said, which will benefit apartment dwellers in the area. Alcohol services from the food hall will enhance the market's offerings as well, he said.
Frisco Fresh Market's days of operation, Saturdays and Sundays, may be expanded to include Thursdays and Fridays, which would give guests more opportunities to engage with both the market and food hall, Cheng said.
"We see a lot of great synergy and opportunity in opening up this next phase," he said.
Cheney said the market and food hall will "complement each other very well." Furthermore, the addition of Main Street Food Hall will help to connect surrounding entertainment areas, such as Frisco Square, downtown, The Rail District and Toyota Stadium.
"With these types of development in between, you're going to really start to blur those lines a little bit, which is definitely a goal of ours—where, in the end, it'll feel like one continuous district," he said.
Miranda Jaimes contributed to this report.