Frisco Station's developers have begun work on the second phase of the project's 30-acre park system.
The new phase, which is known as Canyon East, will bring more than one acre of trails and park connectivity to the 242-acre mixed-use project at the Dallas North Tollway and John Hickman Parkway in Frisco. It will also link to the existing 1.3-acre park known as The Bend as well as the development's hundreds of apartments, three hotels and three office buildings.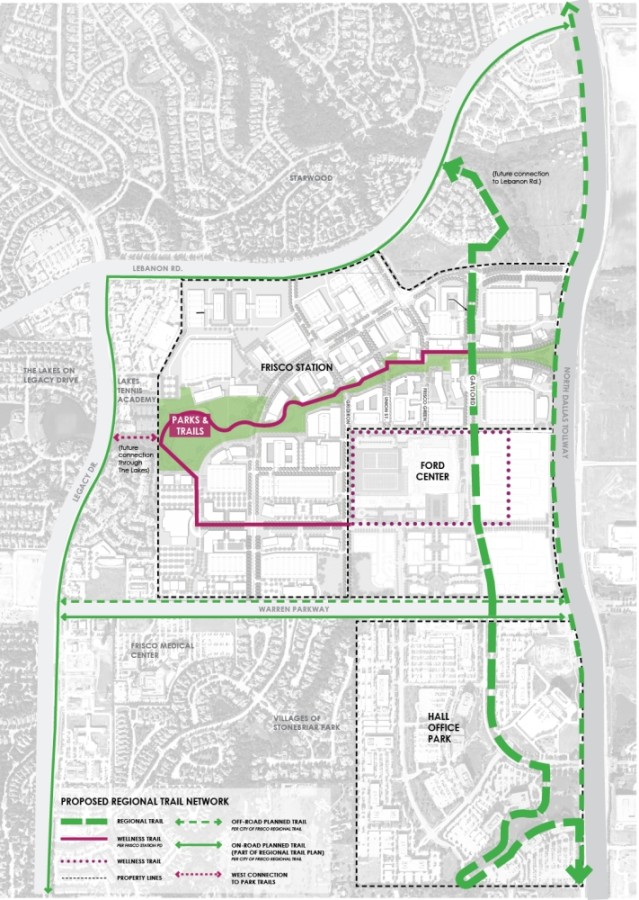 Canyon East is slated to be completed in the second quarter of 2021. The Frisco Station development, which is adjacent to The Star in Frisco development, is a partnership among Hillwood, The Rudman Partnership and VanTrust Real Estate.
"Canyon East's beautiful park setting and access to trails continues our commitment to providing expansive greenspace within the Frisco community," Hillwood land development manager Josh Goad said in a statement. "Thoughtfully planned to showcase the surrounding environment, Frisco Station's 30-acre park system seamlessly blurs the edges between wide open spaces and a vibrant urban environment. By prioritizing greenspace and utilizing it as our most prominent feature, North Texas is becoming home to one of the nation's most unique mixed-use developments."
Frisco Station was launched in 2015 and includes 440,000 square feet of office space, 633 units of multifamily housing and 450 hotel rooms. The Bend was completed in 2018 and serves as the trailhead to the park system, providing regional trail connections, an event lawn and an event pavilion.
Once complete, Frisco Station will include 2,400 residential urban living options, a 55-acre corporate campus, a dining, retail and entertainment district, 3 million square feet of office space and 34-acres of fitness, spa and medical facilities.