Officials with the free COVID-19 oral fluid testing site operating in Frisco said increased demand and seasonal shipping volume have delayed results for those being tested.
"In general, test results are taking longer due to the increased demand for testing statewide and increases in seasonal shipping volume," Frisco Fire Battalion Chief Jake Owen, who represents the city of Frisco at the testing site, said via email. "Those being tested can now expect results in the 48-96-hour time frame."
While participants were always told results would be sent within two to four days, Owen said Curative Inc., the company doing the testing, had previously been returning results to patients within 48 hours.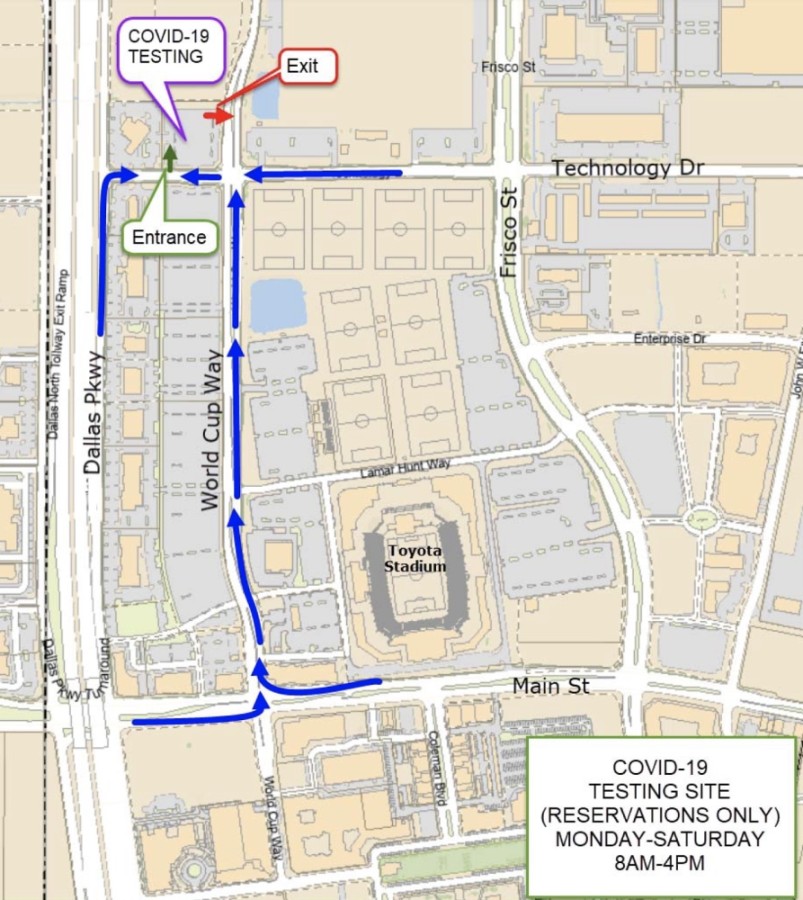 The free, drive-thru site that tests saliva is being funded by the Texas Division of Emergency Management. It is located at the northwest corner of Technology Drive and World Cup Way in Toyota Stadium's Corolla Red Lot in Frisco.
Since it began operations Aug. 3, the site has done more than 73,000 tests between its current location and its previous one in the parking lot of Dr Pepper Ballpark.
Owen said Curative recently informed officials about an issue with the shipping of tests performed Dec. 3 at the site. He said there were tests from that date that did not arrive at the lab for processing.
"We have been working with the contractor and the Texas Division of Emergency Management to identify the issue with tests that were performed on Dec. 3," Owen said. "Curative has contacted all parties that were affected by this issue to offer an explanation and apology."
Curative Inc. increased the site's daily test capacity to 1,250 in November. Owen said Dec. 9 that the site averaged 1,115 tests per day over the last week.
Pre-registration is required to get tested. Owen said registration can be done at
Curative.com
and takes "two to three minutes" to complete
Appointments are available from 8 a.m. to 4 p.m. Mondays through Saturdays.
A video with instructions on the testing process is available
here
. The video states those wishing to be tested should not eat, drink, smoke or brush their teeth for 20 minutes before taking the test. The FDA-approved test is an observed self-collected test, which means participants are given the testing materials and instructions to collect their own sample while they remain inside their vehicles.
Curative reports that its test has an 89% accuracy rate.
Editor's note: The original post has been edited to correct an error. The website for Curative Inc. is curative.com and the video link for the oral fluid testing is www.youtube.com/watch?v=5pS-dPpy7J8&t=10s.