In more than 30 years in business, Richardson Bike Mart owner and President Woody Smith said he has never seen a bicycle shortage like the one that has occurred since the beginning of the coronavirus pandemic.
"It's crazy busy," Smith said of the demand from people wanting to do more cycling. "We've got 11,000 bicycles on back-order, which is probably twice as much as we normally have."
With locations in Frisco, McKinney, Richardson and Dallas, the stores can sell 200 bicycles in three days or less, Smith said.
"When Amazon and Walmart [are] out of bicycles, we know there's a problem," Smith said. "Until we start getting 500 bikes a week in, it's just going to be a shortage for awhile. The manufacturers are all saying it's going to be spring 2021 before you see this cleared up."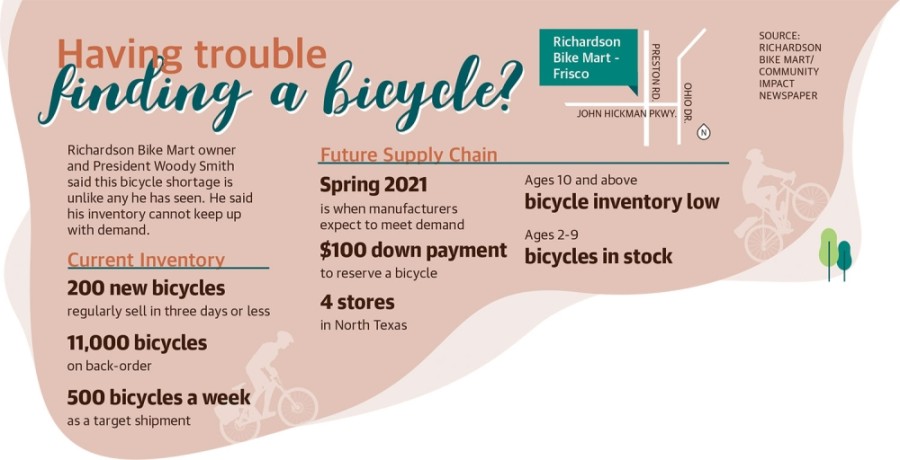 In addition to bicycles, the shortage extends to tires, inner tubes and bike racks for cars, Smith said. While helmets were in short supply for a while, he said they are back in stock now. Smith also noted he has a good stock of children's bicycles.
"[If] you're talking about a 2-year-old to 9-year-old, I've got you," Smith said. "When you get to about [age] 10 or 12, they become a young adult bike or mid-size, and those are a little short."
For people looking for young adult or adult bicycles, Smith said customers can put $100 down and pick three or four options of what they would like to buy. Once those selections come in, Richardson Bike Mart will contact the customer to come in and make their pick.
Smith said people who are open to various colors are more likely to get a fulfilled order than someone set on a specific color.
"We also have used bikes," Smith said. "It's not pretty, [and] there's a shortage of that because everybody's buying those up, but that's another option to get people into bikes."