While the coronavirus has shut down hundreds of Frisco businesses and has left even more people out of work, construction on many of the city's biggest developments is moving forward with few delays.
But Craig Hall, industry expert and Hall Group founder, said the real estate market is in for a period of hardship as a result of the coronavirus.
Hall, who started his 162-acre, 17-building office park in Frisco in 1997, said his planned redevelopment for the office park is being temporarily paused.
"Just overnight, we have had less demand for real estate," he said during a virtual Dallas town hall. "It won't be that we turn the switch at the end of the period where we stay at home, and everything's back to normal. I think that it's actually going to take a number of years."
While coronavirus has put a financial strain on businesses, many tenants of new or upcoming commercial developments are staying on course, said Kristin Grammar, senior vice president for TIG Real Estate.
"I'm not seeing a drastic change of people pulling out [of their leases]," Grammar said.
Three projects in Frisco's Rail District are among those facing delays, with coronavirus being a factor, Nack Development President and owner Donny Churchman said.
Nack Development is looking to complete The Patios at the Rail, Nack Theater and The Tower at the Rail in May, two months later than originally planned.
The Patios will have rooftop patios, retail and restaurants. Nack Theater will hold a performing arts theater, and The Tower at the Rail will deliver eight luxury brownstones.
Churchman said many laborers have been unwilling to work due to fear of contracting the virus, and that has played a major part in construction delays. Nack Development is practicing social distancing and is keeping groups under 10 people for those able to work, he said.
"We will be open. It's just a matter of when we'll be allowed to," Churchman said. "Does this hit us hard? Sure, it does. But we're committed to getting these projects done."
Churchman said the delayed opening for The Patios, which had been pushed back before the coronavirus, was a blessing in disguise for vendors.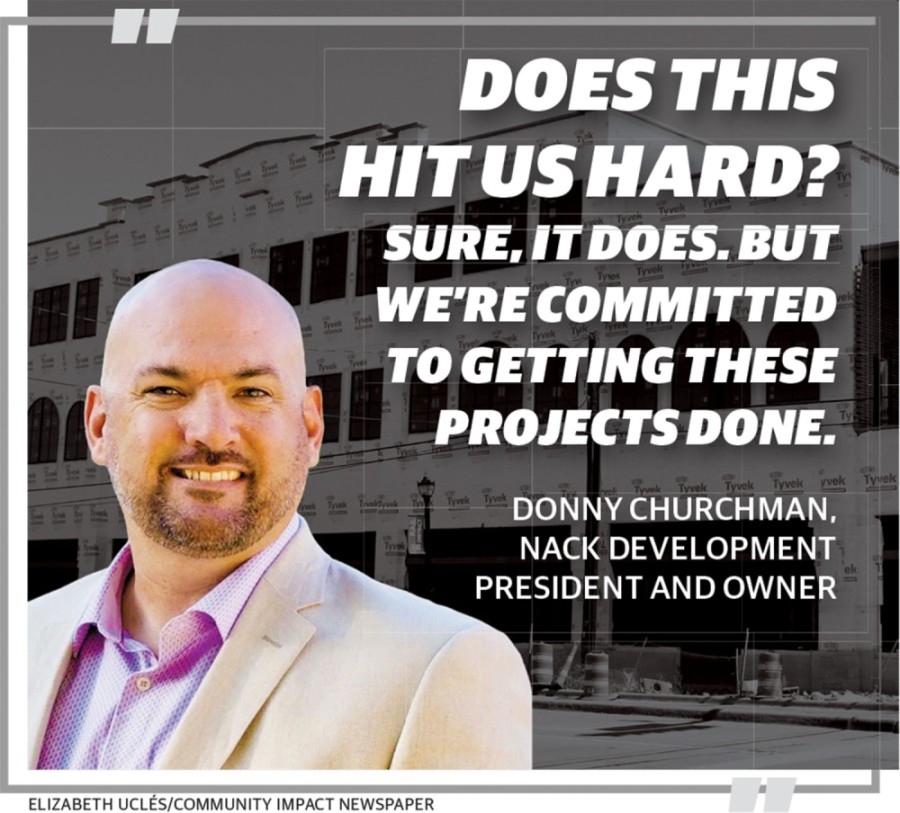 "They would have all this product in their brand-new stores that they can't sell," he said.
Among other major projects, golf courses and the new headquarters for the Professional Golfers' Association of America are on track as of mid-April to open in June 2022; the new Keurig Dr Pepper headquarters at The Star is still projected to finish next year; and a November 2022 opening for the University of North Texas branch campus is on course.
Real estate projections
Longer timelines for construction could be beneficial for the real estate market, Hall said, as financial markets will need time to recover from the coronavirus. Delayed openings will also help avoid nonpayment of rent the U.S. is currently seeing as a result of the virus, Hall said.
"It will reset our market in a better, healthier, long-term way," he said.
Hall said he predicts the cost to build in the Dallas-area market will decrease. Before the coronavirus, the market experienced higher construction costs at a faster rate, he said, causing tenants to fall behind on rent payments and creating buildings that made less economic sense.
"We were in a time when everybody was super busy," Hall said. "I think that super busy [time] just stopped dead in its tracks, and things that are in process will get finished."
Overall, the real estate market will fundamentally change once coronavirus passes, Hall said.
"Our whole attitude about a lot of ways we use real estate—how many people you have, how close in space, in restaurants, in offices—all of that is something that people are gonna be thinking about differently when we come out of this," he said.
Offices could look different after the coronavirus, Grammar said, as many companies can operate with employees working from home. But this does not mean that the need for office space will drastically shrink, she said. The shift for space will likely be more gradual, she said.

"I'm not worried about people needing less space because I think the ratio of space to people is going to change completely," Grammar said.
She said she predicts densely packed work spaces will be replaced with more social distancing.
Frisco's fate
Grammar said Frisco has a strong economy that puts the city in a good position to ride out the fallout from the coronavirus.
"Frisco is probably one of the most likely recession-resistant cities in the United States," she said.
She added Frisco being more spread out geographically and less densely populated allows the city to welcome office space developments and corporate headquarters.
"It's definitely a buyer's market," Grammar said. "There's a lot of capital out there, and people are wanting to invest in Texas and especially North Texas."
There will be many opportunities to buy assets in the Dallas-area market in the next few years, Hall said.
"No matter what, I would much rather be in Dallas, Texas, building commercial buildings than pretty much any other place," he said.