In a time when residents are being asked to stay home to prevent the spread of coronavirus, Frisco Counseling and Wellness has ensured access to counseling services through a cell phone or computer.
"When people are depressed, the last thing that we want them to do is isolate," said Holly Lockett, co-owner and licensed professional counselor supervisor.
Frisco Counseling and Wellness has been in Frisco for nearly a decade and offers a variety of therapies, including group, individual, child, marriage and substance abuse recovery.
On March 16, all services went online after the business closed its facilities on Lebanon Road and John Hickman Parkway due to coronavirus, Lockett said. So far, the transition has been a success, especially since their move online occurred around the same time Frisco ISD began digital learning, she said.
"Everybody in Frisco was working from home. All the kids were online," Lockett said.
Since she works with children, Lockett said she was initially nervous about how parents would react to all-online services. But parents have been thankful for getting help during quarantine.
"People are loving it," she said. "You can do therapy in your jammies."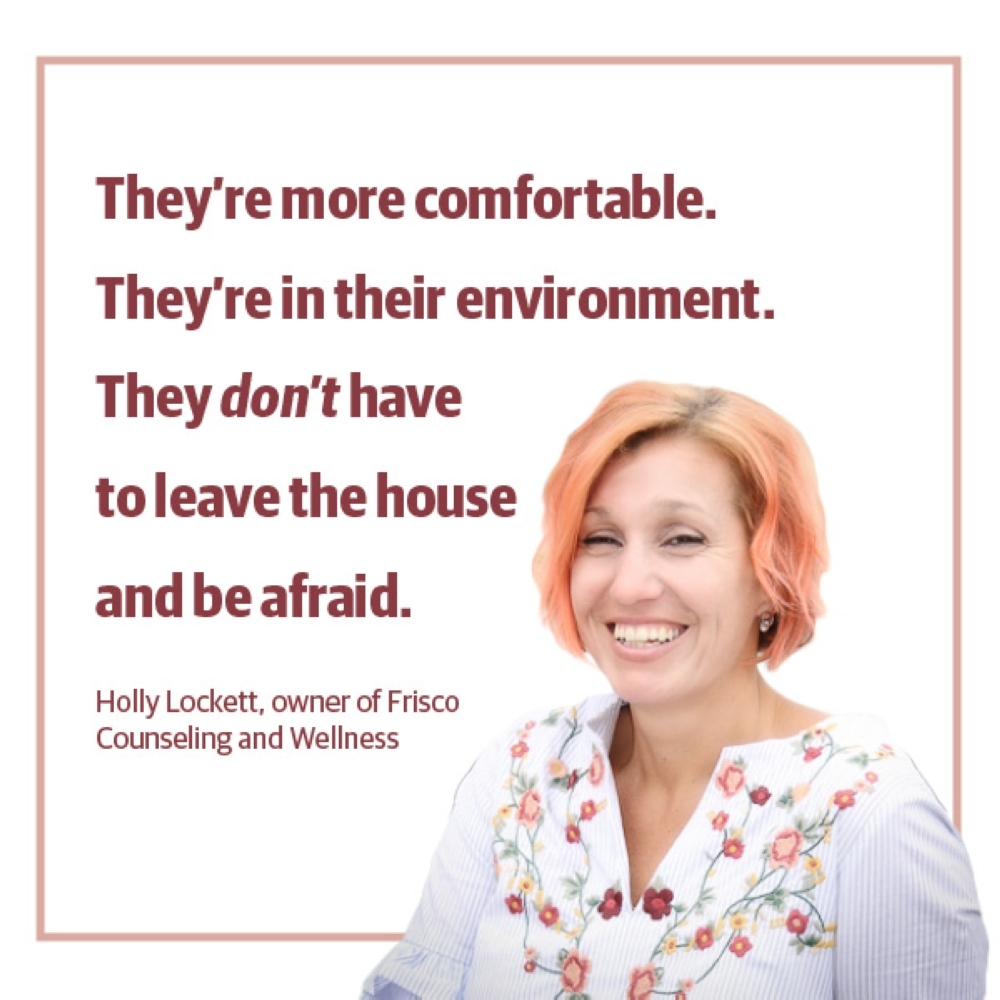 Online counseling is not new for Frisco Counseling and Wellness, Lockett said. The counseling clinic began offering HIPAA compliance forms online over a year ago for clients to sign in and do sessions from their computer.
But temporarily moving their entire operation online has allowed Frisco Counseling and Wellness to offer flexible hours, starting earlier or ending later as needed, Lockett said.
Many college students have done therapy from their cell phones in the comfort of their beds, Lockett said.
"They're more comfortable. They're in their environment," she said. "They don't have to leave the house and be afraid."
Online counseling has benefited populations vulnerable to coronavirus, Lockett said, including seniors living at the Frisco Lakes retirement community and those with cancer.
Medical professionals and their families are another group in need of online therapy, Lockett said. Many in the medical field are unable to return to their families since they may have been exposed to coronavirus, she said.
"What's that doing to the family?" Lockett said. "We just wanted to be able to help as much as we can."
Starting this week, Frisco Counseling and Wellness is offering four free sessions to those in the medical field and to first responders along with their families, Lockett said. They can continue counseling with a fee after those four sessions, she said.
Frisco Counseling and Wellness is also willing to work with new or existing clients who are struggling to afford services during this time, Lockett said.
"At any point in time, if any of our clients are financially struggling, we will actually lower the rate for them," she said.