A long-awaited trail could break ground in Round Rock this summer. On June 25, Round Rock City Council approved a nearly $7.3 million construction contract for Heritage Trail West.
Pflugerville-based
Prime Construction Company, Inc.
, will build the 10-foot-wide concrete trail from Chisholm Trail Road to Mays Street. The trail will link Bathing Beach Park, Chisholm Trail Crossing Park and Memorial Park and provide a cycling- and pedestrian-friendly mode of transportation through downtown.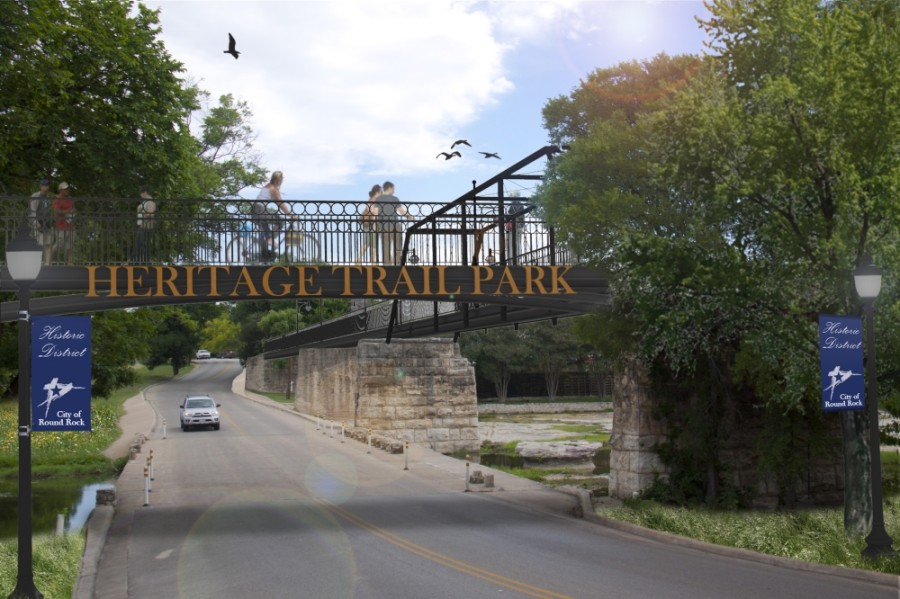 "We've been
talking about this for awhile
," Council Member Rene Flores said. "It's good to be reminded of what it can be, of what it is going to be."
The trail
will span approximately 1 mile and will pass under I-35. The contract includes installation of benches, landscaping, irrigation and fencing.
"It's easier to build a road than a trail, especially through downtown Round Rock," Round Rock Mayor Craig Morgan said. "But it will add so much to this community. It'll be exciting to tell our history."
Plans for Heritage Trail West include timeline-style signage and monuments denoting important events and historically significant landmarks. While markers and monuments will be installed, the $7.3 million will not cover everything that was initially envisioned, Parks & Recreation Director Rick Atkins during a June 23 meeting.
"We hope to tell that story in a greater capacity," Atkins said. "But we're probably going to have to go [secure additional funding] to be able to truly tell the story."
Heritage Trail West is one segment of the approximately 17-mile Brushy Creek Regional Trail, that when complete, will stretch from Cedar Park through Round Rock.
Funding for Heritage Trail West was included in a $56.5 million bond voters approved in 2013.
"This project was bid in 2013," Atkins said. "The money that we had to do the significant portions in this trail has dwindled a little bit."
Construction is expected to begin in July or August.
The project
is expected to last 18 months, Atkins said.