Pflugerville City Council delayed a final decision for a 150-acre rezoning request on Pecan Street.
The vote is now anticipated for June 9. The rezoning application, referred to as the Timmerman 2020 proposal, was
approved on first reading
by council May 12.
The final reading was postponed due to changes made to the rezoning requests approved by council May 12, Mayor Victor Gonzales said. The postponement allows for new public notice postings made on the city's behalf under the updated proposal.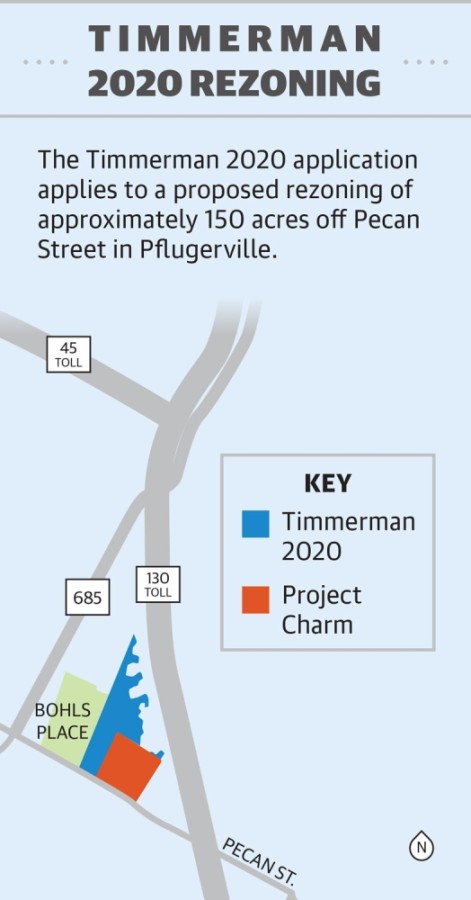 The proposal initially requested a rezoning from agriculture to CL4, or an urban district, zoning. Council amended the proposal May 12 and voted in favor of a CL3 designation, or a low-density, suburban development with a mixture of residential and commercial spaces. Council also added a 300-foot buffer between the property site and the adjacent Bohls Place residential neighborhood, to the applicant's approval.
The initial proposal outlined an urban district that would include "vibrant and walkable neighborhoods and employment centers" along SH 130 and SH 45, per city documents.
Council's action on May 12 followed a recommendation of denial from Pflugerville's Planning and Zoning Commission on March 2. The commission voted 5-2 to recommend council deny the request.
Several commission members said March 2 that the proposal's lack of detailed conceptual plans raised potential concerns over how the proposed rezoning could impact adjacent neighborhoods, including Bohls Place. Chair Pat Epstein said that the commission's responsibility was to help plan for community development, and proposals lacking specificity make that more difficult.
Commission Member Robert Romig spoke before council May 26 and provided additional clarity on why he initially voted to deny recommendation March 2. He said that a CL4 designation is a denser base zoning than CL3.
Romig said that the landowner's initial presentation was slightly "disingenuous," adding that there was not a specific plan in place when presented. He said that under a CL4 zoning, there would be no restriction on future development of the site or what it would need to look like.