UPDATED: July 14, 7:54 p.m.
Pflugerville City Council unanimously approved an economic development agreement between Amazon.com Services LLC and the Pflugerville Community Development Corp. July 14. The agreement was approved on consent, meaning no discussion was held by council prior to the vote. Prior to council's vote, the PCDC's board of directors approved the agreement during a special meeting held at 6 p.m.
ORIGINAL POST
The city of Pflugerville has confirmed Amazon is the company behind Project Charm, a minimum 820,000-square-foot distribution center under construction along Pecan Street.
Included on Pflugerville City Council's July 14 meeting agenda is an economic development agreement between the Pflugerville Community Development Corp. and Amazon.com Services LLC, denoted in parentheses as Project Charm. This marks the first time the city or the PCDC has publicly linked Project Charm to Amazon despite monthslong speculation the company was building a Pflugerville warehouse facility.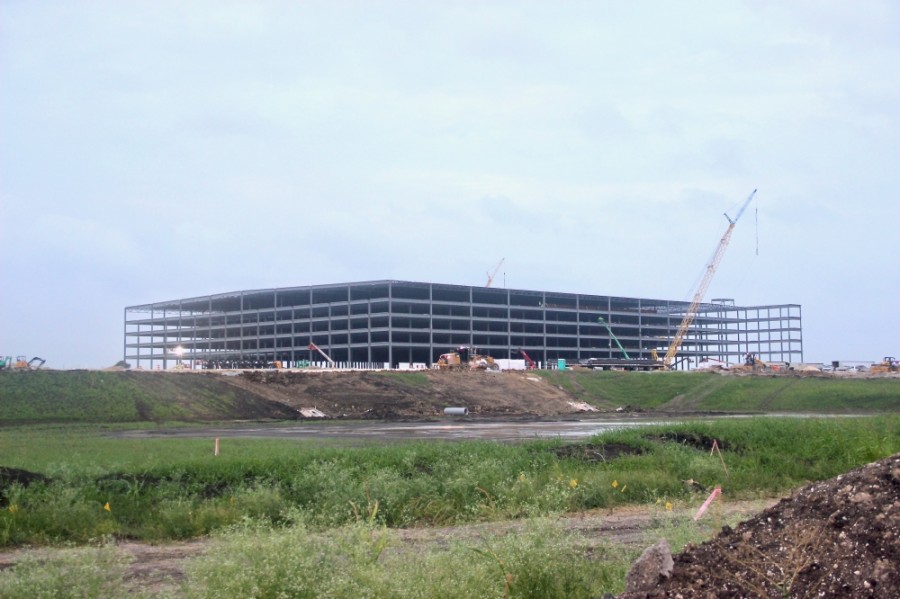 "We are still under consideration by Project Charm and due to a Non-Disclosure Agreement are unable to disclose the name of the company," PCDC Executive Director Amy Madison said in a December statement. "We have pursued this project in earnest due to its potential impact on capital investment and job creation for Pflugerville."
The incentive package, as detailed in council's agenda, is not to exceed $3.8 million and accounts for "off-site road infrastructure improvements, and for the purpose of creating capital investment and primary jobs," per city documents.
Pflugerville City Council will convene in executive session, which means the discussion is not open to the public, at 5 p.m. July 14 to discuss the agreement. Following this, the PCDC is expected to meet at 6 p.m. The PCDC board has previously reviewed the agreement under the code name Project Charm and is set to finalize its discussions prior to a council vote by consent that appears during its regular meeting, which
begins at 7 p.m.
Pflugerville's Planning and Zoning Commission hosted a public hearing Dec. 2 and
recommended rezoning approval
to council. Pflugerville City Council formally
approved the rezoning request
at its Jan. 28 meeting, with construction on the site
beginning in February
.
Editor's note: This story has been updated following new information regarding the size of the upcoming Amazon facility. City documents initially reported its size at 3.8-million-square-feet; a July 15 PCDC news release details a minimum 820,000-square-feet facility.