When Tomas Sheleg of Negba Group LLC first began pursuing a mixed-use development along SH 130, he said the road did not have the same traffic volume in 2015 that it carries now. But with the addition of commercial sites such as Stone Hill Town Center and Typhoon Texas on the western side of SH 130, Sheleg said the prospect of his development showed promise.
The main question before him was how to intertwine the western and eastern portions of the highway and, in turn, the city itself.
"I saw an opportunity that we were able to take on both sides of the highway and by doing so, we can create something that wasn't really done," Sheleg said. "It's creating a project that can dominate the highway from both sides—that has this connectivity to a city that is growing on either side of the highway, but without the unity."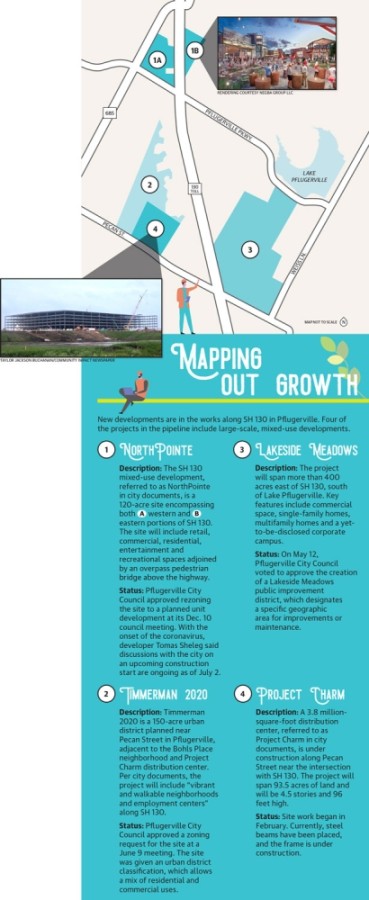 As Pflugerville continues to grow, developers and city leaders have turned their attention to the SH 130 corridor as the future hub of commercial activity. In addition to Sheleg's project, there are currently three other major projects underway near SH 130: Lakeside Meadows, a 400-acre residential and commercial project; Project Charm, a 3.8 million square foot distribution center; and Timmerman 2020, a 150-acre residential and commercial project.
When the city is fully built out, SH 130 will become the heart of the city, Planning Director Emily Barron said. Physically, the road will be in the center of the city and, if built out strategically, the corridor will also be a center of activity for the community, she said.
"We need to ensure that we create that kind of city center for the future," Barron said. "Something that our residents are proud of."
The first step toward developing new portions along SH 130 is the provision of utility services, Barron said. Council approved a $12.8 million wastewater interceptor along SH 130 in March, a critical first step in enhancing prospective development, she said.
From there, city staff as well as members of the Pflugerville Community Development Corp. can better work with potential developers on how to service and champion their projects, said Amy Madison, executive director of the PCDC. PCDC's central focus is attracting new talent and employers to the city's workforce, Madison said. Dubbed the "3-D City," Madison said additive and advanced manufacturing have blossomed in the city's job market, particularly along the SH 130 corridor.
Looking to the future, Madison said industry diversification is a strong focus of the PCDC, namely zeroing in on corporate campuses and similar projects to the area. The development of the SH 130 corridor—with additions of residential, entertainment and business opportunities—is imperative to successfully drawing in this type of development, she said.
"I think a dream for SH 130 is that it not only provides a great opportunity for industry to grow, but a great place that can
still lay claim to quality of life, because that's what brings our workforce these days," Madison said. "I think what makes a community healthy is to make sure that we're working all those segments and making them flow seamlessly. It helps to achieve the growth of individual careers and opportunities for entertainment and an active lifestyle."
When Sheleg selected Pflugerville for his mixed use development, he said location was everything. With The Domain to the west and downtown Austin to the south, Sheleg said he envisions a triangle, with his SH 130 mixed-use development as the final point.
"If we can balance this equation, you can have something very unique, very worthy of the community," Sheleg said. "We're talking about something that will be beneficial for generations to come."