Editor's note: This story was up to date as of press time Feb. 3. Travis County Commissioners Court will vote on the item Feb. 9.
Pflugerville City Council voted Feb. 3 not to include on the May ballot a new emergency services district overlay proposal, which would have funded additional EMS resources. Council is awaiting further guidance from a consulting firm on funding alternatives by the spring.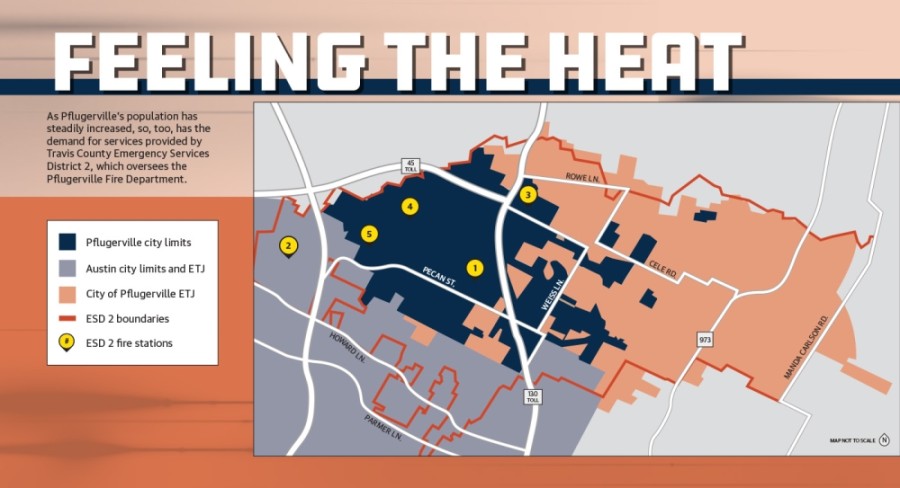 Following submission of the petition with more than 4,700 signatures to the city on Dec. 10, Pflugerville City Council and the ESD No. 2 board discussed the proposed ballot item during public meetings Feb. 2-3.
The proposed district overlay, ESD No. 17, would have had the same service-area boundaries of ESD No. 2, which oversees the Pflugerville Fire Department. ESD No. 17 would have included an undetermined additional property tax and would have specialized in emergency medical services, transport services and advanced life support.
The petition, established by the Pflugerville Professional Firefighters Association in September, comes as the ESD financial projections show a depletion in fund reserves by fiscal year 2023-24.
"We want to be able to continue to grow in the community," said Ron Moellenberg, Pflugerville Fire Department chief.
Wake-up call
The proposal is not the first petition to come before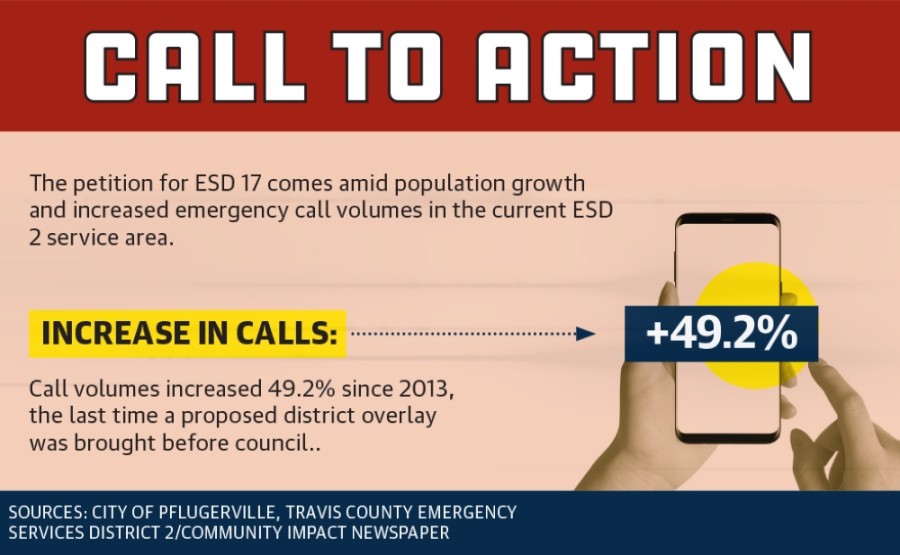 Pflugerville regarding a new ESD overlay. ESD No. 2 brought the same proposal before the city in 2013 and it was rejected by both Pflugerville City Council and the Travis County Commissioners Court for inclusion on each entity's ballot.
Emergency call volumes have increased 49.2% between 2013 and 2020, compared to a 23.7% population increase, according to ESD No. 2 documents. More than 70% of calls answered by the district are for medical emergencies, Moellenberg said.
With five fire stations, 140,000 service-area residents and nearly 11,000 emergency response calls last year, the funding is a necessity, he said.
"We never really addressed the funding issue completely, and we certainly had to step up to bat in a completely different climate," Moellenberg said. "Growth and development is increasing in Pflugerville by phenomenal factors.
If additional funding is made available, Moellenberg said it would allow necessary enhancements, such as fire stations, ambulances and staff, to meet current growth patterns.
Fiscal future
For some residents, the prospect of medical emergencies is all too familiar. In 1992, Pflugerville resident Teri Lucas's son Kevin, a high school sophomore, collapsed due to a heart condition. Without ambulances nearby, the Travis County STAR Flight team transported him to a nearby emergency room and tried to revive him. Kevin died of cardiac arrest.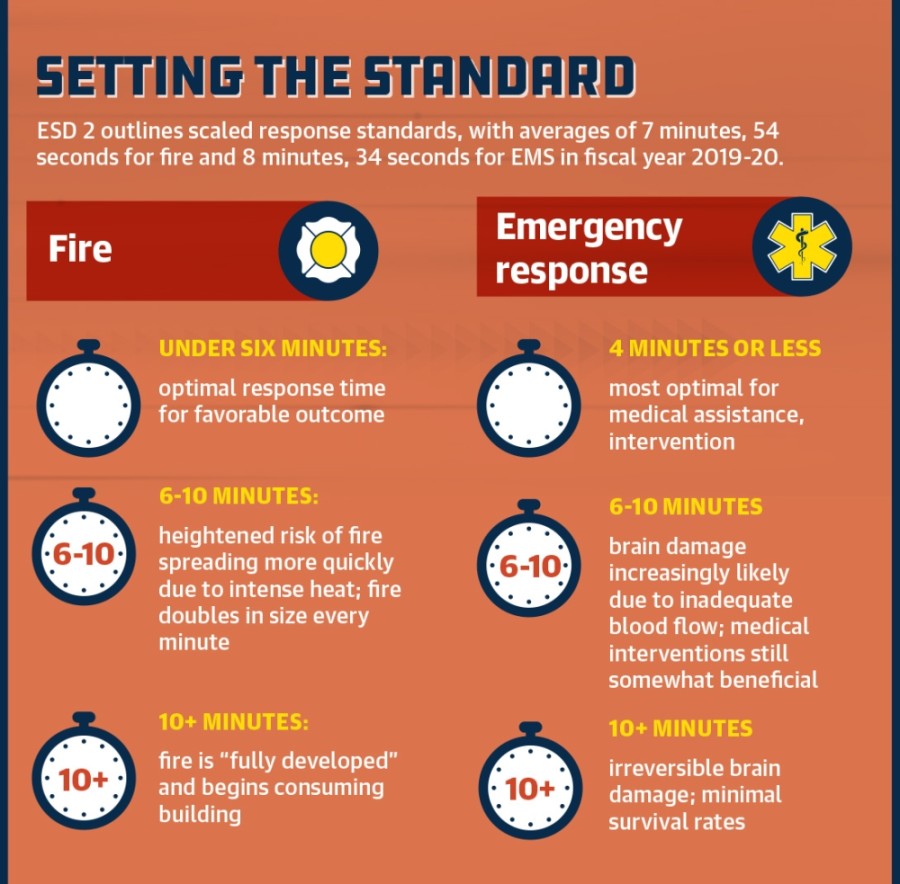 "I'm not saying [STAR Flight] didn't do their very best to save my son, but I'm saying we have to have ambulances close by," she said. "It's just so time sensitive and he really didn't have much of a chance."
She said the prospect of ensuring adequate emergency medical coverage should not be up for debate.
However, while some citizens have endorsed the inclusion of the proposed overlay on the May ballot, others urged council to consider alternative funding resources.
Residents Melody Ryan and Anthony Nguyen spoke at council's Jan. 12 meeting to oppose the creation of ESD No. 17. Ryan referred to the addition of the overlay as an opportunity "to double our taxes" and said ESD commissioners are not elected by voters and cannot be held accountable by the same citizens they tax.
Ass the city has benefited from increased property and sales tax revenues due to accelerated population growth so, too, has the ESD, Ryan said.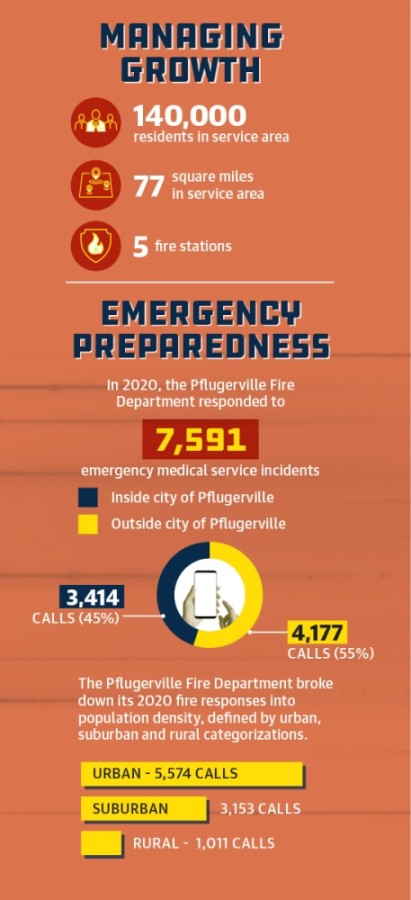 Ngyuen said he is typically in favor of allowing voters to decide on similar government initiatives. However, he said he believes elected leaders should not punt further decisions down the road and argued against the necessity for an overlay.
"ESD [No.] 2 has a habit of underestimating revenues and overestimating expenses," Nguyen said.
With growth comes increased property taxes and sales tax revenue available to the district, Deputy City Manager Trey Fletcher said. Despite the coronavirus pandemic, the city's latest month-over-month sales tax collections reported a 40% increase in revenue. Given the ESD's overlapping service area and similar population increases, he added the district has benefited from similar fiscal growth.
"We have some very sharp community members that are not to be duped into a narrative," Fletcher said. "There are opportunities to be critical of expenses, to be critical of opportunities, to seek additional revenues and to investigate appropriate cost-recovery measures to sustain the service into the future."
However, ESD No. 2 Commissioner April Griffin said financial criticisms wagered by residents against the ESD are subjective. Referencing parks and recreation and transportation bond packages approved by Pflugerville voters in November, she said residents should have a say in the status of EMS services moving forward.
"When you try to equate dollars to lives, it's not synonymous," Griffin said. "Some people may say, 'Oh, your revenues are underinflated, and your expenses are overinflated.' ... I trust the numbers that are staff who have helped us to pass all of our audits, all of our budgeting, all of our forecasting and kept us afloat."
Weighing the options
Travis County Commissioners Jeffrey Travillion and Brigid Shea sent a letter to Pflugerville City Council on Jan. 21 encouraging the city to let the voters decide on a potential district overlay for themselves.
"We the Travis County Commissioners for Precincts 1 and 2, urge you to allow your voters to decide the services most important to them and voice those opinions in the election process," the letter read.
Ahead of the Feb. 3 vote denying the overlay proposal on the May ballot, the city hired consulting firm AP Triton on Jan 26 to help analyze the totality of EMS funding options available in addition to the overlay. AP Triton will deliver a complete analysis of its findings to the city by late spring.
Examples of alternative options given by City Manager Sereniah Breland Jan. 12 included tiered services for basic and advanced life support, establishing a municipal department and contracting out services with the ESD or other area providers. Regardless of whether council elects to include the proposal on a future ballot, Fletcher said it is important for the city to continually weigh out alternatives and understand the totality of options.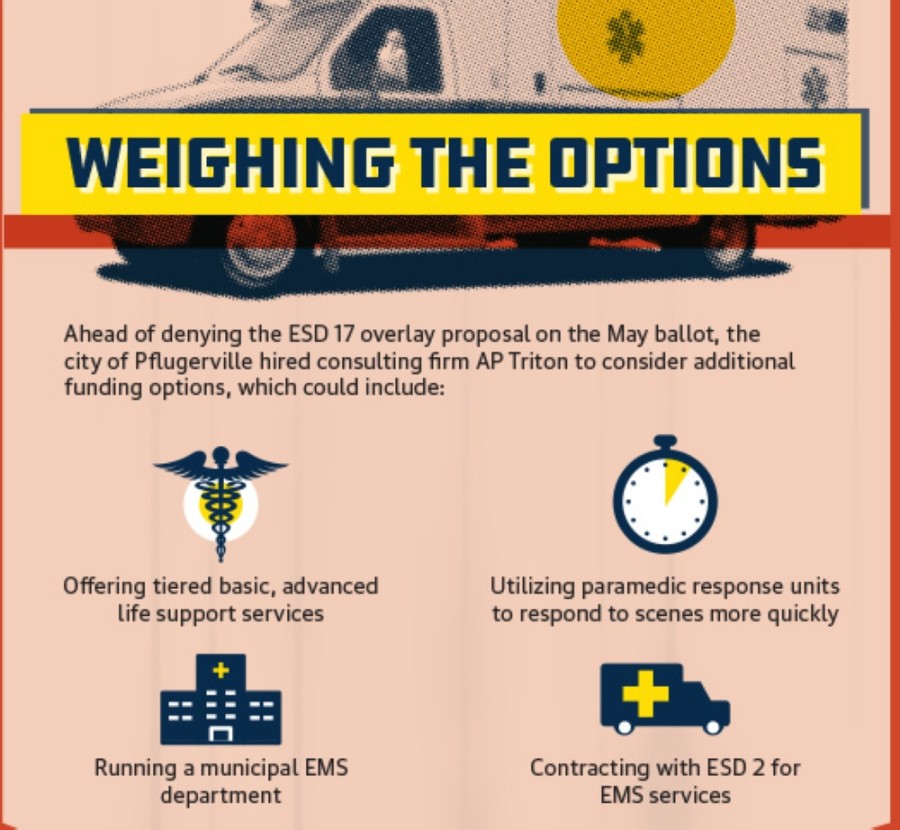 "This decision will define EMS and ALS services in our city for a generation," said Council Member Doug Weiss, who served on council's ESD subcommittee. "We need to find a sustainable, long-term solution that best serves our citizens."
From the ESD's standpoint, Griffin ssaid if the city does not allow voters to decide, projections still show diminished fund reserves by FY 2023-24. ESD No. 2 is statutorily mandated to provide fire and rescue services.
"If you can't pay, if you can't afford it, then you can't provide the service," she said.
In a Feb. 2 joint session with the ESD board, council proposed potentially including the item on the November ballot, following the completion of AP Triton's analysis.
Council Member Rudy Metayer, who served on council's ESD subcommittee, said EMS services will not discontinue for Pflugerville residents, regardless of signage posted around town.
"Let me assure that ambulance services have not and will not be discontinued. Period," Metayer said.