The impact of February's winter storm has resulted in more than $1.4 million in damages for Pflugerville ISD, Chief Operating Officer Eduardo Ramos confirmed March 4.
The damages from the winter storm come on top of fiscal shortfalls in the district due to the coronavirus pandemic, Ramos said. He delivered the findings during the PfISD board of trustees' March 4 workshop as part of the district's budget update. Included in the report were budget assumptions for the 2021-22 school year, which outlined some fiscal impacts as a result of COVID-19.
The preliminary damage estimates do not include any lost materials due to the storm, such as damaged furniture or the labor of staff and crews expended.
The current 2020-21 enrollment is listed at 25,524, down from the district's precoronavirus projection of 26,800. Ramos said district officials estimate a slight 3% increase in enrollment for the 2021-22 school year, with an estimated increase of 788 additional students and an overall enrollment anticipated at 26,312.
The estimated tax rate for 2021-22 is projected as $1.3684 per $100 of taxable value, while PfISD's property value is estimated at roughly $17.9 billion, Ramos said. All estimates are preliminary and subject to change.
Due to enrollment declines during the coronavirus pandemic, PfISD lost its statewide fast-growth designation, which resulted in a $6.1 million loss in state funding, Ramos said. Board President Vernagene Mott asked if the district would be eligible to regain that designation if enough children return to the district post-COVID-19. Ramos said it would be, and the district may be eligible for the funding in the 2022-23 school year if demographer enrollment projections are accurate.
Early estimates project a $14.3 million budget shortfall in the 2021-22 school year, he said. The district should have a clearer understanding on where the property values and tax rate will lie come April, he added.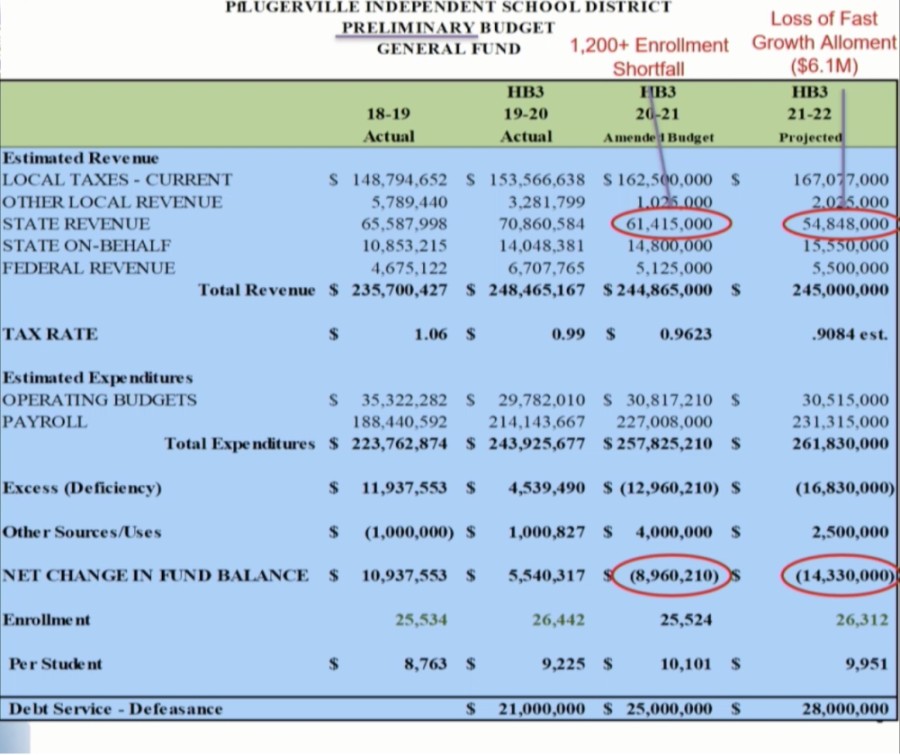 The three central budget priorities for the 2021-22 academic year include compensation, staffing and expenditure reductions. Potential solutions include not filling all open positions in the district if unnecessary, as well as repurposing current staff positions to meet existing needs. The district is staffed based on the original projection of 26,800 students for the 2020-21 school year, Ramos said.
For expenditure reductions, Ramos said PfISD officials will analyze program costs and look at additional department budget reductions. PfISD already implemented 5% department reductions at the start of the academic year, which saved $2 million in expenditures.
Also on the table is a potential tax ratification election for additional golden pennies. Under House Bill 3, districts are allowed a maximum of eight "golden pennies," which are pennies within a Texas school district's maintenance and operations tax bill that cannot be subject to state recapture.
PfISD currently uses six of the eight available pennies and would have to hold an election to access the additional two cents. Ramos said the additional pennies would help maximize the amount of funding available to the district by the state.
"One of the pillars of our community has been a balanced budget," Mott said. "For staff, when we're looking at programs or whatever possibilities, we're going to have to encourage innovativeness, collaboration with all of our leaders at all levels. Hopefully we can—with teamwork and working together—continue to make great things happen for our students."
Given the uncertainty, Mott said the board will need to question the relevance of future agenda items to student outcomes. She said the district will still face a gap in students' educational retainment even after the culmination of the pandemic.
"To bring those children—to get them to an academic growth is going to require some funding and a lot of work," Mott said.