Editor's note: This is one three articles in a series about how city leaders in Round Rock, Pflugerville and Hutto are expanding and modernizing their downtown areas. For the story on downtown Round Rock, click here. For the story on downtown Pflugerville, click here.
As development of The Co-Op District in Hutto ramps back up and the city concludes a survey of community members, downtown Hutto may soon be seeing some changes.
Over the last several months, Hutto officials have been developing plans to evolve the city's downtown area to keep up with growth. In some cases, such as the construction of a pedestrian-friendly corridor that will connect new development with historic mainstays, decisions are already final. In other cases, proposals to improve the downtown area are still either hypothetical or under discussion.
"The vibrancy of our downtown has been and always will be important," said Kristi Robich, Hutto Community Outreach & Programs manager. "Downtowns are a reflection of the community, and I certainly believe that we have a beautiful one."
The Co-Op District
Hutto's existing downtown spans a few blocks along East and Farley streets, but its scope will soon grow.
The Co-Op District is a 35-acre mixed-use development just two blocks west of historic downtown. Development of The Co-Op District has hit a few roadblocks since its conception in 2017, but several businesses recently began construction in the district.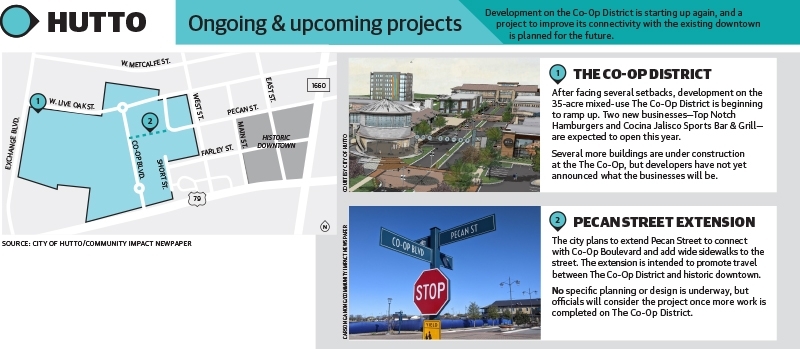 Two restaurants—a second location of Austin-based Top Notch Hamburgers and a Mexican restaurant called Cocina Jalisco Sports Bar & Grill—are both expected to open alongside Southside Market & BBQ in The Co-Op District by the end of the year.
When fully built out, the development is expected to house a mix of retail, entertainment, restaurants and high-density residential.
However, to prevent The Co-Op District from drawing business away from the existing downtown area, the city has plans to extend Pecan Street and add wide sidewalks to connect with Co-Op Boulevard, which runs directly through the development.
"The symbolism is, you know, as this new development is coming up and growing, we're connecting and linking and having pedestrian-friendly thoroughfares between the new and the old," Robich said.While there is not yet a cost estimate for the project—officials are still finalizing planning efforts—The Co-Op District and the Pecan extension may also help to alleviate a challenge facing historic downtown: parking.
Texan Cafe & Pie Shop owner Jenny Smith said a lack of parking downtown has been an issue for businesses like hers for some time, and it is especially glaring when nearby businesses such as event venue One Eleven East hold large events."If there's a Saturday night and there's a wedding, those people take up every parking space there is," Smith said.
Robich said the Pecan extension will allow patrons of businesses in historic downtown to utilize The Co-Op District's ample parking.
However, the city is not focused solely on The Co-Op District. A few minor improvements to the core of downtown, including adding tree lights and banners, are awaiting approval from City Council.

The city also recently approved permits for two recurring events that will take place downtown beginning in April: a farmers market every Wednesday and a market with booths from local artisans and community groups on the third Saturday of each month.Gathering input
As part of its comprehensive plan rewrite, city staff recently conducted a monthslong survey collecting input from community members on the kinds of projects and additions they would like to see downtown.The city has also held several roundtable discussions with community leaders and downtown business owners, most recently on March 24.
Hutto will use the information gathered from recent surveys and discussions in updating its comprehensive plan, which will guide future projects downtown and throughout the city.
As the city juggles the needs of business owners, residents and developers in future downtown development, Hutto City Council Member Robin Sutton said the city must also preserve the character and history of Hutto's downtown.
"[Downtown] has already overcome a lot of adversities. People have been committed to keeping it alive and thriving," Sutton said. "I think this is an area for us to rebuild again and show our ancestors that we are committed to continuing their legacy."