One of the largest economic development projects in the history of Texas is close to being built in Williamson County.
Larger than any single corporate enterprise in Central Texas before it, Samsung is expected to build a 6 million-square-foot facility that will bring 1,800 higher-paying jobs to the area.
The project includes $6 billion in infrastructure, land and building costs and $11 billion worth of personal property, machinery and equipment. The approximately 1,288 acres of property for the project is south of Hwy. 79 and west of FM 973, southwest of downtown Taylor.
Williamson County Judge Bill Gravell Jr. on Sept. 7 told Community Impact Newspaper negotiations and work on the project have been accomplished daily since January, when county officials hosted Samsung executives at Dell Diamond in Round Rock.
"What we have to offer is the perfect combination of outstanding schools, safe communities and quality of life," Gravell said. "We have an existing world-class workforce and an ecosystem around it."
Gravell said along with the Samsung jobs, thousands of contractors will also work at the facility. According to Williamson County, the project will also provide 6,500-10,000 direct construction jobs while the plant is being built, and Gravell said the existing Samsung plant in North Austin off Parmer Lane served as motivation to work to attract that kind of largescale economic mobility.
"The first time I went to tour the facility in Austin, I was really taken aback by the number of jobs that were not Samsung jobs," Gravell said in reference to contractors. "For me, that was the turning point that I wanted that in Williamson County, and we were all in."
The shortage of semiconductors—devices that include nodes, transistors and integrated circuit chips—is a worldwide issue, as production has slowed and supply chains of vehicles, computers and other electronics have become a challenge.
"Samsung wants to be involved immediately," Gravell said. "Like Apple and Dell, I think they see the value in doing business with [Williamson County]."
The agreements
In a Sept. 8 joint meeting of the Williamson County Commissioners Court and the city of Taylor, economic agreements were unanimously approved by both bodies to partner with Samsung for a $17 billion semiconductor manufacturing plant.
Among other requirements, the Chapter 381 economic incentive agreement with Williamson County calls for Samsung to have the 6 million-square-foot facility completed with a certificate of occupancy by Jan. 31, 2026, but staggers the construction with different goals to be met. The initial phase of construction for 2.5 million square feet would open by December 2023, and, Samsung would also create 1,800 full-time positions, also staggered during progression of the build-out.
In turn, Williamson County will reimburse 90% of the ad valorem taxes paid by Samsung on the property for 10 years. A 10-year extension at 85% abatement will be offered if Samsung complies with the conditions of the agreement.
For Williamson County, the investment is a win with $135 million additional ad valorem property tax revenue over a 30-year period, according to documents. The county currently receives $1,298 per year in taxes on the same property.
Williamson County Precinct 3 Commissioner Valerie Covey said even though the Samsung facility would be located in Taylor, the entire county stands to benefit greatly.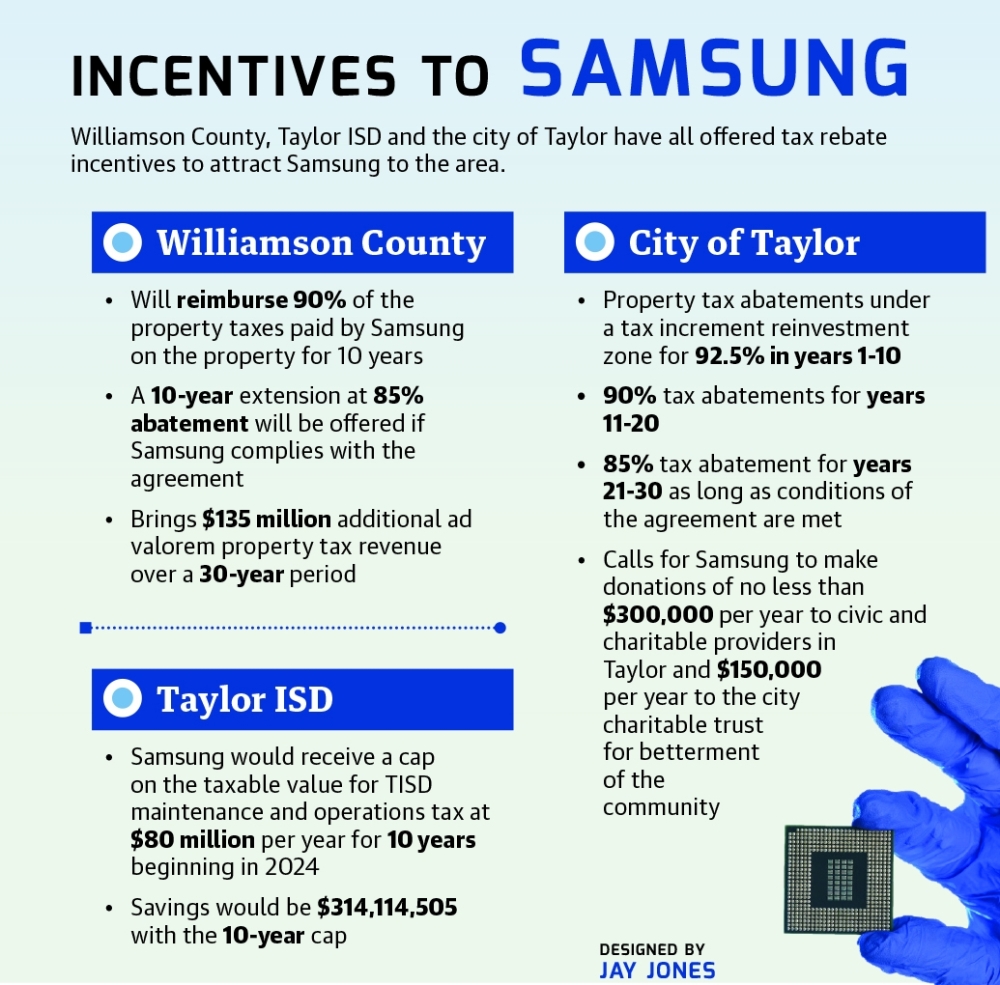 "I can support this project and this company because ... we need chip manufacturers right here in the United States," Covey said at the Sept. 8 joint meeting. On Aug. 20, the Texas Comptroller of Public Accounts notified Taylor ISD it issued a certificate for limitation on appraised value of the facility. Under that agreement, Samsung would receive a cap on the estimated taxable value for TISD maintenance and operations ad valorem tax proposed at $80 million per year for
10 years beginning in 2024. Called a Chapter 313 limitation from the Texas Tax Code, the valuation cap was an added enticement for Samsung to locate its facility in Taylor.
Samsung would expect $314.11 million in savings from years 2022-38 due to the 10-year cap, according to district documents.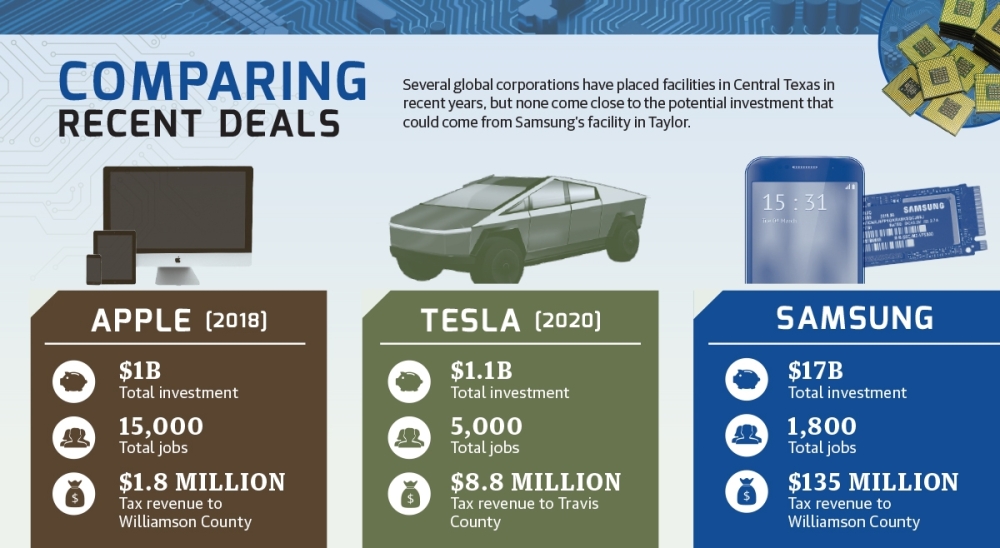 TISD Superintendent Devin Padavil said the deal also benefits the district by providing 24 internships per year for the next 30 years.
"The real opportunity here is it opens up, in the minds of our children, the ideas that their futures can have," Padavil said.
On Sept. 8, Taylor City Council passed tax and development agreements that will include property tax abatements under a tax increment reinvestment zone, or TIRZ, for 92.5% in years 1-10, 90% for years 11-20 and 85% for years 21-30 as long as conditions of the agreement are met.
On Sept. 9, Taylor City Council met in back-to-back meetings to designate the 1,288 acres of property in the city's extraterritorial jurisdiction as a TIRZ, which allows the city to abate property taxes to the property owners.
Once Samsung owns the property, it would mean the company would be exempt or rebated for a portion of taxes on the property. Samsung would also request voluntary annexation into the city of Taylor for municipal services.
The competition
Samsung had been eyeing several locations, recently narrowed down to Williamson County and Austin in Texas; Goodyear, Arizona; Genesee County, New York; and South Korea, where Samsung has its headquarters.
Samsung in applications said Texas would need tax agreements to be competitive with other potential sites.
"Without the appraised value limitation award, the company would likely locate the project in Arizona, New York or Korea," according to documents in the application.
The project had multiple local options in Central Texas, including Travis County and the city of Austin, where Samsung has a large presence with a semiconductor facility along East Parmer Lane.
Documents reviewed by Community Impact Newspaper in January showed Samsung had already rejected an offer from the city of Austin that included almost $650 million in incentives over five years. The company instead requested a 100% tax abatement over 20 years.
Though Samsung had not formally announced its new location as of press time Sept. 22, Williamson County officials are confident the plant will come to Taylor.
At the joint county and city meeting Sept. 8, several residents, business owners and area officials spoke in support of the project.
Precinct 4 Williamson County Commissioner Russ Boles said Williamson County was once an area people left when they became adults. Now, he said, there is no reason it cannot compete with other areas for a company like Samsung.
"It has become and it is truly a wonderful place," Boles said. "Because of leaders before me, I could start my own business and raise my family here. Williamson County is a place of opportunity."
Brian Rash contributed to this report.