Many restaurants and bars across Northwest Austin have experienced hurdles in their fight against the economic downturn brought on by the coronavirus pandemic.

Across the city, as the state's coronavirus safety enforcement and capacity limits have yo-yoed, local business owners said they have adapted to the pandemic by reimagining basic elements of their business operations.

"This pandemic has shifted our thinking about our future plans dramatically—everything from how we do our service to the size of space that we need," said Raf Robinson, owner of SLAB BBQ & Beer in North Austin.

On Oct. 7, Gov. Greg Abbott announced at a press conference that effective Oct. 14, bars could begin to reopen and operate at 50% capacity indoors. Outdoors bars are not subject to an occupancy limit, according to materials from the governor's office.

However, county judges were ultimately left the power to dictate whether bars could resume operations. On Oct. 14, Travis County Judge Sam Biscoe announced the county's bars would remain closed as the area had experienced an increase in hospitalizations, intensive care unit bed use and ventilator use in days leading up to the decision.
"As such, I cannot in good conscience allow bars to reopen at 50% capacity at this time," Biscoe said in a statement.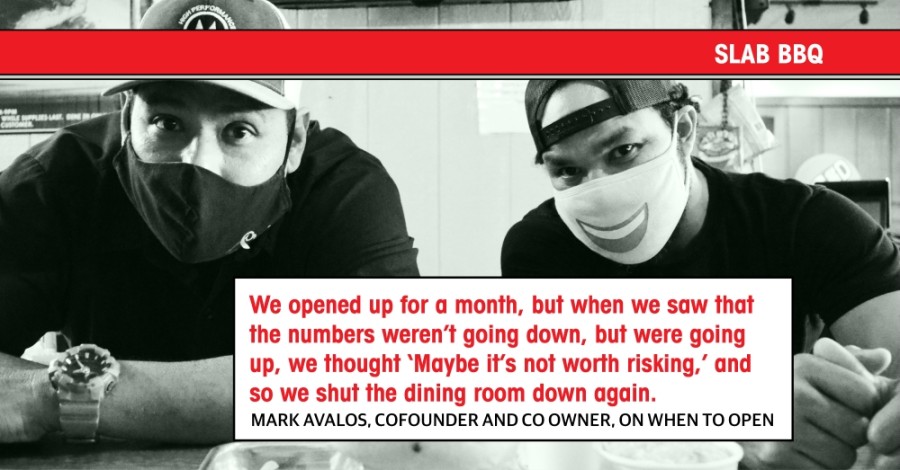 WAITING TO REOPEN
Biscoe's decision followed months of at-times confusing instructions from the Texas Alcoholic Beverage Commission about which bars could open and under what rules.
After being forced to close in early summer, breweries across the state in late July interpreted a loophole in a TABC ruling and began opening patios for customers. The TABC closed that loophole a week later. In August, the state agency issued new guidelines on how bars may qualify for a food and beverage license—essentially qualifying bars as restaurants—and what they would need to sell in order to do so.
Austin Beerworks in North Austin began selling chips and salsa alongside any drink purchase. Likewise, Wonderbar in Domain Northside, which had not offered food options prior to the pandemic, reopened in September with a revamped food menu.
Some businesses across Northwest Austin could not afford to hold out through the summer as alcohol sales totally dried up. North by Northwest Brewing Co. was the first notable brewery closure in the state when it shuttered its doors in April.
In September, the state generated $77.96 million in taxes from alcoholic beverages—a 33.68% year over year decline—but that figure is trending up. Alcoholic beverages from May to August were down a combined 40% from the same period of time in 2019, according to data from the Texas Comptroller of Public Accounts.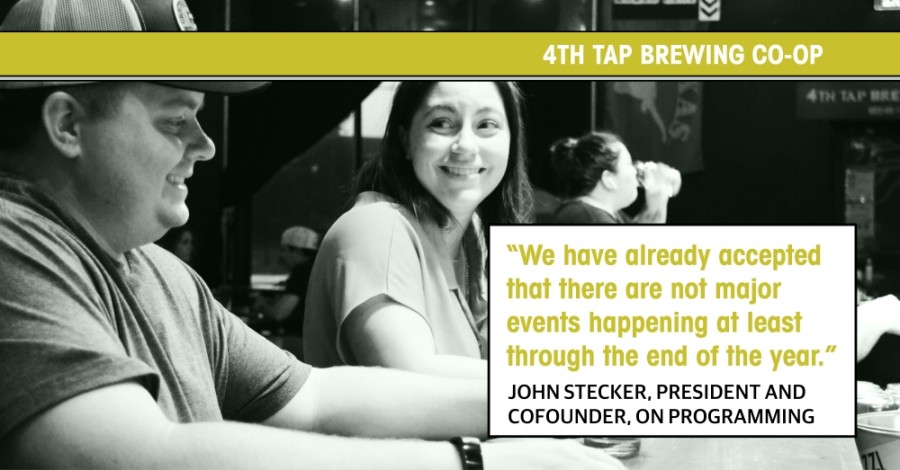 John Stecker, president and cofounder of 4th Tap Brewing Co-Op in North Austin, said the brewery had to buy back kegs full of its beer from shuttered bars across the city.
"For a second there, we had negative keg sales as we were pulling our kegs back from the market," Stecker said.
The economic slowdown forced some local businesses to put the brakes on expansion plans. Robinson said SLAB BBQ was days away from signing a contract on a new storefront in Round Rock when Abbott declared a statewide emergency in March. The barbecue restaurant never signed that lease.
Jae Kim, founder of local chain Chi'Lantro, said the company's newest location on West Parmer Lane was originally pegged to open in April. The pandemic pushed that opening date back to September, Kim said, following delays in construction and concerns over safety.
"We felt no urgency to open right away. We wanted to do it right," Kim said.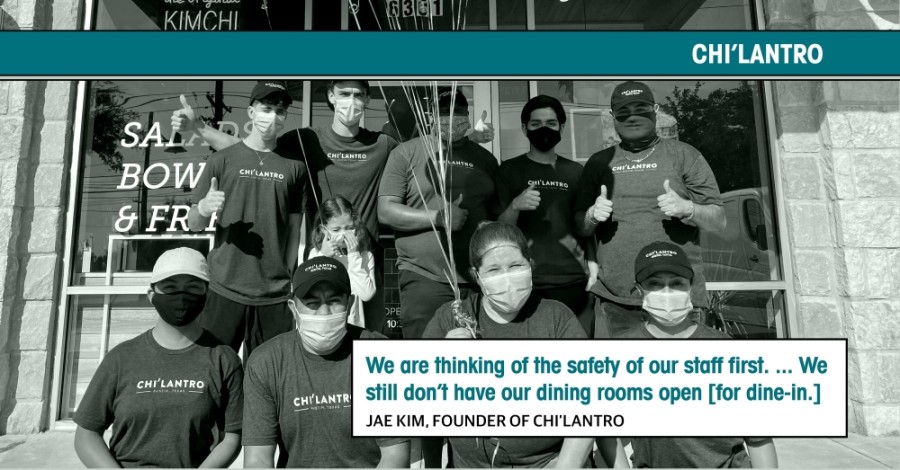 HOW STIMULUS DOLLARS HELP
While some businesses had to curb expansion plans, other local restaurant owners fought just to keep their doors open and employees on the payroll.
The U.S. Small Business Administration in April opened applications for the Paycheck Protection Program, which released up to $659 billion in federal funds for job retention and other operational expenses for business owners.
In the six ZIP code area where
Community Impact Newspaper
distributes its Northwest Austin edition, a total 173 bars, restaurants, breweries and catering companies all received loans from this program. PPP grants under $150,000 went to retain 1,074 employees at Northwest Austin bars, restaurants and breweries.
Robinson said he had to lay off 80% of his staff in the weeks following Abbott's emergency order. With the funds utilized from its PPP loan, Robinson said the restaurant was able to offer every one of its laid off employees their jobs back.
"Without that lifeline, our cash reserve would have dried up very quickly," Robinson said.
While Stecker said the grant had a "huge impact" on his business, the brewer commented that he had expected a second round of stimulus funding to become available before October.
"We did receive the first PPP [payment] and that was set at 2 and a half months of payroll. Now, we're at month 6," Stecker said. "A second stimulus package is critical to the economy. We might make it, but a lot of people won't."
Local economist Jon Hockenyos, president and founder of the economic consultant firm TXP Inc., said Austin will likely experience a rare, K-shaped recovery out of the recession, in which some sectors of the economy recover well—the upward-facing leg of the K—while other sectors of the economy suffer—the downward-facing leg.
"If your job is mostly managing information, you likely can do your job remotely and are absolutely fine," Hockenyos said. "If you rely on face-to-face interactions with people, such as in the retail or hospitality sector, you have a long way to go. This recovery will be felt unevenly throughout the economy. We don't know the full effect yet."
Austin City Council over the summer voted to distribute up to $16.5 million in stimulus funds to local businesses citywide through the Austin Small Business Relief Grant. A total of 335 local businesses in the four city council districts that cover parts of Northwest Austin were granted a total of $5.6 million through the program.
BEYOND 2020
The team at SLAB BBQ is taking lessons learned from the last few months and applying them to future growth plans.
Robinson and Mark Avalos, a founder and owner at SLAB BBQ, said this pandemic has changed how they think of the physical space of their stores. Moving forward, any future locations will look to operate with a smaller footprint and buildings that offer drive thru and takeout windows.
"There is a lot about our model that we've learned through this, that we can be a lot more efficient in how we deliver our food to our customers. If and when we get back on the expansion train, it will look different," Robinson said.
The barbecue joint over the summer took its tent, which it bought for barbecue competitions and catering events, and set up a patio space with tables.
"It really got us in the mindset of 'Hey, we have to think outside of these four walls,'" Avalos said.
The covered patio allowed SLAB BBQ to slowly bring customers back in a controlled, safe manner, Robinson said. In early October, the restaurant opened its dining room again, 7 months after it closed to customers in March.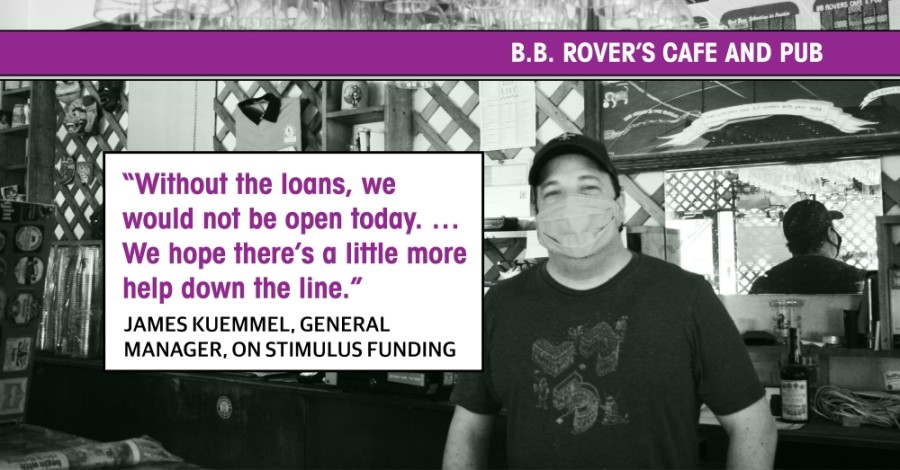 Northwest Austin institution B.B. Rover's Cafe and Pub, which has been serving imported and craft beer since 1987, reopened under a food and beverage license over the summer. General manager James Kuemmel said sales are still around 35% what they were a year prior, but that is better than where the establishment stood in April.
Even as the bar and eatery welcomes guests back inside, Kuemmel said the restaurant's wraparound patio has been "a godsend" for the business.
"On a Friday night, we will have every single one of the patio tables full and there will only be maybe two tables that choose to sit inside. ... In July, when it was 105 degrees every day, people wanted to sit outside rather than inside," Kuemmel said.
Stecker and his team built a covered beer garden that they eventually had to take down due to Abbott's closure of bars in the summer, though the brewer anticipates a rebuild soon.
As an added boon, Stecker said keg sales from bars are now starting to tick back up. The brewery is beginning to return some sense of normalcy as a result.
"A few weeks ago we all started building out the production schedule and someone said, 'It feels good to do this.' For a few months it felt like there was no point," Stecker said. "There's definitely a rhythm to it again."