Even though they opened
Restart CBD
in the summer of 2018, the Torabi sisters are veterans of the local cannabidiol, or CBD, industry.
When Shayda and Sydney Torabi, co-owners and founders of Restart CBD, first opened shop, the duo was selling their organically sourced CBD products in the front room of a warehouse space. At that time, Shayda said only a couple other local brands were carrying CBD products.
"Not only were we one of the first to market, but we've actually proven to be really quite knowledgeable about what we're talking about, and our customers then trust us," Shayda said.
After Shayda was hit by a car in downtown Austin in 2015, her mother began making cannabinoid tinctures to help with her pain management and recovery in a holistic manner. At that time, CBD products were not federally legal, but it opened the door for the Torabis to educate themselves about CBD and its beneficial properties.
Now, more than two years after Shayda and Sydney jumped into the CBD business, they operate a storefront near The Domain stocked with a range of products. Last year, the youngest sister, Nika Torabi, joined the business after graduating college.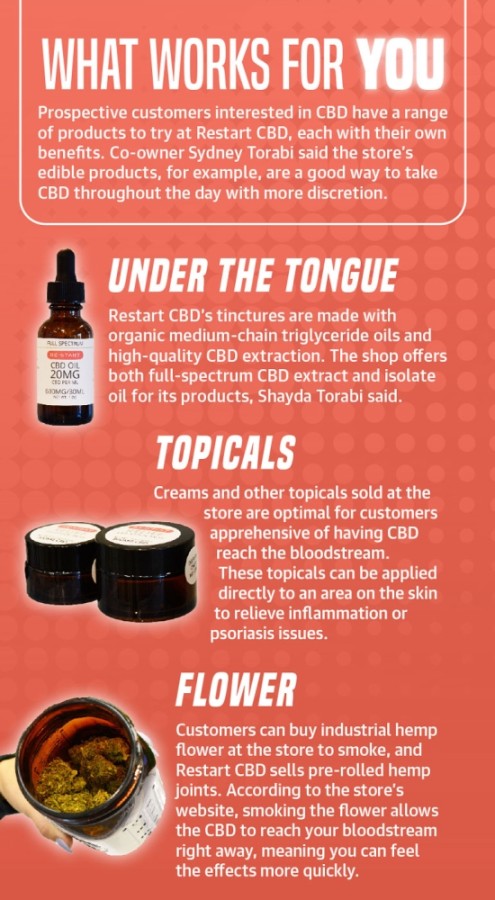 "We really are a true family brand," Shayda said.
Restart CBD sells different products to help customers fit their needs and lifestyle. The shop sources its products through organically certified, non-GMO farms in Oregon, Colorado and California. Shayda said everything on the floor at the shop is either product Restart CBD has formulated itself or vetted through labs and personal use.
Whatever the customer is looking for, whether it is a product to help with pain relief or something to be used as a sleeping aid, Shayda said Restart CBD thrives on educating its clientele on CBD use and dosage so they walk away with a CBD product tailored to fit their needs as well as a deeper knowledge of CBD products.
"It's something that we deliver on—whether it's the experience customers have in our store, engaging with our products, how we label things, how we communicate what they're consuming—to the experience they're having with our 'bud tenders' or retail associates. We make sure that those people are empowered," Shayda said.
Restart CBD
2521 Rutland Drive, Ste. 150A, Austin
512-843- 7223 |
www.restartcbd.com
Hours: Mon.-Fri. 10 a.m.-6:30 p.m., Sat. 11 a.m.-4 p.m., closed Sun.