New Braunfels resident and 2020 Texan of the Year, Brigadier General and Apollo astronaut Charles Duke knew from an early age that he wanted to break the bonds of gravity but never dreamed he would walk on the moon.
Born in 1935 in Charlotte, North Carolina, Duke said that he always wanted to be a pilot.
"My first inspiration was my desire to fly airplanes," Duke said.
Duke attended the U.S. Naval Academy after high school and received his commission in the U.S. Air Force. He earned his wings in 1958 and served in Germany for three years as a fighter interceptor pilot with the 526th Fighter Interceptor Squadron at Ramstein Air Base.
After his time in Germany, the Air Force sent Duke to the Massachusetts Institute of Technology in Boston to earn a Master of Science degree in aeronautics. It was there he met his wife, Dotty, and began his journey toward the space program.
"While I was there, my thesis was part of the Apollo navigation and guidance system, so I met some astronauts," Duke said. "I'd never met a group of guys who were so enthusiastic and so excited about their jobs, so I said 'Why don't I get that job?'"
After completing his master's degree in 1964, Duke attended the USAF Test Pilot School at Edwards Air Force Base in southern California.
"I graduated in August of '65, and in September of that year, NASA had another call for pilots," Duke said. "So, I applied. There were 12 of us that applied, and four of us got accepted."
Duke, his wife and their infant son, Charles, moved to Houston where he began training.
The intensive astronaut training focused on learning to pilot the lunar modules, studying geology to prepare for sample collection, practicing maneuvering in the bulky spacesuits and staying in top physical condition, according to Duke.
On May 18, 1969, Duke was part of the astronaut support crew for the Apollo 10 mission. As part of the support crew, Duke and his crew mates maintained flight plans, checklists and mission ground rules.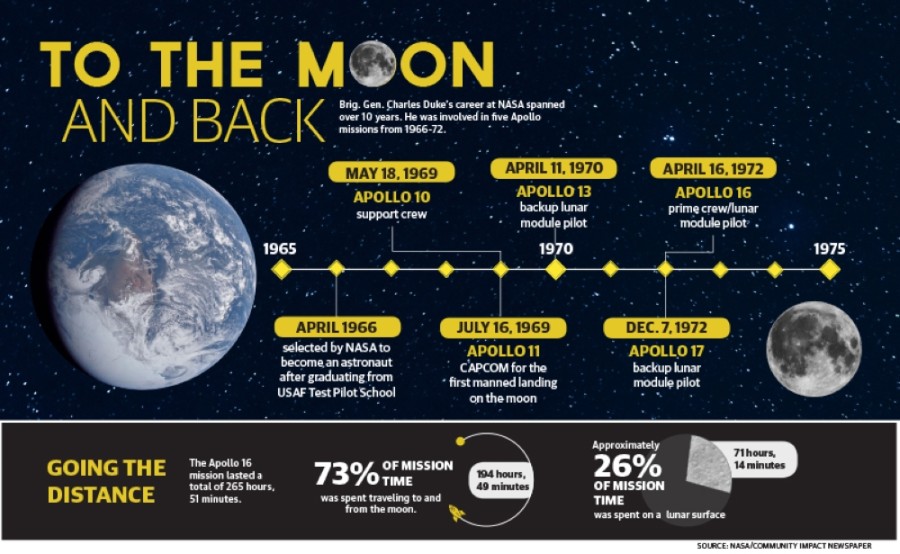 In July of the same year, Duke was selected to be the spacecraft communicator (CAPCOM) for Apollo 11, the first manned landing on the Moon. As CAPCOM, Duke was the voice of mission control for the astronauts in the spacecraft and relayed vital information to and from the lunar module.
Duke still remembers the moments just before Neil Armstrong and Edwin "Buzz" Aldrin touched down on the lunar surface.
"It was exciting but tense," Duke said. "You were literally holding your breath, and it was a great sigh of relief when we heard 'contact engine stop.'"
After Apollo 11, Duke was the backup lunar module pilot for Apollo 13 before being assigned as the lunar module pilot for Apollo 16.
Apollo 16 was launched with Duke, John Young and Thomas Mattingly on April 16, 1972. Their mission was to set up scientific experiments on the lunar surface, and Duke would become the 10th, and youngest, man to walk on the moon.
"[It] seemed to me it was easier landing on the moon than it was watching someone else do it from mission control," Duke said. "You were so focused on doing your job right, and it was dynamic."
Duke and Young touched down in the Descartes Highlands on April 20, 1972 and spent 71 hours on the surface during three moonwalks.
"The first time stepping out on the moon was a really emotional experience—to me it was exciting, wonder, awe. It was an emotional high," Duke said. "A thought kept coming: 'No one has ever been here before.'"
Duke and Young set up scientific experiments, collected samples and explored the Descartes region, traveling more than 16 miles in the Lunar Roving Vehicle.
"We were up on Stone Mountain, and we could look all the way across the valley," Duke said. "Out there in the valley was the little lunar module, the only thing that really had color besides grays and whites."
Duke, Young and Mattingly returned to Earth on April 27, 1972.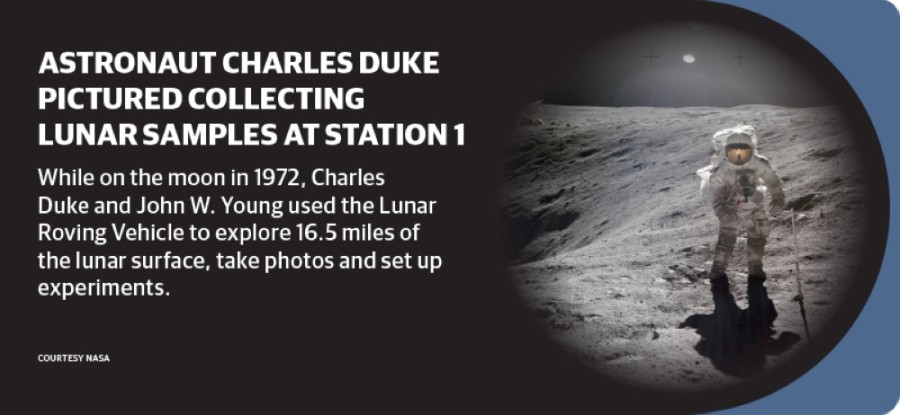 Duke was appointed as backup lunar module pilot for Apollo 17 and worked on the Space Shuttle Program until he retired from NASA in 1975.
By Duke's admission, his family and the families of other astronauts struggled with the busy schedules and long hours the job required.
"Up until 1972, NASA presented everybody as the all-American family," Duke said. "So if there was marital instability, they didn't want it to get out. But they had no counseling."
He traveled less after his spaceflight and was home more with Dotty and their two sons, but their marriage struggled at times, Duke said.
"My wife was very important in holding our family together," Duke said. "But things were tough in our relationship."
Dotty was struggling with depression and loneliness and began searching for purpose, according to Duke.
In Dotty's memoir, "From Sadness to Joy," she became a Christian after self-help books, a new career and charity failed to heal her loneliness.
"Though I hadn't changed, she had really changed," Duke said. "So, our home life was a lot better, and we weren't so fussy."
After retiring from NASA, Duke and his family moved to New Braunfels and began a private business in San Antonio and entered the Air Force Reserve.
It was in New Braunfels that Duke and Dotty joined a Bible study and Duke also became a Christian.
"I'd heard that scripture since I was a kid in Sunday school, but I'd never acted on it," Duke said. "I saw what had happened to Dotty, so I said yes, and that started a real transformation in me and continued in Dotty."
After selling his business in the early 1980s, the Dukes started Duke Ministry for Christ and began traveling and sharing their story.
Duke retired from the Air Force in 1986 as a brigadier general, and he still travels and speaks for his ministry, the Astronaut Scholarship Foundation, and other organizations that encourage students to stay in school and pursue careers in science, technology, engineering and math.
Looking back on his journey, Duke said he sees how his choices defined his path, both during and after his time in the space program.
"It was a process of making one decision at a time," Duke said. "I look back on my life now, and it's amazing how a small decision can change your direction."
Duke will be honored as the 2020 Texan of the Year at the 54th annual Texas Legislative Conference on Sept. 3 at the New Braunfels Civic and Convention Center.