As the coronavirus pandemic continues to impact New Braunfels, primary care providers have had to quickly adjust their processes to serve the community while adhering to new prevention measures.
"Every week has been different," said Dr. Dorothy Overman of Hill Country Medical Associates. Overman is also Comal County's health authority. "This has been very stressful for the staff; it's been very stressful for the doctors; and it's very stressful for the patients."
The Comal County Office of Public Health reported the first local case of the coronavirus March 18, followed by Gov. Greg Abbott's order March 22 to postpone all nonemergency procedures and elective surgeries.
The order effectively halted normal operations for many care providers, including dentists, physicians and surgeons, and forced offices to temporarily close or offer alternative care options such as telemedicine.
Though offices have been allowed to reopen in phases beginning in early May, patients have been hesitant to return, and providers say that it will be a long time before they expect to resume normal operations.
According to a national study from Harvard University and health care technology company Phreesia, patient visits to health care providers declined nearly 60% in March due to COVID-19 and have been slow to return to the typical volume.
The decreasing number of visits has some physicians concerned that patients could face long-term consequences if they continue to delay preventive or nonemergency care.
"We all realize that we have to get back to as normal a practice as we can because there's all these diseases like hypertension, diabetes and high cholesterol that we need to treat, or we will start seeing complications, and we'll start seeing deaths due to diseases that we can prevent," Overman said. "We need to get back to seeing children and doing vaccines, because we could start seeing vaccine-preventable diseases like measles, mumps and things like that."
Growing costs and shrinking profits

Not only do office closures and postponed or canceled appointments pose a threat to patient health, it also strikes a financial blow to providers as they work on the front lines of public health. According to a survey conducted by the Texas Medical Association in May of more than 1,500 health care providers, 63% of respondents reported that their revenue had decreased by 51%-100%, and 62% of respondents have had their salaries reduced since the pandemic began.
"Most independent practices work off of patients' [appointments], and so if you're not seeing patients then you're not going to have a cash flow coming in," said Dr. Melissa Garcia of Bluebonnet Pediatrics. "Unfortunately, [a clinic] is a business just like anything else."
Declining revenues led to nearly two-thirds of Texas physicians applying for small-business loans or other financial assistance in order to avoid laying off or furloughing staff, according to TMA's survey.
According to Overman, the financial burden created by forced closures and fewer appointments was compounded by the added expense of purchasing personal protective equipment and other supplies.
"There was a huge national shortage, and all that [PPE] got sent to places like California and New York," Overman said. "It's not gone, but the cost of everything has gone sky high."
However, receiving a loan proved challenging for physicians such as Dr. Emily Briggs of Briggs Family Medicine, who explained that many clinics were not able to receive support until the second round of loans were made available.
"We were one of the offices that were very saddened and awestruck by not being able to get that loan on the first round," Briggs said. "We couldn't stomach the idea of having to terminate [the staff's] employment or even furlough them, so my upper-level staff took it upon ourselves to take a pay cut ... because we knew that their families depended on those paychecks."
While TMA's survey reports that fewer than one-third of doctor's offices laid off or furloughed staff, 68% of respondents have had to reduce work hours, and many in the industry still lost their jobs.
From March 1-May 16, more than 170,000 unemployment claims have been made by Texans employed in the health care and social assistance industry, which accounts for 10.5% of all unemployment claims during that period, according to the Texas Workforce Commission.
As clinics begin to reopen, physicians are able to perform elective procedures again.
"Now that we're allowed to do more elective procedures with the clinical mindset, [physicians] have been able to bring back some of those staff members, but it's a slow trickle," Briggs said.
Adapting to a new normal
Throughout the health care industry, providers have implemented safety measures and precautions to mitigate any risk of patient exposure to the coronavirus.
One of the first steps taken by primary care providers and hospitals was to expand telemedicine options for regular wellness checks and other routine appointments.
Dr. Jessica Edwards, who started Zara Medical Aesthetics in 2019, had already partially integrated telemedicine into her practice and now sees about 95% of her patients virtually.
"[Telemedicine] really gives people the opportunity to sit and look and talk to their doctor," Edwards said. "It reminds people that, 'Hey, doctors are not just robots who are just in and out to see me or as many patients as they can per day; they really are people.'"
Clinics have also begun adjusting the timing of appointments to avoid overlapping in-person visits, streamlining the sign-in process, requiring staff and patients to wear masks, taking patients' temperatures at the door and changing the layout of waiting rooms to discourage patients from gathering.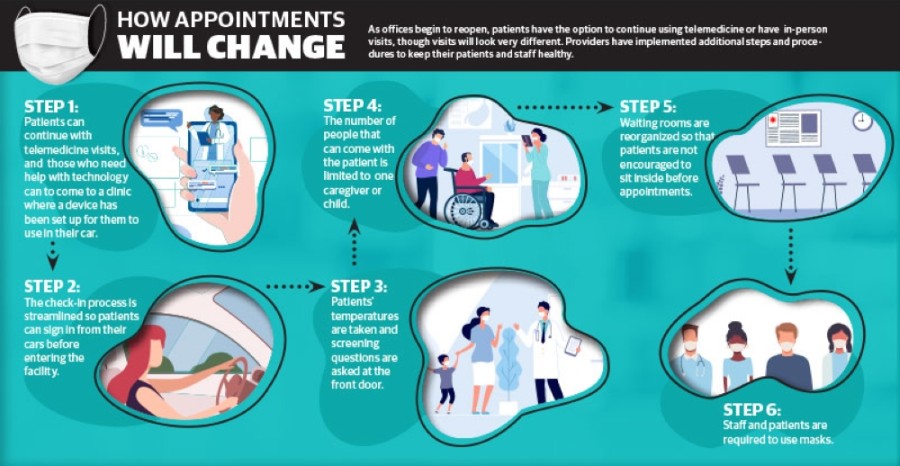 "We've literally turned all of the chairs around to face the wall so that we're not even encouraging people to sit," Briggs said.
According to Jim Wesson, president and administrator of Christus Santa Rosa Hospital in New Braunfels, hospitals have also begun to streamline their intake procedures, restrict visitor access and implement universal mask policies.
"We've tried to encourage people to trust their physician, to work with their doctor and to feel comfortable coming into our hospital if they need to," Wesson said.
Doctors and care providers in the area who are members of groups such as the Guadalupe Health Network and the South Texas Regional Advisory Council had regular virtual meetings to discuss new information about the virus and how to safely treat and handle patients.
As Texas reopens and the coronavirus continues to impact society, health care providers remain prepared for rising case numbers and continue to stress the importance of taking precautions to slow the spread of the coronavirus.
"[Wearing a mask] is not a lack of freedom; this is expressing your freedom from illness and expressing your freedom of being able to pass that safety on from you to somebody else," Briggs said.
Safe access to health care is critical to maintaining the well-being of the community, and providers and patients share the responsibility to follow health guidelines, according to Overman.
"We have a wonderful community of medical professionals who are concerned, who want to do the right thing and who are working together on this," Overman said. "And we need to continue all of the safe practices to prevent you from catching the virus."