Businesses in downtown New Braunfels will soon have access to high-speed broadband services as a result of a city partnership with Frantic Holdings LLC.
City officials have been discussing the possibility of implementing a broadband system in the community since before 2015, according to Jeff Jewell, New Braunfels director of economic and community development.
After discussions with large internet providers failed to bring in private investment, Council Member Justin Meadows said city officials decided a public and private collaboration would be the most effective way to install the infrastructure.
In May 2020, the New Braunfels Economic Development Corp. contracted with Alk Development to oversee a project with Frantic Holdings to install broadband infrastructure throughout the downtown area.
Frantic has collaborated with New Braunfels Utilities to utilize existing utility poles, on which the broadband "fiber backbone" will be installed.
This backbone will be the primary service line where individual connections will be made.
During an April 26 City Council meeting, council members voted unanimously to approve an EDC-subsidized expenditure of up to $400,000 to Frantic Holdings to incentivize the installation and operation of the broadband system.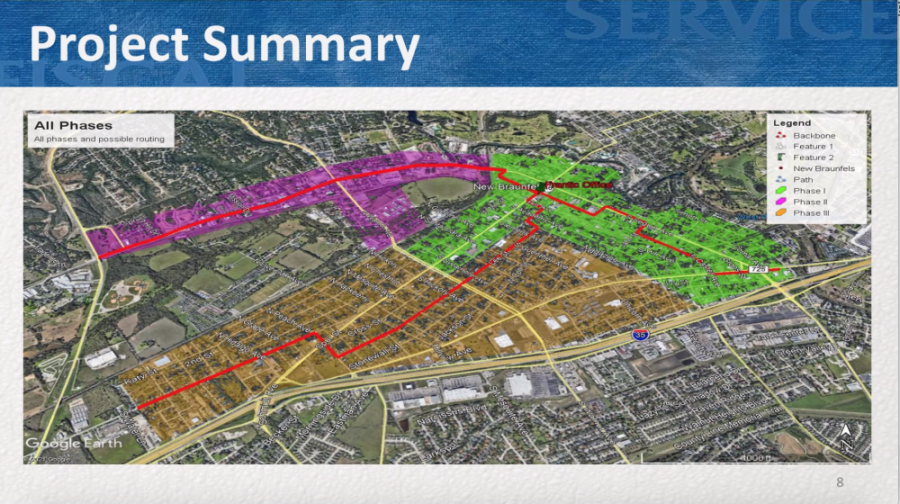 As part of the agreement, the EDC will commit $1,500 for each newly activated and contracted commercial customer to assist with the costs associated with physically connecting a customer's building to the backbone line.
The subsidy is available for the first 200 commercial customers up to $300,000, and Frantic will be required to provide one gigabit or greater for less than or equal to $99 per month for a 36-month term.
Frantic will operate the service and provide all customer support for the clients.
The EDC funding will be distributed over the course of four years. Frantic will be responsible to obtain 100 active contracted customers within the first year of the agreement and an additional 100 active contracted customers in the second year.
If Frantic is not able to meet its obligations under the agreement, the EDC will not be liable to make the payments.
Jewell said the system may be expanded to include residential service, though a government incentive would not be offered to Frantic for residential operations.