Catch up on the latest news from Comal ISD.
19th annual Academic Recognition Banquet hosted virtually
Each year since 2001, Comal ISD has honored top academically ranked graduating seniors during the Annual Academic Recognition Banquet.
Due to school closures and social distancing efforts, the 19th annual banquet was hosted virtually and can be viewed
online
.
This year's banquet was held in honor of Jan Heckendorn, who helped found and create the Comal Education Foundation and was involved in the banquet for 17 years.
The top students from each high school chose one mentor to honor at the ceremony and are listed below.
Canyon High School:


Neeraj Akula honoring Michelle Koehl


Andrew Barclay honoring Haylie Sansom


Kristin Clark honoring Jimmy Keresztury


Alexandra Everett honoring Jamey Leeber


Aidan Feagler honoring Brad Arnold


Isaac Hawkins honoring Kevin Randle


Harley Johnson honoring Trevor Balmer


'Alex' Hsiang-An Kuo honoring Gary Anderson


Megha Patel honoring Heather Sanders


Kathryn Schulze honoring Leanne Blackwell


Hunter Technik honoring Kayla Kitchens


Kobe Vargas honoring Jackson Wolek


Chris Williams honoring Vaughn Chestnutt


Trinity Williford honoring Jessica Galindo


Canyon Lake High School:


Megan Allison honoring Amanda Custy-Schaas


Mia Allison honoring Agatha Bennett


Amanda Diaz honoring Robert Ceyanes


Cassidy Felps honoring Kim Clemons


Jessica M. Gore honoring Israel Pena


Mason Lee honoring Kellie Schatte


Madeleine Morris honoring Charles Van Houten


Lainee Moses honoring Kim Moses


Orion Petronilo honoring Mary Beth Gallagher


Andrew Pipkin honoring Ryan Tierney


Brandon Robinson honoring Jennifer Robinson


Tristan Rodgers honoring Tina Platt


Kalani Thorpe honoring Therese Pilzner


Dylan Wells honoring Caleb Hoffmann


Nash Young honoring Angie Mickey


Memorial Early College High School with St. Philip's College:


KeiLi Buckner honoring Tia Weidenfeller


Josephine Tesauro honoring Francine Miller-Sallese


Emma Vequist honoring Natalie Black


Kyle Weidenfeller honoring Jennifer Fey


Clayton Wiegel honoring Robert Ramirez


Smithson Valley High School:


Madeline Aguilar honoring Cory De Boest


Jordan Auld honoring Michael Saberian


Alastair Craythorne honoring Commander Michael Mullen


Rachel Dziuba honoring Jason Adkins, world history


Tayla Glass honoring Vincent Giordanelli


Jacqueline LaFond honoring Shauna Douglass


Kassidy LaForge honoring Lauren Dowlearn


Mayle Lester honoring Rodney Murray


James Mendez honoring Jonathan McKinley


Joshua Nelson honoring Keven Harshbarger


Audrey Pauletti honoring Laquita Sellers


Quincy Smith honoring Erin Shephard


Alyssa Wagner honoring Kathryn Rutledge


Colby Wright honoring Dora Rodriguez


William Yancosek honoring Lucy Capt


Memorial Early College High School ranks in top 10 high schools in San Antonio area
According to the U.S. News & World Report's 2020 Best High Schools rankings, published April 21, Memorial Early College High School with St. Philip's College was named one of the top 10 high schools in the San Antonio area.
Established in 2009, the school transitioned to a project-based learning model in 2014 and recently received a score of 99 out of 100 from the Texas Education Agency for how it prepares students for life after high school.
MECHS is one of only three high schools in the nation to be designated as both an early college high school and a new tech network high school.
Graduates from MECHS receive both a distinguished high school diploma and an associate degree from an accredited institution of higher learning upon graduation.
"We are proud of the successful mode we have been able to establish at MECHS," Comal ISD Superintendent Andrew Kim said in a press release. "We are looking to replicate this model throughout the district beginning with
a second school of choice
which will be co-located with Spring Branch Middle School this fall."
Smithson Valley High School, Canyon High School and Canyon Lake High School also received "Best" rankings from the U.S. News report.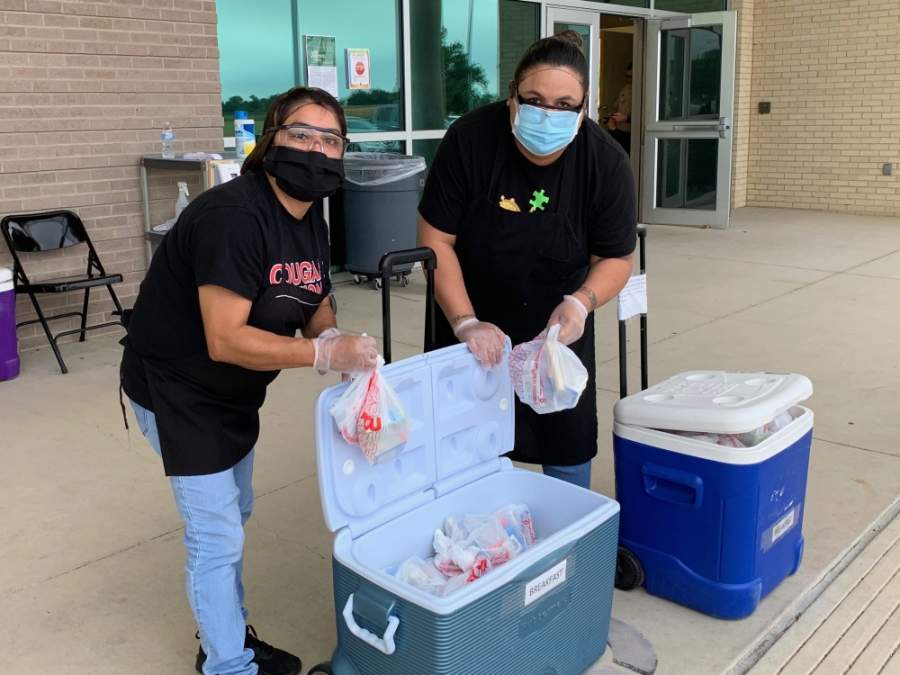 Comal ISD celebrates School Lunch Hero Day
May 1 marked School Lunch Hero Day, a national program which honors school nutrition professionals who work to ensure students are well-fed every day.
According to
No Kid Hungry
, 1 in every 7 children in the United States lives with hunger, and 23% of children in Texas are categorized as "food-insecure," according to Feeding America statistics.
School breakfast and lunch programs are a primary way for students to receive healthy food during the school year, and the men and women who make and distribute those meals play a role in ensuring the health of students, according to No Kid Hungry.
Since Comal ISD began its breakfast and lunch meal pickup program in response to the coronavirus pandemic and school closures, the district's child nutrition staff has served over 121,500 meals at 10 locations throughout the county.
"These 'lunch ladies and men' are part of the essential frontline workers who are making a difference in the lives of so many in their communities during this challenging time," CISD Communications Specialist Salwa Lanford said in a press release. "This year, more than ever, their efforts should be celebrated."