At the start of the pandemic in March 2020, child abuse advocates feared they would see a drop in reported cases of suspected abuse and/or neglect. Not because less abuse was happening but rather kids—kept at home—would not be seen by community members and primarily teachers, who are the No. 1 reporter of suspected child abuse, according to area experts.
That fear was realized when the number of reported cases in Williamson County in 2020 dropped to 3,694, down from 4,115, or about 10%, in 2019.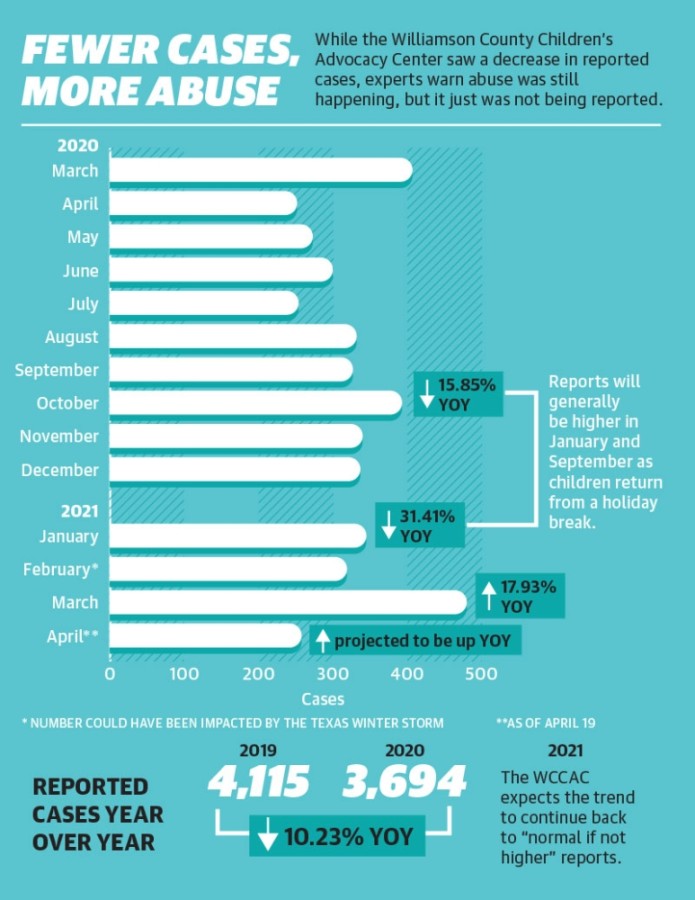 "We know abuse was happening, and we know from past research, that given times of high family stress, that the severity and the intensity of child abuse increases," said Tiffany Sturman, director of community engagement at the Williamson County Children's Advocacy Center.
While the overall number of reported cases dropped, WCCAC director of programs Jennifer Deazvedo said the center was seeing more severe cases.
Experts said they feared this would be the case as high stress situations such as job loss or financial struggle can often lead to increased violence.
Many homes also became multi-family homes where an abuser—such as an uncle who lost a job—was brought into the home and would abuse a child who lived there, she said.
Another trend the center saw was that some children had unsupervised access to technology, resulting in using apps or social media to meet strangers, which in turn led to a form of abuse, Deazvedo said.
"The overriding message is that children have not been safe this year; children have not been seen," Sturman said. "[Children] are one of the only populations when a crime is committed against them are not able, do not know how or are not willing to report that crime, or they don't even know it's a crime. ... We will not know the full repercussions and depth of what has happened to our children, abuse and neglect wise, I think, for some time to come."
Sturman did say the center learned a lot during the pandemic and has pivoted in some of its focuses on how it educates the public on child abuse and how to report it.
For example, since a large percent of reports come from teachers, the center developed education geared toward spotting signs of abuse over Zoom.
The pandemic also highlighted the center's need to focus education beyond teachers. It has since enhanced its effort of reaching out to the community members and building awareness around child abuse, hoping to elicit their helping in caring for area kids.
The center also adapted to the pandemic by now providing virtual forensic interviews, which it did not do before, Deazvedo said.
While the CAC did not see the high spike in reports as it predicted would come when children returned to school, Sturman said it was likely because students did not return all at once. Instead, a few students returned to in-person learning over time.
However, she warned that the center is still bracing for more cases as individuals begin to get vaccinated and return to pre-pandemic activities.
She added the center is beginning to see a rise in number of total reports similar to numbers seen prior to the pandemic.
"[Child abuse] was something that was already an epidemic in our society that was driven further underground [by the pandemic]," Sturman said. "It's going to take all of us to make sure that our children can thoroughly heal from the trauma of abuse."