The Georgetown ISD board of trustees approved a 3% pay increase for teacher in the 2020-21 school year May 18, a total of $1.724 million in total increases for teachers.
The board has made teacher pay increase a top priority including through the commission of a
Texas Association of School Boards report which found the district was paying staff 2%-3% less based on years of experience than the local market median.
"We've talked a lot about which of our staff members are below market value and where we need to make up some ground in making sure that our pay is equitable across the board," Trustee Melanie Dunham said. "We all really, really believe in that making sure that all of our people are taken care of and that they know that we appreciate them in our actions and in our pay."
"I think that [this] is going to be our best option for really moving us, moving the needle in our pay and in compensation," Dunham added.
The 3% pay raise will also apply to campus administrators, professional and technical staff, teaching aids and assistants, and office and technical staff. District administrators including executive directors and directors will receive a 2% pay increase, and cabinet and chief strategists will receive a 1% pay increase.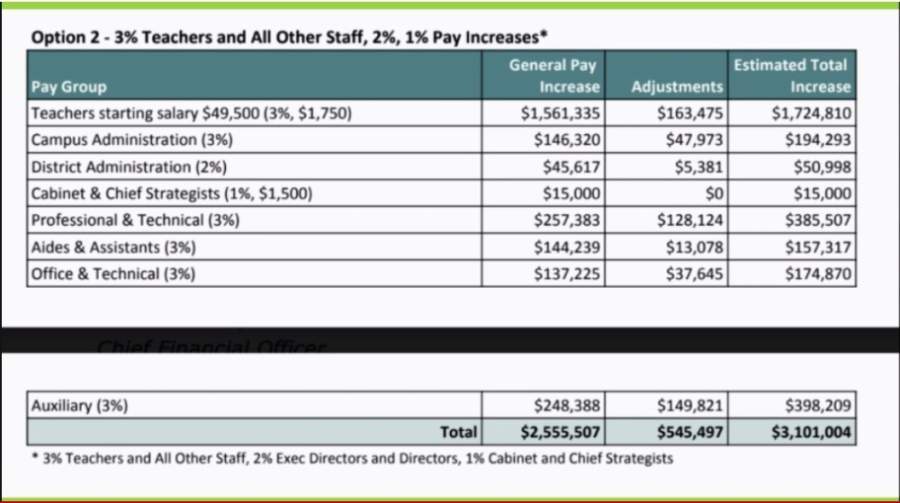 GISD Board President Scott Stribling said the move aligns with the recommendations made by TASB and will also address the pay scale disparities in specific places where the district was more behind on compensation.
"We were very, very mindful of being reasonably cautious while still trying to extend the best number we could extend," Trustee Ben Stewart said.
The board was presented with four scenarios for pay increases.
The scenario selected bumps up the starting salary by $1,750 to $49,500 with the pay increase at the midpoint, GISD Superintendent Fred Brent said.
Many board members recognized that the move was slightly above what the district financial team would have liked—as they historically are conservative in their numbers in order to have the board adopt a balanced budget—but the board said it was something they knew they needed to do for their staff and to help remain competitive with neighboring school districts.

Overall the pay increase will add more than $3 million to the district's budget.
"We will continue to pursue to be competitive with our peers and pay our staff as much as we possibly can within the scope of a budget," Brent said.
In May 2019, the district also commit a 3% pay increase at the midpoint for all employees following funding that came from House Bill 3—a sweeping school finance bill that passed in June 2019.
At the time, many district teachers said they were disappointed in the 3% increase, hoping for more, but district officials said state funding did not come through as expected and they gave all the money they could to teachers with the money received.
This new pay increase will be noted in the 2020-21 fiscal year budget the board is on schedule to adopt by the end of June. Fiscal year 2020-21 begins July 1.