In 25 years, Sun City has ingrained itself in the Georgetown community, becoming a major contributor to the city's growth.
In 1996, the neighborhood accounted for 4% of the city's total population. In 2020, it jumped to represent 20% of the city's total population, according to city demographic numbers.
Located in northwest Georgetown, Sun City is an active living community for residents age 55 years and older. The community, which opened in 1996, first offered 522 homes and had 940 residents. By 2021, that grew to 8,488 homes and 15,700 residents, data shows. That is a growth of more than 1,520% for both homes and residents.
Developed by Del Webb—founder of the first Sun City in Phoenix, Arizona—city of Georgetown Downtown & Historic Planner Britin Bostick said the company had the foresight to bring the community to the outskirts of town before the Austin boom.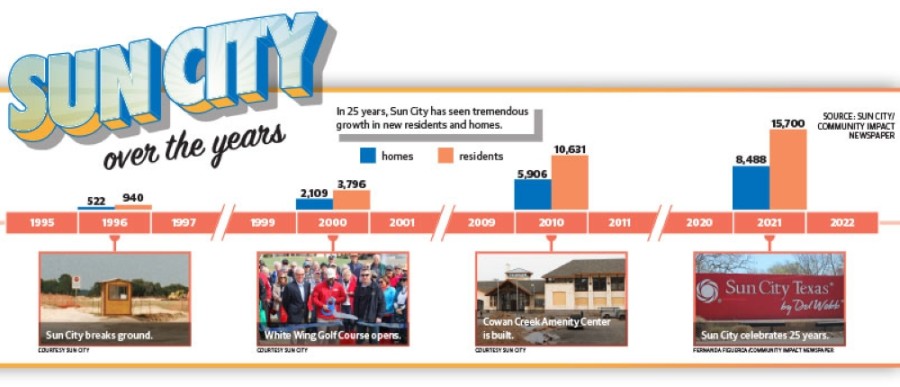 "[Del Webb] built the community in Georgetown at a time in Texas that Austin was in very early stages of getting cool," she said. "Williams Drive did not have all that development; it was literally out in the country."
History of Sun City
Sun City first came to be in the 1960s, getting a start in Arizona and California, before coming to Georgetown.
Sun City Texas, first named Sun City Georgetown, started when Del Webb purchased approximately 7,000 acres of land in the western part of Georgetown, Sun City Executive Director Jim Romine said.
As of March 2021, 4,750 acres of the total have been developed, said Stephen Ashlock, vice president of land development at Pulte Group, the national brand of Del Webb.
In 1995, City Council approved a plan in February for the development, and by May the project broke ground with construction of the first model homes beginning in October, Romine said.
By the spring of 1996, the first Sun City residents moved in with 122 homes sold within the first two weeks of operations and 613 homes sold after 54 weeks, Romine said.
Today, Romine said Sun City has become what Del Webb had initially envisioned back in the 90s: quality retirement homes with planned communities, providing active adult lifestyles for people over 55.
"Sun City is a hallmark example of blending natural surroundings and community," he said. "Georgetown, with its rolling hills, live oaks, lakes and creeks, and its location at the gateway to the renowned Texas Hill Country, is the perfect location for a Sun City."
A citywide impact
Georgetown continues to be a fast-growing community, consistently ranked in the top 10 fastest-growing cities in Texas since at least 2015, according to U.S. Census Bureau data. Sun City has played its own role in that growth.
"Based on our size, the community has a large impact on the city, county tax base, voting, volunteerism, mentoring the youth, shopping, traffic, health care, you name it," Romine said. "In my opinion, there are not many areas in [Georgetown] that Sun City has not influenced in one way or another."
As Sun City continues to grow, so does Georgetown, specifically farther north and west, away from the Georgetown square, which used to be the center of business, Bostick said.
"I think [Sun City] has provided a lot of direction for our growth," Bostick said. "As Sun City has developed, you're seeing a lot of that commercial development begin to push north and to the west, towards Sun City, because we have so many residents there now that it doesn't necessarily make sense to have all of the services downtown, 5 miles away when you can build them closer to the people who are consumers."
Commercial developments, such as Randalls, Mann Eye Institute, Sedro Crossing Medical Retail, according to the Georgetown Chamber of Commerce, can now be seen appearing, faster and faster, to accommodate the growing number of consumers due to Sun City.
"Having a community like Sun City who is active in the city and out having fun and spending money in our shops and in our restaurants, that helps our economy; it helps to make our retail more vibrant," Georgetown City Manager David Morgan said.
Romine added that Sun City residents have been a great asset to the city, playing an active role within the community, from volunteering in citizen advisory boards to mentoring students.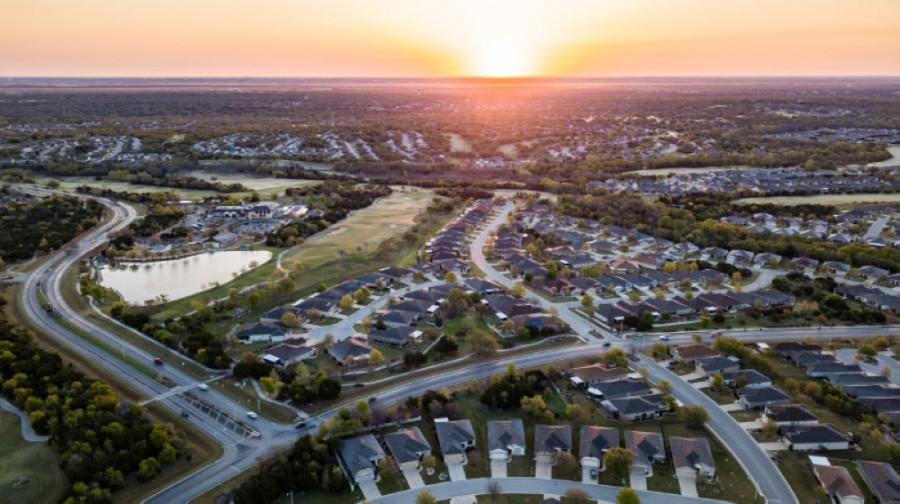 "[Sun City residents have] graciously given their time and talents to make our community better," Romine said.
Morgan said the city's advisory boards including the park support board, library board and animal shelter board, have never had trouble filling spots due to Sun City residents.•
Georgetown ISD Superintendent Fred Brent said residents are also quick to help the district whether through student mentorship or offering financial backing for scholarships, acting as key leaders in the GISD Education Foundation, which generates money that goes back to the classroom as teacher grants.
"They are critical to our success as a school district," Brent said. "I could not be more thankful for the men and women of Sun City. For the time they give our students and the support they offer our programs."
He added that the impact Sun City has had on the district is immeasurable.
"[Sun City residents'] greatest value is their presence and their support and their involvement in the lives of our students and in our programs," Brent said.
Active living community
Within the community, Sun City hinges itself on providing an active lifestyle for its residents.
Boasting more than 50 clubs, nine advisory committees and neighborhood representative organizations, it does just that, said Jenny Phillips, Sun City director of communications and lifestyle.
For Iris Chaufee and her husband, Wayne, it was the community's location and easy access to medical services that got them to move in, but it was the camaraderie with neighbors and making friends through parties and book clubs that have kept them in the area for 12 years.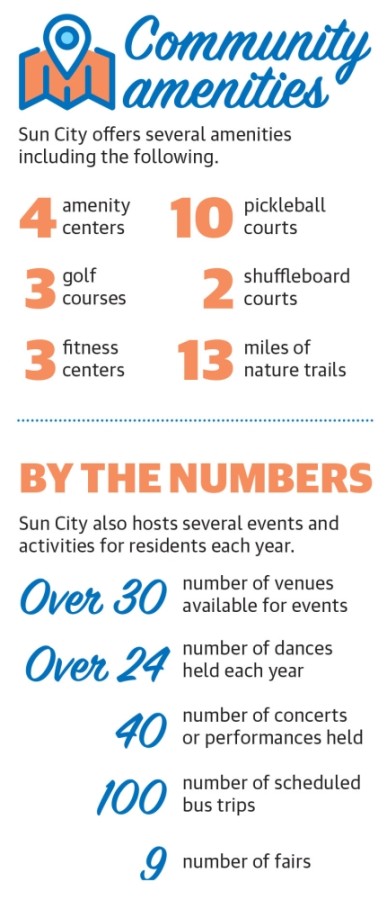 "We were living on Lake Limestone in East Texas when we began to worry about the isolation, where the fire trucks and ambulances would come from," Iris Chaufee said. "We had known about Sun City for several years, so we thought that would be a good place to begin looking."
For other residents, the best part about living in Sun City is the ability to retire but remain physically and mentally active.
Sun City advertises a series of amenities including golf courses, swimming pools, a woodworking shop, nature trails and more.
There are also several groups and organizations individuals can join.
"I moved to Sun City after I retired, but I didn't want to retire from being an active person," resident Barbara Dorrah said. "Sun City offered the opportunity for me to keep my mind involved in meaningful activities, while also providing much-needed physical exercise. I needed to live in an active retirement setting, and I found that in Sun City."
While Sun City planned to host several events for its 25th anniversary throughout 2021, those are on hold due to the coronavirus pandemic and most Sun City residents being at risk of getting severely ill if they were to contract the disease, Phillips said.
"Right now, we are taking it slow due to the pandemic since our community is a high-risk community," she said. "Once Williamson County gets out of the [the pandemic], we will safely amp up our celebration."