A healthy real estate market in Georgetown would have between 500 and 700 single-family homes for sale at any given time. On March 24, there were 76, said Annette Montgomery, a real estate agent in Georgetown for more than 15 years.
"We started seeing a shortening of the inventory, but it was still manageable through the fall of last year, and then maybe even through December there were still properties," Montgomery said. "But it seems like after the first of the year, it really went into a critical shortage."
Georgetown and the Central Texas housing market have seen a record-breaking year in real estate despite the coronavirus pandemic. Most notably is the lack of inventory, which has in turn inflated prices as homes sell faster than they ever have.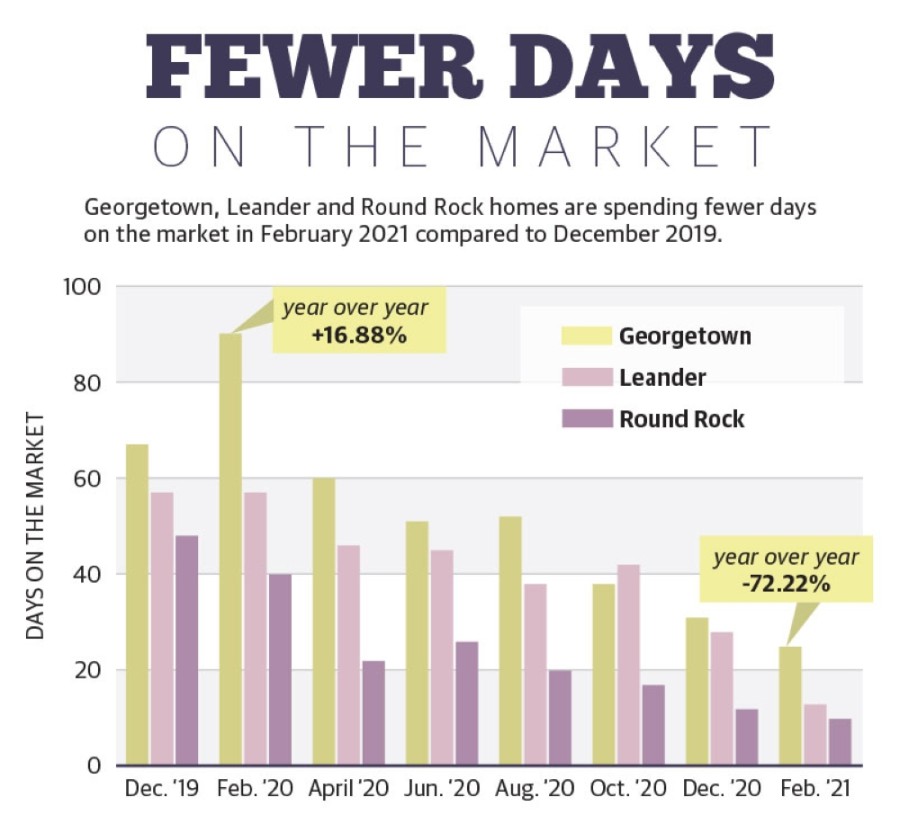 Monthly housing inventory indicates how long a home takes to sell by dividing the number of active listings by the average number of home sales per month over 12 months, according to the Real Estate Center at Texas A&M University. If inventory levels are around 6.5 months, there is a balanced housing market.
But days on market is also an important indicator because it tells the median number of days homes are listed on the local real estate server over a month and therefore how desirable homes in the area are.
In February 2020, Georgetown homes spent an average of 90 days on the market, according to an Austin Board of Realtors March report. The days on market dropped to 25 in February 2021, down 72.22%.
Comparatively, Round Rock went from 40 days on the market in February 2020 to 10 in February 2021, and Leander went from 57 days on the market to 13 over the same period.
Montgomery added that another factor impacting inventory is homeowners' reluctance to move during the pandemic, which is keeping them in their homes longer than they previously would have and resulting in fewer homes on the market.
"Demand has just overridden supply," Montgomery said. "It's very clearly a lack of inventory."
Rising prices
With low supply and high demand, median home prices continue to climb, exacerbated by the competition for homes, Georgetown real estate agent Kristin Hepp said.
Then, first-time homebuyers are looking to enter the market due to the low interest rate, adding to the competition, she said.
The median sale price of a Georgetown home in February 2020 was $296,251, according to ABoR data. In February 2021, it increased 14.77% to $340,000.
The same trend is seen in Round Rock where the median sale price of a home in February 2020 was $280,000 and rose to $350,000 in February 2021. In Leander, the median sales price in February 2020 was $289,000 and jumped to $455,500 in 2021.
Hepp said every home she has sold in the Georgetown area over the past six months has been a multiple-offer situation.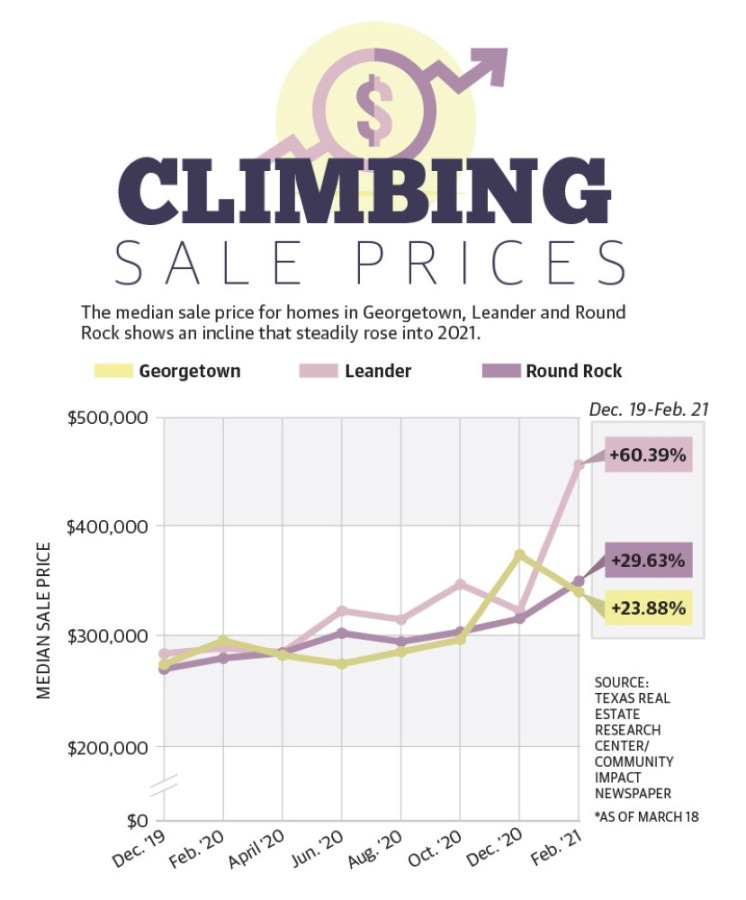 When homes are under multiple offers, it becomes a bidding war where the home is nearly guaranteed to sell above the list price, Hepp said. But with inventory so low, she said homes are frequently selling $100,000-$250,000 above the list price and often in cash, as lenders are not willing to provide more money than the home's original list price.
"It's not just happening at a $200,000 price point; it's happening at price points across the range," Hepp said.
Other factors in the rising home prices are the increased cost of lumber and a labor shortage to build new homes, delaying home starts, area real estate agents said.
Joshua Roberson, a senior data analyst for the Real Estate Center at Texas A&M University, said the Central Texas market was already having issues keeping up with demand prior to the pandemic, particularly with new construction as it continued to recover from the Great Recession of 2007-09.
"[New construction] never really fully recovered in terms of producing," he said, "They're just not going to be able to keep up with this new way of demand. Even though permits are up, it's just not going to be able to fill the gap."
And for the homes that are going on the market, they hardly stay for long, Roberson said.
Georgetown resident Keena Avery said he put his Teravista home on the market and three days later had multiple offers, all of which were above the asking price. He said he ended up selling his home for about $90,000 more than what he bought it for in 2016.
Avery, who is building a new home, said he did not expect the house to sell as quickly as it did and that he would have waited for his new home to be more complete before putting his house on the market. Fortunate for him, the new owners will not move in until the summer, he said.
"The process of selling my house was real fast," Avery said.
Hepp said she now sees homes put on the market for a certain number of days and then the sellers take the highest and best offer from that period.
The entire Austin-Round Rock five-county metro area saw a record-low number of days on market, reporting 31 days in February. This number was down from 62 days in February 2020, ABoR data shows.
"Across the region, a high quantity of offers, cash offers and requests to waive appraisals or option fees are increasingly commonplace," ABoR President Susan Horton said in a March news release.
Hepp made note that the trends of low inventory and increased prices are not only being seen in fast-growing places such as the Austin metro, but also all over the country.
"I know that it's not an ideal market for buyers, but I don't want to see buyers give up because we're not forecasting a decrease in prices," Hepp said. "The sooner that you can get in, the sooner you're going to be able to build equity and wealth through the real estate market."
Potential bubble?
While some may have memories of the housing market crash in 2008, Montgomery, Hepp and Roberson said what is happening in Georgetown and in Central Texas is not the same thing.
During the housing market crash, individuals were purchasing homes at very low interest rates and qualifying for and receiving generous home loans they would likely not qualify for otherwise, leading homeowners to purchase bigger homes than they can afford and then were forced to foreclose or short sale.
Interest rates are again low due to the coronavirus pandemic, but homebuyers are fronting additional costs, not lenders, Hepp said. Federal safeguards were also put in place following the crash to prevent another event from occurring, including the establishment of the Federal Housing Finance Agency, among others.
She added that while the large year-over-year jumps may slow down, homes will continue to appreciate and are still a worthy investment.
"The biggest difference between now and the [housing market crash] where we were in some type of a housing bubble is that now all the homeowners had equity in their home," Hepp said. "Before, what happened was people got into houses that they couldn't afford, using mortgage products that were not consumer-friendly, and they didn't have equity."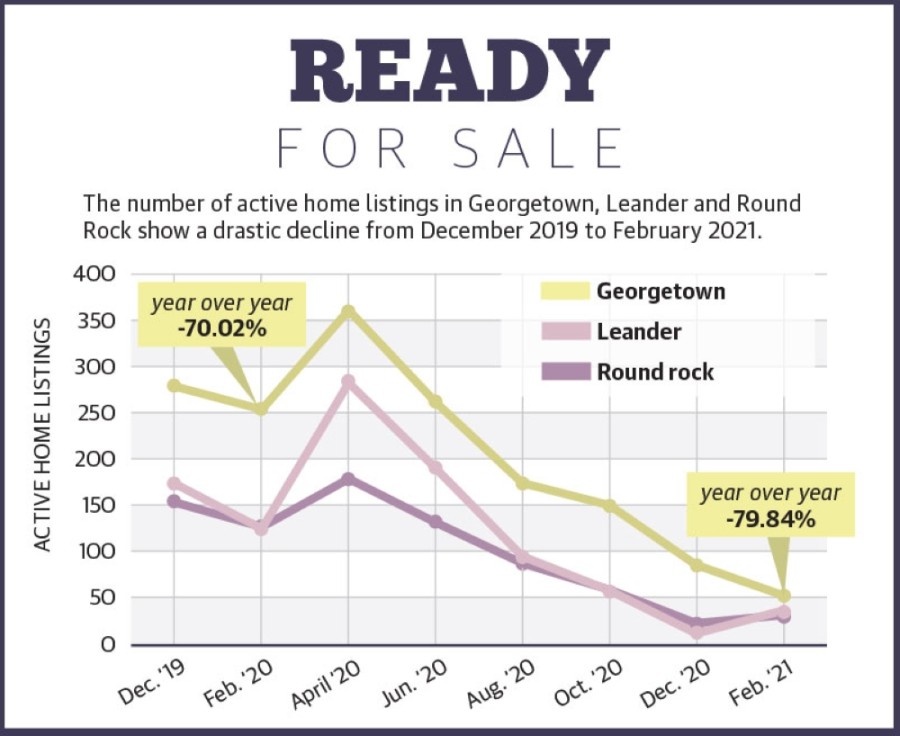 Cause of growth
Montgomery attributes much of the growth and therefore competition for homes to new businesses making the Austin metro their new home. Due to this, she said she sees the demand for homes to continue at least into the near future.
"We've got Apple coming into Williamson County; we have Tesla coming ... within that metro area," Montgomery said. "And our unemployment level is quite low, [so companies are] going to have to bring in people to work at these places."
As of March 29, the Austin-Round Rock area had a preliminary unemployment rate of 5.4% in January, compared to 12.2% in April at the start of the pandemic, according to the U.S. Bureau of Labor Statistics.
With a low unemployment rate, major companies instead have to import employees who need homes and therefore causing a further spike in demand for housing, Montgomery said.
With this, area real estate agents said they do not see the market slowing down any time soon.
"Honestly, I thought COVID was going to be our cliff, but it was like a rubber band winding this up," Montgomery said.